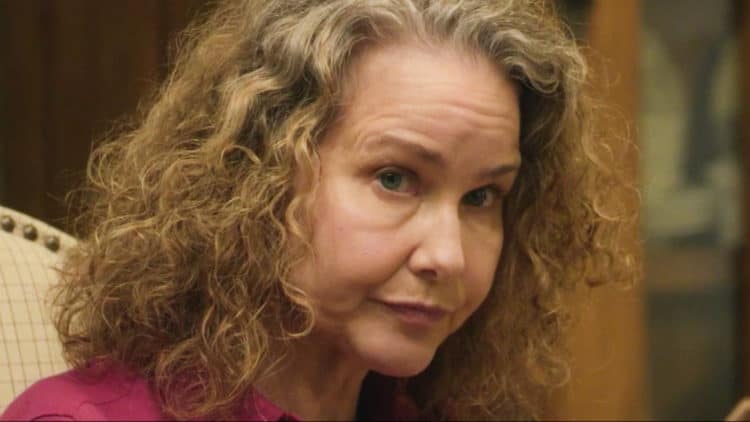 Molly Hagan has one of the most recognizable faces in Hollywood. It's because she's been in just about everything, and everyone recognizes her for the immense talent she brings to her roles. It doesn't matter if she is starring in a major role, one that has just a few lines, or she's just on the screen helping out someone else, she has a presence that's undeniable. She's good at what she does, and she's been making a career out of it for decades. However, it's true that many of her fans know very little about the actress.
1. She's in Her 50s
Molly Hagan is in her 50s, but not for much longer. She might not look like a woman ready to turn 60, but she is. She was born on August 3, 1961. She's kept herself looking youthful and lovely all this time, and we have no doubt it's because she keeps herself so busy.
2. She's from Minneapolis
She was born in Minneapolis, Minnesota back in 1961. However, she was not raised there. She ultimately grew up in Fort Wayne, which is located in Indiana. She grew up with her mom and her father, who are Mary Elizabeth and John Robert.
3. She Went to College
We aren't entirely sure whether she graduated or if she left early to pursue her acting career. However, we do know that she attended college. She spent her college years at Northwestern University. This tells us she was probably a great student and intelligent to boot.
4. She's Been in All the Best Shows
Honestly, if you could pick some of the best shows on television to name, they'd have her in them at some point. She's been in everything. Desperate Housewives, Cold Case, The Closer, Charmed, Grey's Anatomy, Bones, Private Practice; and these are just a small glance into the many shows she's graced with her presence. It's why she has one of the most recognizable faces in all of Hollywood.
5. She's a Huge Fan of the CW
It's not a big secret that the "Walker," star is happy to be working on the CW. She's played roles in many of the series' shot for the network, and she always feels at home. "I think the thing about the CW that's so cool is their shows are unique," she had to say about working on the network. Aside from her newest role, she's also worked on "iZombie," and "Jane the Virgin," and no two are alike.
6. She's A Married Woman
Molly Hagan is not on the market. She is a married woman, but her first marriage ended. Her late ex-husband was Todd Kimsey. After their very private wedding, their very private separation, and their very private divorce, he remarried and went on to have children. She has no children of her own. She's currently married to a man by the name of Richard Guttenberg.
7. She's Not a Mom
She's not a mom, and it's by choice. The situation is always different for everyone with or without kids. While it is true that many people don't have kids because they are struggling with infertility or a lack of a partner, her reason is very honest and very different. She once tweeted, "I didn't have children because I thought the world too F'ed up, but too populated. But differing views important," was her post.
8. She Portrayed a Real Woman
When she was part of "Sully," the movie about the US Airways plane that landed in the Hudson River in New York shortly after taking off and hitting a flock of geese, she was cast as a flight attendant by the name of Doreen Welsh. She was on the plane when it landed in the river, and she remembers that the plane was ripped completely apart not two feet behind her. She got to meet the actress when Hagan was cast as herself, and they hit it off immediately.
9. She's Very Private
While Hagan is a woman who shares a lot of herself with her fans and the world, she never shares too much. She always shares just enough to make things interesting, but keeps her private life very much to herself. She knows what she values, and that's not having people she doesn't know aware of her every single move.
10. She Comes From a Large Family
She grew up with her mom and dad in Indiana, but she didn't grow up an only child. In fact, she was the youngest of the bunch, and there were a bunch. Her parents had seven kids. She was the seventh. She was four when they left Minnesota.