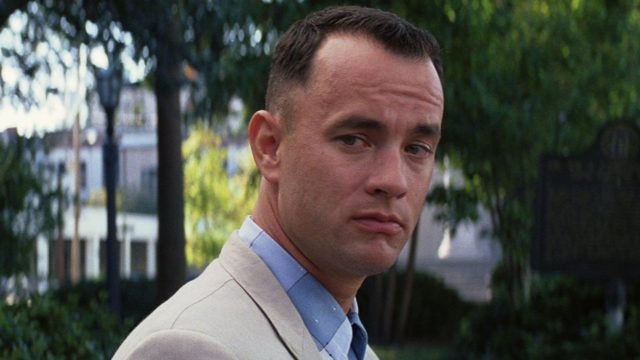 "Forrest Gump" was one of the most innovative and entertaining movies of its time. But it is hard to say that anyone except Tom Hanks could have played the intellectually and romantically challenged Forrest better than him. It is both the journey of a man whose mother only wants him to be treated as an equal, and someone who manages amazing accomplishments by having a singular athletic talent — he can run. The famous quote, "Run Forrest, run!" can be heard throughout the movie.
In making the picks for this list, the problem was that the movie and storyline are so unique it is hard to find a match. Then we realized all the amazing performances by Sally Fields, Tom Hanks, Gary Sinise, and Robin Wright made the movie as great as it is. In the list that follows, we chose one of each star's biggest movies successes. We did find a movie that came close to the "Forrest Gump" storyline in a different way, which we put at the top of the list.
But you shouldn't dismiss this list too quickly because each of the choices has the actor's character in "Forrest Gump" mirrored in the movie choices. For example, Sally Fields plays a single mother facing a number of challenges in our movie selection.
Rain Man
This is the defining movie about the potential of what is technically called being an "idiot savant." Tom Cruise and Dustin Hoffman got critically acclaimed reviews and awards for this story about two brothers separated in life from years, united by the $3 million estate left to them — of which Cruise's character only gets a pittance. Like "Forrest Gump" it is a comedy-drama and at the time it was thought to feature a character that could not be replicated in future movies — until "Forrest Gump" was made. It remains one of the most popular movies in the genre today.
Places in the Heart
This is perhaps the best Sally Field movie of all-time. She is playing a role very similar to hers in "Forrest Gump" except that she is having to deal with being both a mother and father after her husband is killed in a senseless accident. It features many of the same themes as "Forrest Gump" — single motherhood, a disadvantaged situation, battling prejudice, and its own share of moral insecurity. She fights for her rights as a mother, wage earner, and land owner, all the while having to deal with layers of people who are trying to take advantage of her.
The Green Mile
This was one of the hardest picks to make but Hanks' role was unique, though not as unique as Forrest Gump. It is a longer film that brings about the question of executing the innocent in a world hell bent on punishing the most egregious criminal offenders. For those awaiting execution in the electric chair, The Green Mile is the place where the condemned are isolated from the rest of society. Hanks plays the man in charge of the preparation and executions, and a small group of select prison guards who have the experience to deal with the few awaiting death. The end may have you wondering who is actually in need of psychiatric help.
George Wallace
Truthfully, we didn't want to pick this one but it was the best film where Gary Sinise actually has the starring role. Having played Lieutenant Dan in "Forrest Gump" he displayed his tremendous acting ability. That carried over to a number of other very successful movies and television roles including "The Green Mile" (yes, the same one as above), "Apollo 13" (another role alongside Hanks), and "Ransom." He also appeared on the television series "Criminal Minds" and "CSI: NY." But "George Wallace" was a difficult role to take and to play because it is a biography of a man that divided America and history has not been kind to. Nevertheless, Sinise's performance is worth watching.
House of Cards
We admit we cheated here a bit, but after having to decide from the three other stars of Forrest Gump" we made our lives easier by using this ongoing TV series to feature Forrest's love and femme fatale, Robin Wright. She was superb as Jenny because on the one hand you really hated her for the way she treated Forrest, and on the other hand you knew that if anything happened to her Forrest would have been devastated. As for Robin in real life, she has a list of award nominations, some for her role in the movie "Beowulf" but many as a member of the ensemble cast of "House of Cards." We are now counting the binge watching of a series for an entire season as a single movie, but only for the sake of consistency.