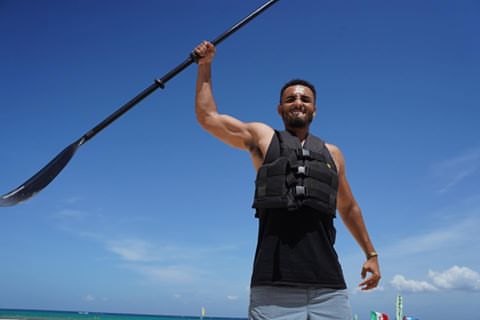 If you caught the premiere of "Almost Family" or perhaps been reading about it, you must have come across the description of an annoyingly handsome Dr Isaac Abadi. That role is played by Mustafa Elzein who feels like the show was created for him to make his dream of becoming a doctor come true, although it is on screen. Besides his dashing looks, Mustafa is a bit of a closed book, but we managed to get a few facts that we share below.
1. His rep agency
Having a competent theatrical agent represent you is the surest way of becoming a household name in the entertainment industry. Mustafa must have had this insight because he chose Abrams Artists Agency which ranks among the top 10 agencies in Los Angeles. He also is represented by Luber Roklin, another top agency firm that represents big names in both the film and music industries.
2. His latest series to star in
Actors sometimes take a long time to get the break they have been waiting for despite starring in many films. It was the case for Mustafa who has been cast in a few series and movies, but only one film is what he needed to get him to be noticed. "Almost Family" has not only given Mustafa the chance to star alongside famous actors like Timothy Hutton, but it has also allowed him to be on the map. When he read the script of the show, he was interested in playing the Timothy role but later loved playing Timothy's protégé.
3. He studied chemical engineering in college
According to his Facebook profile, Mustafa went to the University of Maryland College Park. It has a reputation of only accepting those at the top of their class. In essence, Mustafa scored straight A's for him to be a student there. Besides, a course like chemical engineering demands you to be at the top of your game since it is ranked the fourth most challenging engineering curse.
4. He went to law school
Mustafa is not just a handsome face; he has the brains too. Otherwise, he would not have gone to Georgetown University to study law. Getting into the university is quite competitive and demands high tests scores as well as a high GPA. However, he did not finish his course because destiny came calling. When Mustafa was on vacation in Los Angeles, he got signed by an agent a day before going back to school. Therefore he decided to call home to tell his parents he would not become the lawyer they were expecting him to be. He also notified the school that his days of learning law had come to an abrupt stop.
5. He was a model
There is no denying that Mustafa is one guy with killer looks, so it is no surprise that he was a model. He may not be very active in Facebook, but at least he revealed which modeling Agency he worked for, Q Model Management. The agency has a modest number of followers on Instagram of 65.9k and has made 2,687 posts so far. Mustafa did modeling for two years and was featured in several commercials before making his way into acting.
6. His acting debut
Sometimes you have to take the first steps, and even though you cannot see where the staircase ends, you hope that it will lead you to the top. That is what Mustafa did by leaving his modeling career to begin acting. When Mustafa starred in all the 12 episodes of "Sequestered," he did know not that it would be the start of a prosperous career. The actor went on to be cast in "Lethal Weapon" and "Seal Team." However, he believes "Almost Family" is the series in which his stars were aligned; after all, it made even his father proud of him.
7. His family
Mustafa comes from a mixed-race family with his father being Sudanese while his mother is Hungarian. Although he does not disclose whether he has any siblings, Mustafa reveals that his father comes from a large family and is the firstborn among eight children. Mustafa's father went to the States to get a college education. He hoped to land a great job afterwards so that his children would never have to suffer as he did.
8. His father did not support his acting and modeling career
Every parent hopes that his children will be prosperous. No one wants to be living with grown-up kids in their house when their peers are out there making a living. Mustafa's parents were very optimistic about their son's future; he had studied chemical engineering and was on his way to becoming a lawyer. As Mustafa tells The Knockturnal, his father was loving towards Mustafa and even had a sparkle in his eyes. However, upon learning that Mustafa was pursuing a modeling and acting career instead, the sparkle disappeared from his father's eyes. Mustafa's father has changed his mind now that Mustafa is on "Almost Family".
9. He wanted to study medicine
Mustafa was thinking about studying medicine while still pursuing his chemical engineering degree. It is like the man was determined to outdo himself; chemical engineering then medicine but instead going fora law degree? Although Mustafa chose law school, the idea of being a doctor still lingered in his mind. Therefore, when he read the script of "Almost Family" and saw a Dr Isaac Abadi character, he knew that was the role for him.
10. "Almost Family" is his first project working in New York
Mustafa is from Maryland which according to the 2010 census, is the richest in the United States. The lure of New York could not escape him as a child, so he kept visiting the city by bus since he could not have a car then. At the time, the town looked big, and Mustafa felt like the buildings were closing in on him, but will be moving to New York next week. Despite having visited New York several times, he has never had the chance to work in it until now.