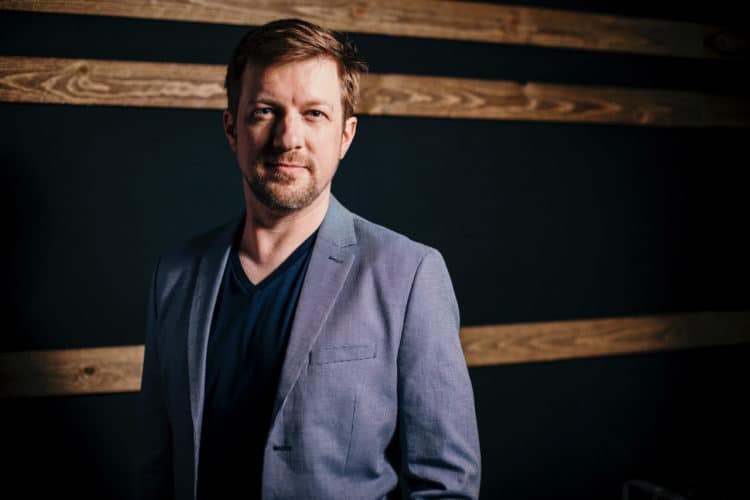 Home Before Dark is one of the latest breakout hits from Apple TV+'s 2020 lineup. The series, which stars Brooklynn Prince (The Florida Project) and Jim Sturgess (Across the Universe), was picked up for a Second Season before it even debuted. Multi-instrumentalist Nathan Lanier is the composer for the mystery drama and is already in the mix of scoring its sophomore season. Here are ten things you didn't know about Nathan Lanier.
1. Home Before Dark Wasn't His First Project with Crazy Rich Asians Director Jon M. Chu
Crazy Rich Asians director Jon M. Chu directed the pilot and second episode of Home Before Dark and also serves as the Executive Producer on the series. However, this isn't the first – or even second – time Nathan has worked with the esteemed director. The first time they collaborated was on the dance television series The LXD: The Legion of Extraordinary Dancers. After that, the two took on the documentary for Canadian megastar Justin Bieber's Believe, a doc that features an on-stage and backstage look at Bieber's rise to stardom. They also collaborated on the live-action feature Jem and the Holograms in 2015.
2. Nathan is Known for His Work on Dance-Related Projects
Lanier is not only known for his dramatic scores like Halo 4: Forward Unto Dawn, but is also well known in the dance world for his unique cinematic dance tracks. His dance music has been featured on So You Think You Can Dance, Dancing with the Stars, World of Dance, America's Got Talent, as well as both High Strung and High Strung Free Dance films, among many other titles
3. He Moved Around A Lot
Before landing in Los Angeles in 2003, Nathan moved around a lot growing up. From Dallas to Albuquerque to Memphis, he eventually took the leap to New York City for his undergrad at Mannes College of Music and masters at NYU. But now he considers his hometown Burbank, CA because it's where he's been the longest (13 years to be precise).
4. He Met John Jacobson… Yes, That John Jacobson
When Nathan was young, his Aunt Lauren served as the music director at Eldorado High School in Albuquerque, NM. She would invite him to attend her swing choir rehearsals where John Jacobson was teaching them new choreography. Nathan got to dance along in the aisles of the auditorium as they performed Michael Jackson and Beach Boys songs. Nathan claims that this experience had a profound impact on his love for writing music for dance.
5. He Competed in Horse Shows
In middle-school, Nathan made a deal with a retired farmer; if he would clean the stalls and help bathe and feed the horses, the farmer would let Nathan race old Dusty in the barrels and poles competitions at the local horse show. Dusty and Nathan did all right, he still has a box full of trophies in his garage.  
6. He Snuck In and Performed on Riverboat Casinos as a Teenager
When Nathan was a teenager, he would occasionally perform violin with backup bands on riverboat casinos in Mississippi. He was too young to walk across "the floor," i.e. the gambling hall, so they would sneak him in the back so he could get to the stage. One of the many music legends he got to perform with was Smokey Robinson!
7. He Trained as a Figure Skater 
After watching the 1994 Olympics, Nathan was inspired to take up figure skating. He saved up money from playing gigs around Memphis so he could buy skates and take lessons. This helped him when he had the opportunity to write music for some of the world's best figure skaters to perform in ISU World Figure Skating Championships, the Sochi 2014 Winter Olympics, and 2017 Carnival On Ice. Some of the figure skaters he has collaborated with include four-time US National Champion Jeremy Abbott and three-time Canadian Ice Dance Champions Kaitlyn Weaver & Andrew Poje.
8. He's Obsessed with Basketball… and Trains with a Former NBA Player
As a fun way to stay in shape, Nathan privately trains with a former NBA Player. Though he's mum on who the player is, he says that they do weekly, intense basketball drills. A few years ago Lanier wrote music for a commercial for the Los Angeles Clippers, his favorite team as well as some music for their "4th quarter hype video" to get the crowd pumped.
9. He is passionate about Music Education in schools 
Nathan actually used to be a music teacher at public schools in The Bronx and Harlem. He continues to champion music education in schools through his support of non-profit organizations like Education Through Music-Los Angeles of which his wife Victoria Lanier is the Founding Executive Director. The organization is dedicated to partnering with low-income area schools in order to provide high-quality music education for all children.
10. He Doesn't Like Olives
A weird fact that should have attention brought to it… because olives are the best.