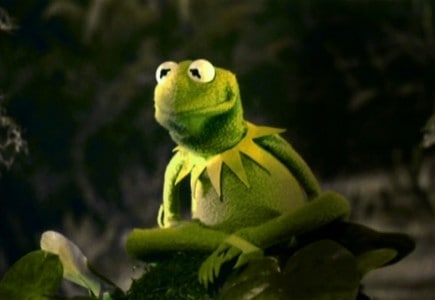 Following the death of the Muppets creator, Jim Henson in 1990, Steve Whitmire has been the voice of Kermit the Frog and he had already worked on the show since 1978. However, Whitmire has decided it is time to retire from this role and his replacement has been announced as Matt Vogel, a member of the Muppets team since the 1990s. He was chosen personally by Henson's son Brian for the job. Vogel is an American professional puppeteer, director, and singer who was born in Kansas City on October 6, 1970. Here are five things you might not know about Matt Vogel.
1. He Has Also Worked on Sesame Street
Vogel has also worked on Sesame Street as this is part of the Jim Henson Company along with the Muppets. He was originally the assistant puppeteer for Ernie. He would operate one or both of Ernie's hands while Steve Whitmire performed the head actions and also provided the vocals. He then became the assistant puppeteer for Big Bird, played by Caroll Spinney before taking on the primary performances of this character. He has also provided the voices for many of the one-time puppets on the show.
2. He Lied to Get the job at Sesame Street
He used a rather underhand tactic to get himself the job as a puppeteer. When he saw the job advertised in 'Backstage', the advertisement stated they were looking for a left-handed puppeteer. Although he really is left-handed, he was not actually a puppeteer at the time. He decided that fitting 50% of the requirements was good enough and decided to apply.
3. He First Performed as Big Bird for Kmart Managers
It is often said in articles that Vogel's first performance of Big Bird was in 'Journey to Ernie', but this is not the case. The first time he played this character was in an auditorium filled with Kmart managers. He said that he had to appear from behind a giant 'K'. He also appeared on Sesame Street prior to performing in 'Journey to Ernie' in a scene with many other characters and where Big Bird had only a few lines.
4. His Most Embarrassing Moment Was at a Fashion Show
Vogel has faced many embarrassing situations throughout his career but he once said in an interview that the most embarrassing was at a fashion show. The show was introducing a new children's fashion line and Vogel was appearing as Big Bird alongside Penny Marshall. When Marshall stepped onto the stage, she overbalanced and lunged at Big Bird to steady herself. Unfortunately, she ripped off his right wing in the process. This happened in front of a full audience and a whole bunch of reporters.
5. He is In a Band
Matt Vogel is passionate about music and is in a band called 'The Mighty Weaklings'. Originally, the band was just Vogel and Michael Ray Escamilla but it has since grown in numbers. Around fifty potential names were written down for the band and @The Mighty Weaklings' was picked at random from the list. Vogel is a father of four and this inspired himself and the band to write and record a rock album for kids called 'You Can't Rock Sittin' Down'.