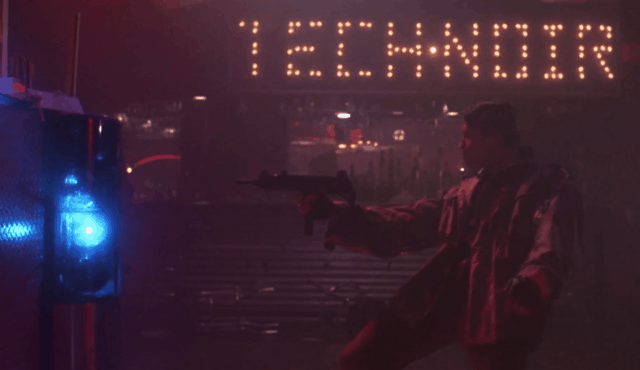 The Terminator was on television last night so naturally I watched it.  You don't turn off The Terminator when it's on television.  Especially when it's on a movie channel and is uncensored.   When I got to the "Tech Noir" scene I was already pumped from the 80s music the movie had played up until that point.  But then that "you got me burning!" song starts rocking in the club and you kind of wish you were there.  You know, except for the part when a Cyborg starts shooting with a machine gun.  Here's some stuff you might not know about Tech Noir.
Tech Noir was a club located on Pico Boulevard in Los Angeles, next to the Super C Ranch Market. On the night of May 12, 1984, the club was the site of a shooting as a Terminator from the future attacked, attempting to kill Sarah Connor. He almost succeeded, until Kyle Reese saved her life. The cover charge at Tech Noir in 1984 was $4.50. The phone number of the pay phone at the club was 555-9175.
In the script, the club is named "Stoker's."
During production, the film crew had to turn away would-be customers who thought the Tech Noir was a real club that had just opened up.
"Tech Noir" refers to a film genre combining the styles of "Film Noir" and "Sci-Fi". This includes films such as The Terminator and Blade Runner. James Cameron coined the term, then also gave the name to the nightclub
Here's what I propose.  We have a real life Tech Noir club.  It could be a chain.  We remove the cover charge.  We still have the same phone number at the pay phone and we have the exact same decorations.  Throw back clubs are already popular and I see no reason a real life Tech Noir couldn't succeed.
P.S. here's the awesome scene in the movie: