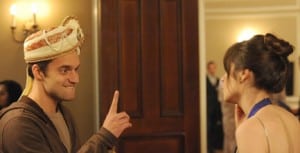 This week's episode of New Girl, entitled "Table 34," had a lot deal with in the aftermath of last week's monumental Nick and Jess kiss. For the most part, I think the New Girl writing team handles the issue between the two of them quite nicely in this episode, while also providing some great development on the Schmidt/Cece front and a funny Winston subplot. Even though I wasn't laughing out loud as much as I usually do during most New Girl episodes, I found the character moments in "Table 34" to be heartfelt and genuine, and there were still enough big laughs from Schmidt and Winston to provide some solid humor.
Most of the action of "Table 34" takes place at an Indian marriage convention, where Cece is supposed to be looking for a husband and Schmidt attempts to win her back (yet again), an idea that seemed way too contrived at the start of the episode, but by the time everyone started building newspaper tables, I ended buying into the fact that the gang would somehow all end up there in the goofy world that New Girl has crafted for itself. The Schmidt/Cece stuff at the marriage convention doesn't break any new ground for the most part, except for giving Max Greenfield a chance to wear a turban while being mildly offensive and extremely charismatic, all within the same scene. The one moment where it does take a turn, however, is Schmidt's sweet and (for the most part) selfless speech about how amazing Cece is. It's embarrassing, charming, and absolutely ridiculous, but it acts as a redemptive moment for Schmidt in both our eyes and Cece's, thus propelling us into the episode's final scene, where Schmidt and Cece find themselves in bed together again.
Amidst Schmidt's continued quest to get back with Cece (because the only people who tell others they are "over them" are people who aren't "over them"), Jake Johnson and Zooey Deschanel do a great work yet again, as Nick and Jess awkwardly deal with the fallout from "The Kiss," going back and forth, blaming each other (Jess calls Nick a dog who licked her up as if she was a bowl of milk, while Nick blames Jess for how she dresses at night, shouting out, "I'm a man, Jessica! Pink robes are my catnip"). They both keep skirting around the consequences of their actions, until, ultimately, Sam breaks up with Jess (and then throat punches Nick) after she tells him what happened and Cece and Nick share a conversation about why they are at Table 34 (the underachievers' table): they're too impulsive and it almost always hurts them. By the end of the hour, when Nick finally apologizes to Jess and the pair share their awkward hug ("Goodnight, Miller!" Jess says to him in a formal, almost army-like voice. "Goodnight, Sergeant," Nick answers back), the writers make it clear that things are still weird and tense between Nick and Jess and that's how it should be. This episode shows the initial steps in these two friends really dealing with their true feelings for one another, and if the New Girl writing team made it too neat or easy, it wouldn't ring true or be as satisfying to watch. I'm really excited to see the interactions between Nick and Jess throughout the rest of the season now.
Lastly, Winston, basking in the glow of having slept with Daisy from last week's episode, claims that he has gotten his "mojo" back, even bestowing upon himself the title of "Mojo Man" (accompanied with its own dance). At the marriage convention, he then gets hit on by the program's coordinator, and uncomfortable by her advances, he ends up setting her up with another guy there. Also, in a very fun scene, Winston learns about Nick and Jess's kiss and responds in a way very true to his character by hitting Nick in balls (twice).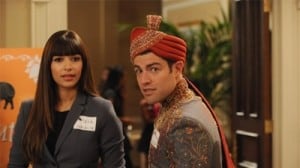 Not too much development for Winston this week, but it's all good because he's the funniest part of the episode.
All in all, another solid installment of New Girl. I'm anxious to see where the developments from this week lead. How awkward will things continue to be between Nick and Jess? Will Schmidt and Cece officially get back together? And, most importantly, will Winston remain "Mojo Man" for another week? I can't wait to find out.
Other thoughts:
– Nick and Jess's awkward morning after the kiss was a great way to start the episode. Hilarious and realistic. I also really loved Nick's "panic moonwalking."
– Jess to Cece: "Nick kissed me." Cece's response: "Whaaaa-" and cut to the credits. Another smart, funny decision by the New Girl team.
– Great dance scenes in this episode. Winston's "Mojo Man" dance and Nick's uninspired moves to Taylor Swift's "22."
Best New Girl Quotes of the Night
– "Just remember: Wherever you are, The Mojo Man is there." – Winston.
– "You've named your testicles, and they're both named Sharon!" – Winston to Nick.
– "Get your crap together, India. Schmidt Out." – Schmidt's closing line to his speech.
– "I will Calcutta a up in here." – Schmidt.
– "I just wanted to listen to Taylor Swift alone." – Jess to Nick as he tries to cheer her up.
– And the funniest line of the night: "I'm going to take you on a magic carpet ride." – Schmidt (while still in his turban) to Cece as they are about to have sex.