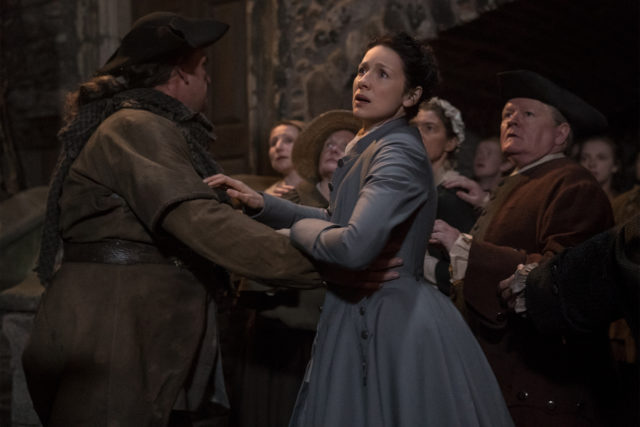 Outlander fans were treated to the reunion of the centuries with one of the series's most exhilarating episodes that had Claire and Jamie Fraser coming face-to-face after 20 years apart. Claire and Jamie may finally have reunited, but they are by no means safe. In the time that she's been gone from the 18th century, Claire has been safe. She has now returned to a time where a headstrong female physician would at the very least be seen with suspicion, to say nothing of the danger Claire found herself in the last time she came through the stones. That was when Jamie was considered a traitor, but innocent of real wrongdoing. 20 years later, Jamie has fully embraced several illegal dealings in order to keep his family afloat. The consequences have caught up with him at the worst possible time.
Picking up where we last left off, who was the man who attacked Claire (and ruined an otherwise blissful reunion)? A man who worked for Sir Percival, the city leader who turned a blind eye to Jamie's illegal activities in exchange for a share of the profits. Luckily, the man slips and knocks himself out before he can do any real harm to Claire. Despite Jamie's protestations, Claire puts her Hippocratic oath before anything else. She fails to save the man's life. That hits Claire very hard because, personal feelings aside, Claire has great pride in her work. She fought like hell to become a great surgeon, so she takes it very personal when a patient dies on her watch. Claire hoped she could at least help a supposed seer named Margaret Campbell, but the woman has a mental incapacity. Claire is not equipped to handle that kind of illness.
Just as Jamie has to readjust to Claire, Claire has to readjust to all of the changes in Jamie's life. Learning that Jamie is a smuggler living in a brothel is one thing, but Claire is far more apprehensive of Jamie harboring Young Ian without his parent's knowledge. After all, Jenny and Ian are the boy's parents, not Jamie. That really gets to Jamie, considering he couldn't be a parent to either one of his children. He had no say in how the Dunsanys raised Willie, nor how Frank and Claire raised Brianna. Jamie would certainly have been a much more conservative father to his daughter than Frank was, though his efforts at taming her would probably have gone over as well as his efforts to tame Claire.
Young Ian is in awe of his aunt, and Fergus is overjoyed to have "Milady" back. Fergus talks about Claire with great admiration, the way a proud son would. Claire did not come back to boys though. Ian and Fergus are young men who have a knack for business, and a healthy respect for the opposite sex. Fergus's charm is just as compelling as when he was a child. His knowledge of what women want even lands Young Ian his first lass. Unfortunately, things get dangerous fast. Young Ian catches one of Sir Percival's employees searching the print shop, and the man finds proof of Jamie's sedition. Even though the print shop goes up in flames, the damage is done.
Jamie now has no choice but to take Claire and Young Ian home. They are no longer safe in Edinburgh, but everyone will suffer for this decision. Because there is one last detail Jamie has not yet told Claire about his life: his other wife. If you think that's bad, wait until you see who the second Mrs. Fraser is.
Claire and Jamie may be soul mates, but were they safer apart?
Outlander Season 3 Episode 7 Review: "Creme de Menthe"
Summary
The danger for Jamie and Claire in Edinburgh rapidly increases on this week's Outlander.