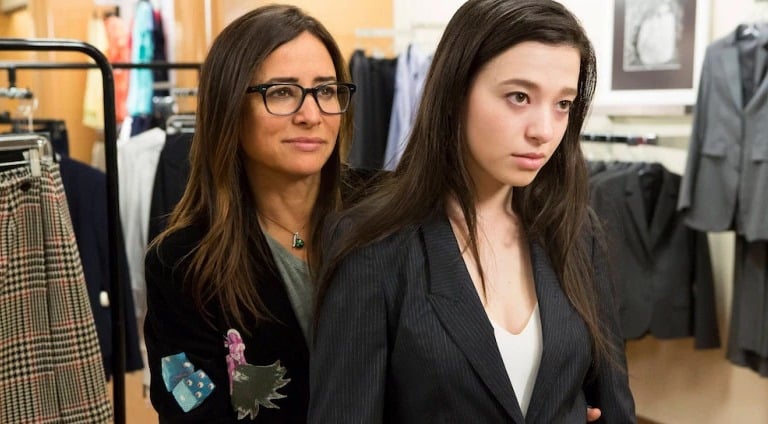 When Ben Travers wrote for IndieWire that Pamela Adlon's work on the Better Things Season 3 series of eight episodes has created "endlessly watchable" TV; he was absolutely correct. Adlon is crafting something so new and so unique that it is easy to understand that it is truly amazing storytelling. Adlon takes on topics which have traditionally been taboo for primetime viewing. Every topic that women discuss, or can't, has found a space for exploration in this tantalizing series. She has taken on those life moments which are universally experienced, but often not acknowledged, and brought them to TV. Her characters interact in scripts which make being-in-the-moment irresistible. Adlon is shaping a new kind of TV and for that reason, it's timely to get to know a few things about her.
1. Pamela's grandmother painted some of the paintings shown in Better Things
In Michael Walker's May 8, 2019 article for the New York Times, he wrote about her bungalow in Los Angeles and how it is filled with artwork from many unknown artists. Adlon has acquired paintings by bidding for them during fundraisers. The Better Things stairwell is filled with artwork from her own collection, but truth be told, they are all reproductions because she once caught the production staff walking off set with unwrapped, unprotected originals she owns. Notable are the portraits painted by Phyllis Leece, who is her grandmother. Leece started painting when she was in her 50s, and the portraits created a love for figurative art that Adlon recognizes and frequently includes in story lines on her show.
2. Adlon won an Emmy for her role in King of the Hill
She was the voice actress who portrayed Bobby Hill on King of the Hill using what IMDB refers to as her "raspy deep voice" to create the voice of Bobby Hill. She frequently provides voice acting of tomboys and young boys as her voice acting work. Her voice talents have been part of several animated series on TV. She was also nominated for Emmy Awards for Better Things in 2016 (playing Sam Fox). She's quoted as noting the importance of using female voices to portray boys when a series takes a long run. Women don't experience puberty-related voice changes as boys do, and that's a financial and practical consideration for TV productions.
3. Pamela has been acting in Hollywood TV shows and movies for more than four decades
Her birth name is Pamela Fionna Segall. Her father, Donald Maxwell Segall, is known for his work as a television comedy writer and producer. He's also the author of science fiction novels and comic books. Pamela began to perform at a radio station owned by one of her father's friends. She was just nine years old at the time. Her father was from Boston, Massachusetts. Pamela made her film debut in the 1982 Grease 2.
4. Pamela was devastated by the very public break with her long-time business and writing partner Louis C.K.
She told Vanity Fair that it was a shock to discover what she referred to as his "abhorrent behavior" toward the women who made the decision to step forward about it. As a result of distancing herself from him, and others she had shared professionally with CK, she made the decision to create and run her own writer's room for Better Things' third season.
5. Pamela's three daughters live with her, and that's one reason she says that Better Things reflects reality
She recently described her FX series to NPR focusing on the way that her character, Sam Fox, is also a single mother of three girls who works to support them and their aging grandmother. For Pamela, her TV role is simply an "exaggeration" of her own life. In another example of art imitating life, she found that once Louis C.K. was accused of, and admitted to, his sexual misbehavior with many women she lost interest in Better Things. She was completely smacked by the news and struggled to move forward with the series. In the same way that Sam Fox struggles to keep working as an actress, Pamela also struggles to find ways to move forward creatively with her art. So, she's included themes from her own life in her series.
6. Pamela keeps hundreds of ideas for Better Things on paper
It may have been to compensate for lack of organization due to the trauma she felt after the sexual conduct news spread. It may have been that she simply organizes herself by writing lists, but regardless of the inspiration, Pamela does keep her ideas written down in journals and folders. As the Los Angeles Times reported, these notes to her creative self "are everywhere".
7. Pamela's not fond of acting
She told Entertainment that she would prefer to not act on-camera. That's what would really make her happy. Part of her issues with it are the need to have "a certain face" and that she has to memorize her part. She truly prefers to provide the voices for animation projects. It's her favorite way to earn her salary. The recording studio turns out to be her favorite place to work because it's "dark and cool" there and the work is "easy and quick".
8. Pamela wears her own clothes when she's on Better Things
She says it's not important to wear brand new clothes all the time. She considers buying from stores like Out of the Closet, Jewish Council Thrift, and Goodwill as part of her personal aesthetic and the same way her daughters buy their clothes, too. Pamela described them as "thrifters and scavengers".
9. Pamela made certain the set of Better Things was free of plastic
She began before production for the third season. She started with buying refillable water bottles for everyone of her crew members. H2Go water bottles and reusable, copper-lined canteens are the norm. All of the disposables on set are eco-friendly. The coffee cups, spoons, and forks are biodegradable. Healthy menus are the norm for food service on her set. It's the way she enjoys doing things.
10. Her favorite shows growing up were Eight is Enough and The Waltons
She liked the nice family vibe in both shows. She said the shows had a kind of "white bread" everybody- getting-along-feeling that made her feel good, too. Those TV families were completely opposite of her own family, which she described as "weird".
11. Pamela told Stephen Colbert her two words for physical changes are "So what?"
She walked onto the stage of The Late Show with Stephen Colbert wearing a hot pink jacket and brought him a gift of candy from Europe. He congratulated her on Better Things. She tried to eat some of the candy with him but ended up spitting it out. She then described what happened to her when she turned 40 and how she felt when she became 50. She discovered that her eyes had gone bad and she needed glasses. She also discovered that her pants had become too tight. She brought a humorous video showing her trying on clothes in her closet which no longer fit. She told Colbert that her most favorite time on set is going on a break where she can take off her bra and completely rest for a while.
12. Pamela doesn't care what people think about her parenting skills
She told Variety that she has many days of "anxiety and crippling panic", but she is more confident in herself than she has been in any time of her life For her, the change took place when she began to tell the story of a woman "of a certain age". She used to be concerned that other moms did things better. But she discovered that others wanted to learn about parenting from her experiences, too. She noted that kids grow up and do not "define who their parents are as people". Being a parent is "incredibly fulfilling", but she also notes that it's equally important to know who you are as a human being. She stopped worrying about what people think of her as a parent because she has learned to do "what feels right". She's learned that those uncomfortable parenting moments provide her with "great material" for her show.
13. One of Pamela's most embarrassing moments happened when a director pointed at her armpit and complained about a sweat stain in her silk shirt
She was a teenager filming a show in Vancouver, Canada. She was very nervous about the job, being young. She felt the most humiliated she had ever been, and she still remembers the incident vividly as an adult woman.
14. Pamela strongly advocates for minority opportunities
She knows that it is extremely difficult to find people of color and women to do post-production work in the film industry. She attributes the problem to lack of education. She's been advocating for events which inform young people about the kinds of jobs that are available. To move things in that direction she's already busy organizing job fairs for minority filmmakers and young women so that they can learn what professions Hollywood has to offer behind the scenes. She said that many people are crying for TV sets to be all-inclusive. It's incredibly difficult to find people of color and women to hire for jobs. She believes the sets must "feel safe" and that "toxic male energy" is obvious to everyone there. It's something that she intends to change. If she has her way, all sets will be all-inclusive because the education necessary to help people know that jobs are available to them and they can develop the skills necessary to fill those spots.
15. Pamela believes that it's better to say "working dads" rather than "working moms".
Kveller reported that Pamela feels that this is more correct because mothers truly work all the time. The typical general comments about working mothers make Pamela feel as if they diminish mothers. She also noted that she would be impressed and respect a working dad.
16. Pamela married Felix Adlon in 1996 and they had three daughters
Their daughter Gideon was born first in March of 1997. She began her acting career in 2011, appearing on TV and in films. Odessa was born in June 1999. She began her acting career in the 2012 movie, Nashville. Valentine (aka Rocky) was born in 2002. She started her acting career in 2011. Pamela and Felix were married fourteen years. Felix O. Adlon is famous for his work as screenwriter and producer of films. He was born in Munich, Germany and is the son of Percy and Eleonore Adlon, who are known as a movie-making couple. Though Pamela and Felix had dated each other from the time they were in high school, they separated in 2010. Felix reportedly returned to Berlin; as posted by his new wife, Nina, @ninaadlon, on Instagram.
17. Pamela was the voice of Dewey in Quack Pack
It's much harder to recognize her voice as Dewey. The duck quacks don't really give much of a clue to the fact that it's Pamela providing the cartoon character's voice. Certainly, the Emmy she won for King of the Hill makes that voice-over work some of her most famous. But Josh Kurp, Senior Pop Culture Editor for Uproxx in 2015 made the astute observation that she has appeared or been heard in many movies and shows, though we may not recognize it.
18. Pamela appeared as Oji in Star Trek: The Next Generation
At the time, she was still single: Pamela Segall. It was March 2016 when Uproxx ran an article about actresses who have been part of the Star Trek universe, even if for a very short time. Pamela was Oji the Mintakan for just one episode. Her tribe was less advanced than the crew of the Enterprise-D, but it was their technology which healed her father. Oji inadvertently watched as her father was beamed aboard the Enterprise for emergency medical care.
19. Pamela wanted to call her show Better Things because it shares the same name with a song she loves by the Kinks
She told Vulture that she had asked Louis C.K. to name a few shows using her favorite theme, but he ended up with Lucky Louie instead. There was also a pilot rejected by CBS that she wanted to name Better Things, but it didn't work out. Now the actual show Better Things inspires her because it is "very positive" and she thinks of it as a "toast to better things".
20. Pamela's mother had a key to Adlon's house. Pamela had to take it away from her
According to Kveller, Pamela bought the house next door to her mother about 2005. Pamela would be in her own bathroom or kitchen and she'd turn around to see her mother lurking right there. Her mother excused her sudden arrivals by assuring that she was "calling out, hello." But the fact is that Pamela says her mom scares everyone. She describes her mother as an "English-born-Episcopalian-converted-to-Judaism."