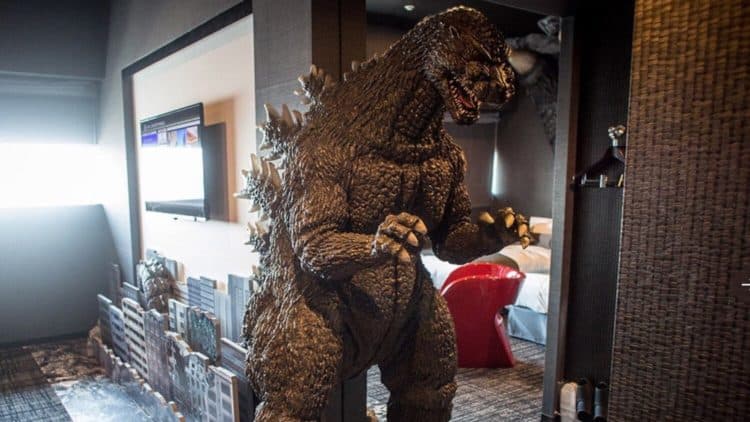 The Hotel Gracery Shinjuku in Tokyo is obviously banking, or trying to bank, on the recent Godzilla fame that has revived the old classic and will hopefully continue to do so in the coming year, or years depending on the success of the coming movie. Joey Paur of GeekTyrant certainly seems impressed by this idea and it's not hard to see why, if a person is a Godzilla enthusiast at least. Honestly it's not hard to see why since if you do love the movies, new, old, or both, this is the place you might want to go and say that you've stayed just for the experience. The foot coming out of the wall is pretty impressive, as is the view of Godzilla's eye in the window slot. Obviously this place decided to go all out when it came to catering to those that happen to love the big lizard and would do anything to stay in a room that's dedicated to the behemoth. But it does make me wonder there are any other aspects of Godzilla's legend that have been added to the hotel since there have been a few different creatures that are attached to this legend.
Mothra for instance, or Roda, Ghidorah, MechaGodzilla, and many more, especially King Kong, would be great additions to see in this hotel if they're not already there. It'd be hard to think that they're not in some way since Godzilla hasn't existed in a vacuum during his long tenure, and has gone head to head with a great number of creatures throughout his lifespan. Well, before you get too excited, it's not the entire hotel, it's just a room within the hotel that offers this unique experience, so dry your eyes and go on the site to see just how much this room goes for before you really dedicate yourself to the experience. Seriously, if you were thinking that there was an entire hotel dedicated to Godzilla you might have been setting your expectations a little high since such a place would be kind of cool and even stand a chance to make some money if it happened to be smaller and more direct in its advertising. But the Gracery Shinjuku is all about making money and offering a pleasant stay to its guests, much as any hotel, and while a Godzilla-themed room is fun to think about you can imagine that an entire hotel would be seen as a little ridiculous. Campy, overdone, and a slightly childish representation of a classic that is great but not exactly worth going that overboard for, that seems to cover it better.
Godzilla Room at Hotel Gracery Shinjuku, Tokyo pic.twitter.com/ndu3Htapds

— 41 Strange (@41Strange) September 24, 2019
Don't get me wrong, I happen to like Godzilla quite a bit and have watched numerous movies on the big lizard throughout the years, but thinking that he's worth his own hotel is a bit of a stretch. A room, even a set of rooms, would be kind of cool since it could possibly open up the legend a little more and have several rooms that were perhaps themed in a different way to display Godzilla and his many enemies. There would have to be a King Kong room, without a doubt, and course a King Ghidorah room, since among all his enemies these are two of the most iconic. Of course there might be arguments about this since Godzilla's taken on some of the toughest adversaries and has managed to come out on top. But just staying in this room would a delight since pictures would be a must and the talk that comes after as to what it's like to sleep under a giant foot and wake up to see Godzilla peering in the window would be something that people would absolutely want to hear about. After that though it would be a pleasant memory most likely, something you could cross off the ol' bucket list as you moved on to the next thing.
It's not at all surprising that Godzilla has been used in this manner since his likeness has been seen worldwide for decades now, and apart from King Kong he's probably one of the most popular movie monsters that's ever existed. The fact that another movie is still forthcoming, Godzilla vs. Kong, is enough to think that his legend isn't going to go away anytime soon. In fact it almost feels safe to say that neither he or Kong will go away entirely since both of them are loved too much to really be allowed to tear into one another to the death. For years the arguments have raged on and on about who can beat who, who has the advantage, and what the final outcome would be. A lot of people are betting heavily on Godzilla after this last movie, but there are still a few believers out there that think Kong might have something up his hairy sleeve.