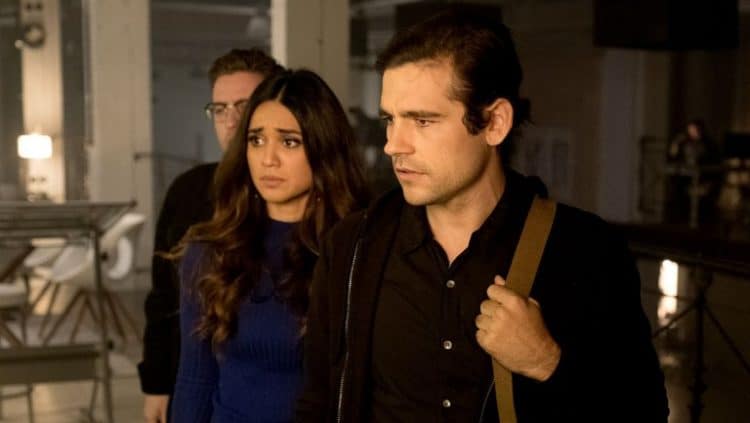 We all love a good story, and that is why it always feels terrible when we don't get the endings we hope for in interesting fantasies. If only the insanely and insatiably interesting book by Lev Grossman determined how 'The Magicians' ended, we wouldn't have a Season Four. We would be horribly distraught, although season four still crashes us. However, as Sera Gamble and John McNamara find a way to make elongate the series and keep the drama running, we are privileged to keep enjoying the ride. It is almost impossible to predict what happens next with this series, and maybe that is why we all love it so much. Yet, for some strange reason, 'the Magicians' binds us in a spell that demands we predict what's going to happen next: accurately or not. The following are some 10 predictions of what could happen next in Season Five of this fantasy series that now exists out of the realms of Grossman's pen.
1. Major Sibling Rivalry
Do you remember the shape-shifting monster who took over Eliot's body and consciousness? He just loves attention, doesn't he? He forces Quentin to tag along as he goes on a killing spree, and it is evident throughout Season Four that the all-powerful monster has deep-set personality issues that cause him to constantly crave for attention and companionship. He doesn't have any form of regard for what other people feel, need or desire. When he found out about the Sister's and subsequent takeover of Julia's mind and consciousness, he can't help but wonder if she remembers him. Since then, he no longer has interest in Quentin's companionship, and Quentin is lucky that the monster doesn't kill him. The Sister liaises with the Monster and together, they go on a savage and barbaric killing spree. They plan to kill the older Gods using a particular scroll. In season five, the two monsters will find another way into the human realm again, but they will be sworn enemies. The conflict will form a pivotal point through which other characters will pursue their interests or destinies.
2. Eliot Will Be in More trouble
Eliot and Julia did not kill all those people they did, but everyone, those who know the truth, thinks they did. Some people know the truth, but will always be affected by the sight or thought of Eliot and Julia. These two characters were under siege, and villainous monsters overtook their will and consciousness prompting them to do very evil things. It was simply one of the worst ordeals that the two could ever go through. Their luckiest break includes regaining their consciousness, but that only leaves them in a reality where everybody thinks they are murderous villains. How do they get out of the consequences that follow? Season Five of the magicians will take us directly to the conflict in which Eliot and Julia fight to regain their trust, worth, reputation and fate.
3. Eliot and Alice Fall Out
This team has been tried and tested many times in the past, and every test seems to drive them to the edge of disunity. In fact, it is a big surprise how these guys even got through together to Season four. They've been through a lot, but they must always work together to defeat their enemies and events of doom's day proportions. In Season Five, the tension within the team is going to increase on account of Quentin. He has two love interests within the team thus effectively creating a love triangle. He is going to be the unintentional wedge driving Eliot and Alice apart. You know how deadly love triangles can be; after all, aren't they fueled by jealousy?
4. Dean Fogg Goes Deranged
The Monster and his sister take siege of the Library and kill people aimlessly. They then reach Dean Fogg and injure him in a bizarre fashion. Were it not for Alice and Quentin who save his life, the monsters would enjoy a perfect finish for their world order shift. In Season Five, none of the students want to hear anything that he says. He is powerless, weak and without any influence. People detest him for rationing magic, and most of the main characters hate how he made them forget themselves. It will take him an ultimate act of self-sacrifice to redeem his legacy.
5. Penny Leaves
Prediction: After saving the day and almost dying, Penny can't shake the thought of becoming a successful international DJ. He lived the life, and it was way much better. He decides to go back to DeeJaying but may be brought into magic with another crisis.
6. Zelda Becomes Head of the Library
Zelda's intention to become the head of the library was nobble, and someone needs to assume responsibility after the mayhem that transpires in Season Four. The prediction really can't tell if she gets it for the sake of losing it or if she'll something solid with it.
7. Kady Dies
We must have an appreciation for Kady's dangerous distractions and her reckless decisions. No matter how justified callous behavior is, it always leads to calamity. We are all thrilled that she survived this long, and we root for her when good or bad. I predict that she dies in Season Five.
8. Quentin Ends Up with Eliot
This is the ending everyone hopes for guys. Some people detest the thought of Quentin-Alice matrimony; it would rather be Alice. Even the producers of the show know it. They may toy with our emotions as the show progresses, but they know not to mess with the ending.
9. Dean Fogg Becomes a god
The dean is the only tough one who can bewitch the dynamic students to forget who they are and become different characters. His intentions were noble, and he set up a world order that was safe, just and sustainable. Faults in his plan and forces greater than him lead to his death is a sequence of negative ripple effects of his legacy. He becomes the god everyone else was trying to be, and Season Five includes that transition.
10. The fallen library regains power
How much would you love this?