Just when it seemed 2016 couldn't get any worse, the news hit that actress Carrie Fisher has died. Â The first words out of my mouth were ones I can't print. Â She was only 60 years old and in these times, that's too young to die. Â As such, when on Friday the world heard she'd suffered a heart attack flying back to L.A. from London the thought was she'd be fine. Â In fact, on Christmas day the reports were that she was in stable condition. Â No one was expecting this.
She's done many things in her career, but it's her first role that made her an icon for all time.  George Lucas cast the 19-year-old daughter of actress Debbie Reynolds and singer Eddie Fisher as Princess Leia Organa in the blockbuster 1977 film Star Wars.  The character turned the whole damsel-in-distress idea on its head.
That Princess Leia hologram said Obi-Wan Kenobi (Alec Guinness) was the rebellion's only hope, but it was the princess orchestrating her own rescue. Â Like most little girls in 1977, Leia became my instant favorite. As handy with a blaster as the boys, she never let anyone stand in her way – no matter how big and scary-looking they were.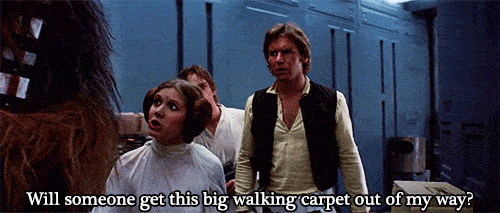 In retrospect, the fearless and outspoken princess seems infused with Fisher's feminist instincts and rapier wit.  The character that would forever be a defining part of the public's image of her perhaps took more from her than Fisher's physical being.  In a 2015 L.A. Times interview Fisher admits that Leia being no ordinary princess is what she liked about the character and the film.
…it made the female more active, it let her boss around men. She had contempt for and worked with men and I liked that. There was something human about her. It showed that she could do whatever she needed to do, and if she could do that, then everybody could do it.
Carrie Fisher: Life Beyond Star Wars
Fisher never took her second generation Hollywood status too seriously.   In fact, while promoting her 2008 book Wishful Drinking  on NBC's Today show  she said had she known taking the role of Princess Leia in Star Wars would make her as famous as her parents she wouldn't have done it.
"I saw the heartbreak of celebrity," she told Lauer. And what she saw convinced her she didn't want it: "Get me away from that."
Nevertheless, once in that spotlight, Fisher did well with it. Perhaps because she'd seen the folly of hiding things while growing up with scandal covered parents, she tended towards being honest and straightforward about everything. Â  It's hard to create a scandal when there are no secrets. Â Her way of speaking the truth was always with irreverent humor, a habit which she also explained on Today.
 "I make light of stuff," the 52-year-old actress and author told Lauer. "It's better to get funny fast, or it's just going to haunt you."
The woman who never wanted to be famous had an extensive Hollywood career, but not simply from acting. Yes, she did other movies. Â For instance, she played the best friend of the Meg Ryan character in When Harry Met Sally. Â However, Fisher was also a novelist, screenwriter, and script doctor. Â Aside from her role as Princess Leia it is her other endeavors that she will be more remembered for.
Carrie Fisher: Champion for Those With Mental Illness
One of those endeavors isn't a career-related thing.  Fisher became famous as an advocate and role model for those with mental illness.  In particular she spoke often about being bi-polar.  Her first time to directly address the issue was in the year 2000.  It was in a  20/20 interview with Diane Sawyer.
"I thought they told me I was manic-depressive to make me feel better about being a drug addict," she said, one of her first times speaking publicly about living with the disorder. "It's what you think. If you could just control yourself … You had an indulged childhood … You were a child of privilege … I don't know, that's what I thought. You're just a drug addict."
She would continue to speak out the issue in her writing…
You know how most illnesses have symptoms you can recognize? Like fever, upset stomach, chills, whatever. Â Well, with manic depression, it's sexual promiscuity, excessive spending, and substance abuse – and that just sounds like a fantastic weekend in Vegas to me!"
– Carrie Fisher, 2008, Wishful Drinking
…as well as in interviews. Â One of the bravest interviews she did was in 2013 with People magazine. Â It was after a very public manic episode that was caught on camera and posted on YouTube. Â Fisher addressed at length what happened, in the process she painted a very real picture of what it's like to be bipolar.
The only lesson for me, or anybody, is that you have to get help. It's not a neat illness. It doesn't go away. I'm just lucky this hasn't happened more. [In the future] I don't know if there are setbacks or steps forward. I'm not embarrassed. I'm sorry for my friends and my family. I feel bad for my daughter [Billie, 20, with agent Bryan Lourd]. I don't want this spectacle-making illness to make a spectacle of me and, in so doing, her.
Carrie Fisher, the Writer
Ficton
Her first book, the semi-autobiographical bestseller novel,  Postcards From the Edge, became a model of her future ones: fictionalized versions of her life.  However, all of her books – fictional or not – helped create a platform to speak out candidly about her own struggles with bipolar disorder, drug addiction, men, and her famous family.  Each one is filled with Fisher's wisdom, both observational and hard-learned.
She could be beautifully poetic with her words.
I shot through my twenties like a luminous thread through a dark needle, blazing toward my destination: Nowhere.
– Carrie Fisher, Postcards From the Edge
Far more often though she wrapped brutal truths in dry and quirky humor.
"Karl Marx: "Religion is the opiate of the masses."

Carrie Fisher: "I did masses of opiates religiously."
― Carrie Fisher, Postcards from the Edge
Her other novels are: Surrender the Pink, Delusions of Grandma, Hollywood Moms, and The Best Awful There is.
The Scripts
Fisher's first screenplay was when she did the script for her book Postcards from the Edge.  It would later turn a film directed by Mike Nichols and starring  Meryl Streep, Shirley MacLaine, and Dennis Quaid.  The dramedy gave Streep one of her nineteen (to date) Oscar nominations.
From there Carrie Fisher the actress became Carrie Fisher script doctor extraordinaire.  Some of her uncredited work is in Lethal Weapon 3 , Outbreak and The Wedding Singer (www.en.wikipedia.org).
Non Fiction
It's in 2007 that she removes the mask of fiction from her writing.  Wishful Drinking was a 2007 one-woman show about her life.  The success of its runs led her to do a 2008 memoir (also called Wishful Drinking)  based on the play.  Not only was the book a best-seller but the play would go then on to have a well-received limited run on Broadway.
New York Times Theater critic Ben Brantley states what made that show so remarkable.
Ms. Fisher, daughter of the movie star Debbie Reynolds and the crooner Eddie Fisher, cannot be said to have had an Everywoman's life. Yet "Wishful Drinking" makes you believe, for a couple of hours, that Carrie Fisher is you.
It is this ability to mine both the universal and the humor from her Hollywood life that sets Fisher apart from many Hollywood stars attempting to write about their lives. Â  Take this little gem:
Sometimes you can only find Heaven by slowly backing away from Hell.
You don't need to know the story behind it to know exactly what she means.
Finally, in what turns out to be her last memoir, she reveals another secret. Â The book, called "The Princess Diarist," Â is based on the journals Fisher kept while filming the original Star Wars. Â The secret? She and Ford had a three-month affair while filming the movie.
"It was Han and Leia during the week, and Carrie and Harrison during the weekend." She says the romance ended when shooting on the film did, and remembers the ordeal "fondly." Â  Â  Â  Â  Â (Â www,newyork.cbslocal.com)
With this secret out in the world, Fisher seems to have let go of all things one might consider scandalous. For better or for worse, Fisher died with her life being an open book. Â It's the polar opposite of that old Hollywood rule about hiding anything that could be considered bad or embarrassing. Â Of course, 30 years later, this news is fairly harmless, all the people involved have long moved on to very different lives. Â Case in point: Ford released the following statement to the press about Fisher's death.
"Carrie was one-of-a-kind…brilliant, original. Funny and emotionally fearless. She lived her life, bravely  …My thoughts are with her daughter Billie, her mother Debbie, her brother Todd, and her many friends. We will all miss her."
Carrie Fisher: The Evolution of a Princess
http://gty.im/480312916
When someone dies there is a very human tendency to attempt making some kind of sense out of it. Â In looking at her life, one could say that there is a certain feeling of it having come full circle.
The 2015 movie,  Star Wars: The Force Awakens is set 30 years after the events in Star Wars: Return of the Jedi.  In this first installments of the third Star Wars trilogy, Han Solo (Harrison Ford) Luke Skywalker (Mark Hamill) and Princess Leia Organa (Carrie Fisher) were reunited.
(SPOILER ALERT for The Force Awakens) Â Obviously older and wiser, the princess is now General Leia Organa and the head of the Resistance. Â The love affair of Han and Leia is now that of a painfully separated couple who are the parents of a son on the wrong path. Â It's a story that reflects the ups and downs of love, life and success that many women experience.
The Wrap Up
During this final year of her life Fisher was in the stand alone Star Wars film Rouge One.  She also finished filming Star Wars VIII.   In short the Princess turned General is the perfect role model for 1977 little girls all grown up. It also gives us a different new hope.
In The Empire Strikes Back, Fisher was immortalized in a metal bikini.  Yet thirty years later her role in the franchise continued to be a strong relevant character.  Despite the star being told she had to lose 35 pounds to do the role, in Hollywood it's still an amazing feat that she maintained such a prominent part of the story.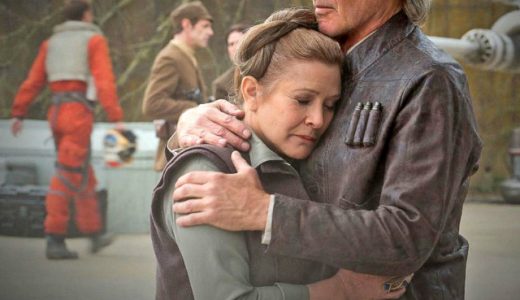 In short, at 60 years old Carrie Fisher died in what could be considered the prime of her life. Â …The Force was strong with that one. Â As a result, she will never be forgotten.
"We live in America,' he said. 'Everyone who speaks English understands you. How they interpret you is something else."
― Carrie Fisher, Postcards from the Edge