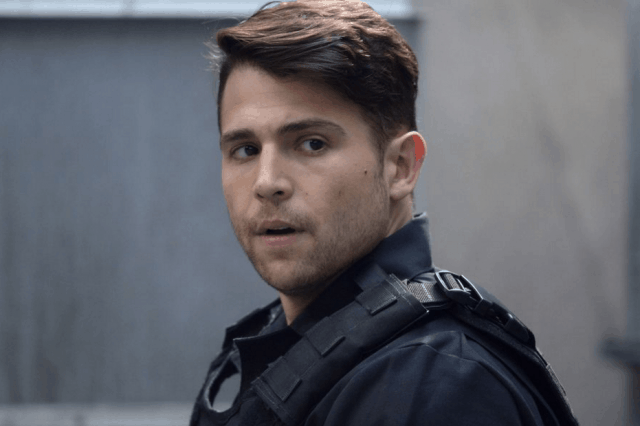 Last week Quantico's Lenny Platt seemingly exited the show after his character Drew Perales willingly decided to leave the FBI Training Academy of his own volition. Lest you think that was the last you've seen of the lovable trainee, think again. In an exclusive interview with TVOvermind, Platt spoke on Drew's future, projects past and present, plus the terrorist reveal.
Though Platt wouldn't definitively say whether or not Drew would be seen again going into the hit ABC drama's season finale, he did hint that Drew's story, whether you see it or not, is definitely not finished.
Drew exited Quantico last week, but is this really the last we've seen of him?
What I can say, and fans have noticed this as well, Drew has never been shown in the future, so I think it will be interesting if we see him again. Poor Drew has lost a lot in his life. He finally found something that he believed in, and he lost that as well. The audience will be curious to see what Drew has been up to.
When we first met Drew he was a really driven student at Quantico. Do you feel that the way Drew left lined up with who he is? 
I thought Drew wasn't the kind of guy to hide from anything, so I was surprised to read that he chose to retreat. A lot of that was motivated by feeling betrayed by Alex. It helped motivate that, his judgment was clouded. He's a guy who wears his heart on his sleeve… or maybe he's not. I think he's been a guy who tells you like it is. Honesty, that reflection of his character, would make him a good agent. I wonder how much of a Boy Scout he (really) is.
What do you think it was that made Alex's relationship with Drew different from her relationship with Ryan? Does he blame Alex for turning him in?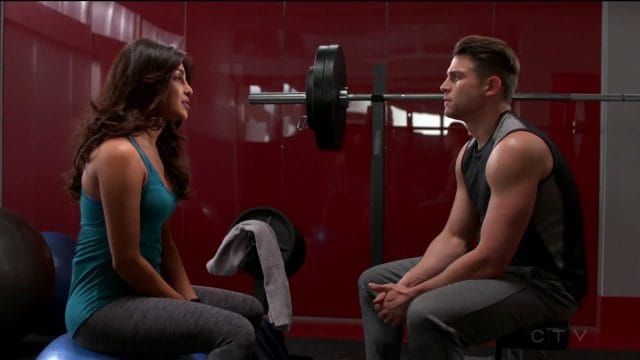 (At first) Drew played a little hard to get. Alex is a beautiful woman who doesn't have a problem bringing a man in her life. They were both competitive (in the beginning) and that cat and mouse dynamic led to the chemistry between them. They both have this desire to be the best version of themselves, but there's this camaraderie between them. It's set up so that our characters have scenes together, but the two of them work well together. They know their partnership is strong. He has been this Omega to Alex's alpha in a lot of ways. But everybody's got a dark side.
He feels betrayed by her a little bit. He noticed her reaction to Ryan where they were talking about him, and the two of them had this moment where it was clear they still had an emotional connection with each other. He made a good call, to step away. Alex did it because she cares about him, but she cares about the lives of others, it's her job to report that.
What can you tell me about the terrorist going into Quantico's season finale?
What airs on Sunday, and going into the finale, everything in the future is happening in real time. The puzzle pieces all fit perfectly, if you go back and watch the show, all the clues are there . I do know (who the terrorist is).
You really broke out when you landed your role as Griffin O'Reilly on How To Get Away With Murder. What was it like working on a Shonda Rhimes show?
It was an amazing experience. Peter Nowalk (HTGAWM's Executive Producer) gave me a hint as to where the character would go. I was a small part, but I was apart of this story being told, apart of the vision for the show. I really got an insight into how her (Rhimes's) productions are run. Her work is a magnet for all these really amazing talented performers. It was super educational. I got to see the importance of social media, a way for the actors to engage with fans. They're very present on social media, this stuff helps grow their audience. Shonda stresses that on her programs. I've tried to do that with Quantico as well.  I do wonder what Griffin O'Reilley is doing… if he will ever get to avenge (being wronged).
Since the Daytime Emmys are this weekend, I have to ask about your time on One Life to Live as Nate Salinger. I confess I was a huge fan of yours on that show, and still consider the day they cancelled AMC and OLTL a dark day in television. What did working with the pace of Daytime teach you about acting? Do you have any fond memories from your time on the show?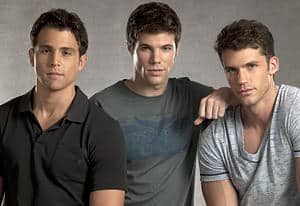 The pace is intense, that was my first major acting role. 30 pages of dialogue a day, sometimes working with working 3-4 directors a week. I'm still friends with my brothers from the show (David Gregory who portrayed Robert Ford, and Nic Robuck who played James Ford). The Daytime landscape has changed, but television in general is growing exponentially. It's great for audiences and actors alike.
There were so many characters on that show and so much history on that show. If you look at the show as a whole, I was relatively new. To do justice to the fans (for the finale) they have to spend the time focused on the legacy characters. I was happy with Nate's last line ("I'm gonna go check on Mom"). In my mind he wrote off into the sunset with Mom, the same way he came in.
Talk to me about BBQ Films. How and why is it such a unique production company?
Changed my life. We are an immerse cinema screening company. We exhibit a film in a place that feels like the set of a movie, and use things to really immerse the audience inside the film you're watching. The company's been around for 7 years, (our founders) Gabriel and Lauren invited people up to their rooftop in Harlem one day for a cookout to the screening of Spanish Harlem. We've done 19 or 20 shows (since then). We did the 1998 movie Blade (partnered with NYCC) and we rained fake blood on people. We actually just announced our latest show. We're teaming with Sony for the 1984 Ghostbusters, creating a world around it-the movie, the canon-and getting people excited for the premiere of the new one coming out in July. All of our events have a charity aligned with it, to a charity which fits within the movie. We're all having fun and doing good things in the process. (Go to http://www.ew.com/article/2016/04/29/original-ghostbusters-returning-theaters and bbqfilms.com for more information).
Lastly, Captain America or Iron Man?
Captain America, no doubt. His fighting style is so interesting to me, he's a machine, he's well trained, smart. I've always gone for the more human superhero. (But) Batman is my favorite superhero.
Tune into an all new Quantico tonight on ABC.