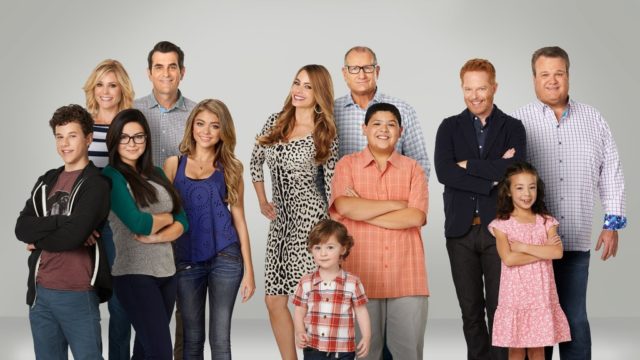 Thanksgiving is a time for families and this is reflected perfectly in many episodes of 'Modern Family' that were aired around the holiday season. 'Modern Family' is a mockumentary family sitcom that has aired on ABC since September 2009. The television series follows the lives of Jay Pritchard and his extended family. The show was created by Christopher Lloyd and Steven Levitan. It has an ensemble cast with cast members including Ed O'Neil, Sofia Vergara, Julie Bowen, Ty Burrell, and Jesse Tyler Ferguson. The show covers their activities as a family and fake interviews when individual members of the cast talk directly into the camera. Many of the episodes aired around Thanksgiving are particularly memorable. Here are five of the top Thanksgiving episodes from 'Modern Family'.
1. Three Turkeys
Without a doubt, the best Thanksgiving episode of Modern Family is episode eight of season six. When Phil has decided to cook the Thanksgiving dinner with Luke acting as sous chef. Claire prepares a secret turkey as she has no confidence in their culinary skills. Gloria and Jay were planning to go away over Thanksgiving, but their trip is canceled at the last minute. Mitch forces Cameron to confront Lily when she refuses to wear a nice dress for Thanksgiving dinner as he is sick of always being the bad guy.
2. Thanksgiving Jamboree
Haley wants to spend the holidays with her new boyfriend and tells Phil this is what she wants. Alex and Dwight become closer in this episode and Jay is trying to lower his blood pressure. However, the main theme of this Thanksgiving episode is how Cameron is sparing no expense while he is planning his Thanksgiving jamboree. This was episode seven of season eight.
3. Phil's Sexy, Sexy House
In episode seven of season seven, Phil is trying to help a friend of Cameron and Mitchell to sell his sleek and sexy house. The characters in the show decide to use the house for some fun times but unbeknown to each other, they all arrive on the same day and hilarious confusion ensues. A surprise planned by Gloria and Jay turns into a disaster and Haley shares a passionate kiss with Andy.
4. Punkin Chunkin
In episode 9 of season 3, it is all about envy and thinking of what could have been. When a former resident of the neighborhood returns at Thanksgiving, the cast is shocked to find out he is now an Internet billionaire. Also in this episode, Cameron tells some rather colorful stories about his childhood and Mitch questions the authenticity of these and Manny faces some constructive criticism from Jay. The cast enjoys a game of pumpkin slingshot until one of the pumpkins hits a car.
5. When a Tree Falls
Claire and Gloria go on the shopping trip from hell in episode nine of season four. Jay and Phil attend a kid's party together and find themselves having to compete. Cameron is trying to save an old tree and Mitchell finds himself dragged into helping him.