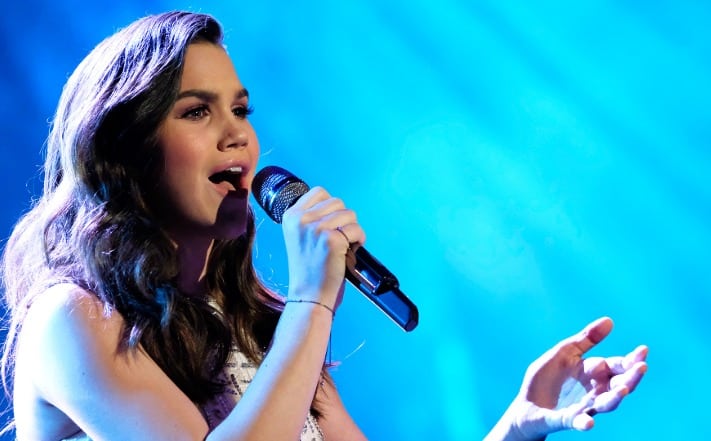 There's not many 14-year-olds who can claim to have sung with the likes of Craig Morgan, Luke Combs and Walker McGuire, but Reagan Strange is a very different specimen to other kids her age. The exceptional youngster came to our attention as part of Team Adam Levine on Season 15 of NBC's The Voice. Despite being knocked out of the show before the season finale, America took Reagan to their hearts. With a blossoming career ahead of her, now's never been a better time to learn more about Reagan Strange.
1. A Large Family
Reagan was born in Germantown, Tennessee to parents Steve Strange and Amanda Strange-Kucinski. Although a Tennessee country girl by birth, Reagan was actually raised in Northwest Mississippi, where she shared her family home with siblings, Kendal, Brock and Brady.
2. Child Prodigy
Reagan began singing at the tender age of 2, and by 8, she was already taken vocal lessons. Although singing is her first love, she's never been shy of showcasing her other talents. As well as featuring in skits with her local church, she's also been known to showoff her acting chops with star turns in community theater.
3. Hobbies
When she's not busy serenading the crowds, Reagan is just a regular teenager, and enjoys normal activities like going to church, fashion, dancing and cooking.
4. Sports Fan
Reagan is a big sports fan. She manages to combine her love of the game with her singing talents, and regularly performs as the National Anthem Singer for the Memphis Redbirds, Desoto River Kings and Memphis Grizzlies.
5. Social Media Devotee
Like most kids her age, Strange is an active social media user. America will be pleased to know they can follow Reagan on Facebook, Instagram and Twitter. The teenage singing sensation loves engaging with her followers, and regularly posts pictures and videos of her performances to the delight of her fans.
6. The Voice
Reagan has been a fan of The Voice since its very first season, which hit our screens when Reagan was just 6 years old. During her first audition, Reagan stunned the judges with her powerful performance of Meant to Be by Bebe Rexha. After winning chair-turns from both Blake Shelton and Adam Levine, Reagan eventually decided to try her luck on Team Adam.
7. Straight A Student
Reagan hasn't let her musical ambitions interfere with her studies, and still manages to be a straight A student at her local high school. Once she graduates, Reagan plans to take up engineering at Georgia Tech.
8. Volunteer Work
Not content with being a star student and talented musician, Reagan manages to find time in her busy schedule for volunteer work in her local community. As well as helping out with church activities, Reagan spreads a little joy and happiness with a monthly performance at the Le Bonheur Children's Hospital.
9. Controversy
Reagan sparked controversy on The Voice when she went up against 22-year-old R&B/soul singer, Nico. Both performers had the chance to sing for audience votes to save their place in the show through an "instant save". Unfortunately, Reagan became sick during the night's events, and was too unwell to perform. After Nico's performance, Levine made the controversial decision to let the audience know how much he loved Nico, but how he'd still prefer them to save Reagan. Adam justified the decision by saying that, as the father of two daughters, he felt it would be wrong of him not to give his support to an "an unbelievably talented little girl right now who is not able to fight for her position on this show." The show's audience took Adam's words to heart and Reagan ended up winning the instant save. After the show aired, fans took to social media in their droves to express scorn for Adam, claiming his speech was humiliating and unfair on the talented Nico.
10. A Bright Future
Since her elimination from The Voice, Reagan has continued to wow America with her talents. As well as appearing on shows for Fox and Disney, she's also hit the stage with major artists like Craig Morgan, Luke Combs and Walker McGuire. With her first original tune, "Invincible!" already available to download on ITunes, this talented youngster is set to be on our screens and radios for quite some time to come.