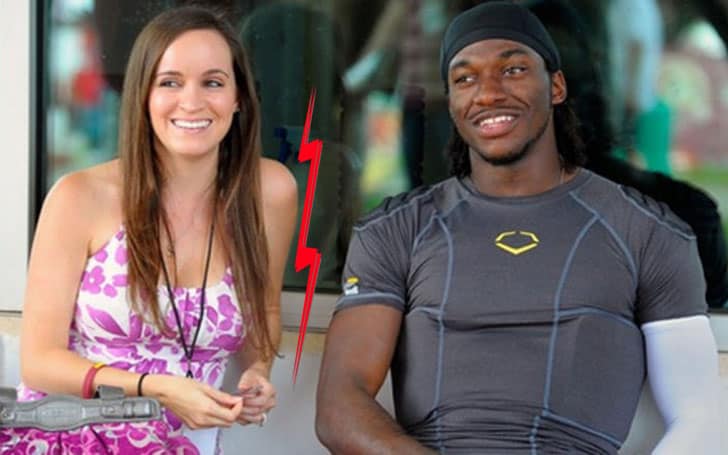 Unless you are following the Cleveland Browns or Robert Griffin III (a.k.a. RG3) the name Rebecca Liddicoat likely has faded from your memory. She was the Baylor student who ended up marrying the now lame quarterback the Washington Redskins drafted and basically ended up a bust. Apparently that bustiness has carried over to his marriage, as a divorce is pending. With that background, here are 10 things you and most people don't know about Rebecca Liddicoat who has personally discovered that college sports potential doesn't always pan out into professional success.
1. She was set to get half of a $2.2 million home purchased during their marriage.
According to court records, their Montgomery, Texas home was supposed to be split 50-50 based on the pre-nup. But the fight to get dollar one continues, as RG3 allegedly hasn't held up his end of the bargain. But if the divorce was based on the pre-nup and the pre-nup hasn't been honored, then there is no divorce, right?
2. She needs $36,000 a month to live on.
Yes, that number is correct. Not only does she have to take care of their only child, Reese, but also has homes in Texas and Virginia to manage. Of course, there are also the credit cards he allegedly cut off, making her life just that much harder.
3. She wasn't the one who filed for the divorce.
Often when professional athletes get divorced it is wifey who is handing over the bad news. But RG3 was the once who filed, which brings up the obvious question, why? He claims that the marriage was beyond the possibility of being salvaged. All this seems really strange, and more items on the list only make things stranger.
4. She found out about "the other woman" a few months after having Reese.
The other woman is a student-athlete, Grete Sadeiko, who is pregnant, allegedly with RG3's child. So regarding Rebecca, it can be asked why she didn't file when she found out. This is one of those things nobody seems to know, and she isn't saying. According to TMZ she was devastated when he filed for the divorce.
5. Rebecca wasn't exactly thrilled when first meeting him.
A friend played matchmaker, and she thought he was weird, in part because he was wearing girl's socks. That seems to be a reasonably normal response, but as time wore on so did RG3 on Rebecca. If you want to criticize her for not trusting her first instincts, read the other list items and you should understand better why.
6. She was a Biology major.
Biology was her first choice, and most scientific people tend to want evidence and use scientific analysis, even when it comes to matters of the heart (not only the physical one). We presume she actually graduated from Baylor with a degree in Biology, but with all the kerfuffle about her and RG3 in the news it is hard to confirm with any certainty.
7. They were engaged at the Allison Indoor Practice Facility.
This really isn't all that weird, but the moment was a carefully orchestrated event by RG3. The basic story is that they drove around for a while after a game and headed back to the practice facility. He led her into the facility where members of both families were waiting. Talk about pressure. At the time it was promoted as such a romantic moment, but in the end it seems like a psychological shotgun wedding.
8. During her engagement "party" she was serenaded.
In what must have been one of the nicer moments with RG3, he had written and sung a song especially for the moment.
9. The #1 song on the Billboard chart on the day of her birth was "Roll With It."
Rebecca was born on August 13, 1988 (a Saturday, not a Friday) and Steve Winwood's song topped the charts. She probably doesn't know this fact, but it seems that at this point in her life it is excellent advice. Just wondering, but do you know the #1 Billboard song on the day you were born?
10. Her life appears to be on hold for the foreseeable future.
With the divorce terms not being met, the pre-nup not being honored, her difficulty in trying to live off of less than $36,000 a month, and essentially being the forgotten woman in RG3's life by the media, there really isn't much she can move forward with. The court system can be brutally slow, so stay tuned to the next set of court appearances as Rebecca tries to sack RG3 out of the sack.