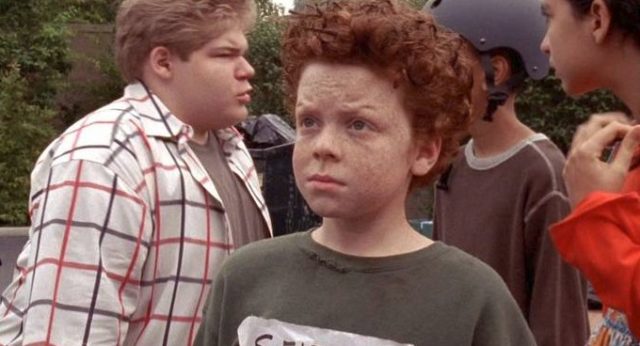 Remember the time Cameron Monaghan was on Malcolm in the Middle? He played the role of Chad, a deeply disturbed kid in the special needs class with Dewey that was constantly seen wearing a sign on the front and the back of his shirt. One of the funniest signs on the front usually had something to do with not touching him, while the one on the back had to do with not ignoring the sign on the front. He was perhaps one of the most disturbed of all the kids and probably one of the most aggressive when you really get down to it since there was an episode in which he took an axe and a pile of clothes and started cutting the colored sections out of each article of clothing.
Yes, he was that disturbed.
Since then he's done a few things he's been known for, a couple of roles that have been really well known by a lot of people who enjoy the shows that he's appeared in. Gotham and Shameless are no doubt two of the shows in which he's been the most easily noticed, as his characters are so far over the top that you can't help but think that he gets into his roles so deeply that he has to be talked down occasionally. At this point it's a wonder that he hasn't been picked up for any bigger projects since his acting is great enough that he's deserving of a bigger part somewhere, especially if that part features a very disturbed young man that can act the part perfectly and without a lot of direction.
If you take the role of Chad, then turn it into Ian, and then take it on over to Gotham where he took on the role of Jerome Valeska, who was thought to be the earliest version of the Joker, you can see the kind of niche that Cameron fits into as far as his character roles. Theories and rumors have abounded since the similarities were discovered but it would seem that he's not going to be the clown prince of Gotham. Yet for all that Jerome is a terrifying character as he has no morals, no sense of compassion, and no reservations when it comes to mayhem. It's easy to say that Cameron does crazy extremely well but it's even better to state that he brings a new depth to mentally disturbed since he blasts the nuthouse act onto the screen seemingly without any real effort. People can actually believe that he's as crazy as he seems, though of course off screen he's just another calm and level-headed individual.
In Shameless his character, Ian, is so disturbed that he goes and steals the baby of his boyfriend until he's finally captured and sent home. He has so much trouble identifying with himself and who he is that he continually flips out and takes off, leaving his family to wonder and worry about him until he reappears. Or he'll lie in bed in a deep depression and not respond to anyone unless it's to yell at them to leave him alone. Cameron Monaghan needs to be considered for the big screen in a major motion picture at some point, because otherwise his talent isn't being put to good enough use.