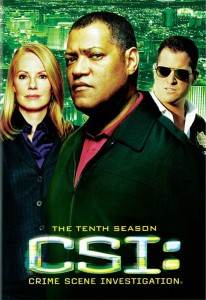 On Tuesday, CBS dropped CSI: The Complete Tenth Season on DVD (and DVD only, despite the Blu-Ray release of Season Nine). Let's take a closer look at the contents of this seven-disc box set.
The Show
I'm sure I'll get some flak for this, but I'm not one of those people who cried that CSI would end with the departure of William Petersen (or Jorja Fox, or Gary Dourdan, for that matter). Like Law & Order, to me CSI was always more about the crimes being closed than the cast – and I couldn't complain about attracting a proven name in Laurence Fishburne to the series. I was more amused by Jorja Fox's decision to leave the show, then – possibly finding her career after it to not be as rewarding – come back on a recurring basis and then eventually as a series regular for the second time. The behind-the-scenes drama that grew to surround her well outweighed my interest in her character, and I began to tire of her.
The actors left standing do the best with what they have. Marg Helgenberger (who's already announced that the upcoming eleventh season will be her last) continues to be the anchor of the series, and Fishburne is no slouch either. The two are, of course, backed up by familiar faces in George Eads, Eric Szmanda, Robert David Hall, Wallace Langham and other experienced players. Most of these people have been here awhile by now, and know the ropes.
That said, the tenth season of CSI does begin to show hints that the end is near for this vaunted series, unless CBS continues to let it run until it implodes. While the characters may be to some degree replaceable, the plots still have to be there, and CSI has fallen into that "so familiar, it's almost painting by numbers" territory. There's the continuing chase to catch "Dr. Jekyll," a guest appearance from the band Rascal Flatts, Liz Vassey's one(?!) year as a series regular, and an ambitious three-part crossover with its two spinoff series, but for the most part, you can say you've seen some elements of these episodes before. With a show that's gone on for eleven years, that's inevitable. At some point, you simply run out of material, and watching these I got the feeling that while it's not completely jumped the shark, CSI's time is coming near. (Although I'd rather watch an imploding CSI than CSI: Miami.)
The DVDs
The box art for this release is a fairly common way to go: all the discs in one major plastic box (which continues the show's green color scheme). The discs can all be flipped through book-style except for the last, and do contain a list of what's on which disc, including special features. There's no booklet, but a "content locator" on the inside of the box itself. Just hope you know your episodes by title.
As with most CBS releases, you get a pretty good presentation here. Video is 16:9, with plenty of language support: English Dolby Digital 5.1, English stereo and Spanish stereo audio, plus closed-captioning.
There's a bonus gift inside inviting Facebook users to try the CSI: Crime City game there; I've been beta-testing that game for a few weeks now, and I can say that after about a day's worth of play, the fun wears off. It's a fun concept, but what's not fun is waiting literally half an hour for your evidence to process.
The Special Features
It's not technically a special feature, but CBS made the wise move to include the other two parts of the crossover which aired on CSI: Miami and CSI: New York, so fans can watch all three without having to buy all three box sets. A lot of releases wouldn't have that, so it's worth noting. There's also a featurette on said crossover, entitled "Langston Heads East."
You get a few additional featurettes: "Killer Tales: Season 10" (the standard making-of-the-season piece), "Frozen In Time" (about the season opener), "Lab Rats: The Saga Continues" (focusing on the delightful Wendy-and-Hodges-centric episode), and "Getting Lost."
There are two commentaries: one by Rascal Flatts, Michael Frost Beckner and Kenneth Fink on the episode "Unshockable" (which would be weird except for that the band's members were actually a part of the episode and not just the token musical guest), and another by George Eads, Eric Szmanda, Wallace Langham and Jon Wellner on "Appendicitement." (You have to love how this show's always had these clever episode titles.)
My favorite is a peek at the CSI: The Experience exhibit. I was lucky enough to actually go to that exhibit when it visited my area, and it was a fabulous time, so I'm glad people that didn't get that opportunity can at least see some of it on the DVDs.
The Bottom Line
The one thing that's always made me hesitate about this series is the price tag. The steep list price of these DVDs put me off buying CSI when it first came out – this season lists for $80, which is high for a DVD box set, and I once saw Best Buy list Season Seven for $100. Thankfully, online retailers are offering a reasonable break on the price of this one: Amazon has it for $48 if you're willing to wait two weeks to get it. Since this season is out, the price of most of the seasons has dropped to around $30, except for Season Six. If you can find a reasonable price break on this set, it's a worthwhile purchase for those who enjoy this now-senior entry into the crime drama field.