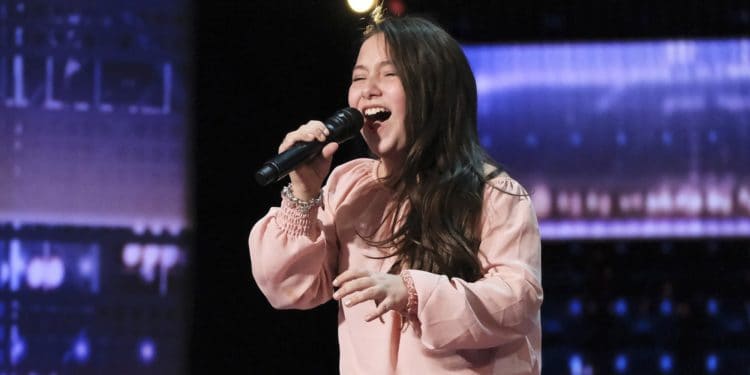 Since its debut, America's Got Talent has shown viewers that sometimes the most extraordinary talent can be hiding inside the most ordinary people. This season, 10-year-old Roberta Battaglia has shown us this yet again. On the outside, she appears to be a typical 10-year-old, but when she opens her mouth to sing, it became clear that this kid is anything but typical. Her rendition of Lady Gaga's song "Shallow" left the entire audience –including the judges– absolutely speechless. Even if she doesn't go on to win the season, it's clear that she's going to have a bright future in music. Keep reading for 10 things you didn't know about Roberta Battaglia.
1. She's Bilingual
Her amazing singing voice isn't the only thing that Roberta has going for her. She's also has a knack for learning languages and can speak English and Italian fluently. Although she was born and raised in Canada, both of her parents are from Italy and she's grown up with a strong connection to her roots.
2. She's Raised Money For Charity
Even though Roberta is only 10, she's already made a huge impact on the world around her. In 2018, she sold bracelets to raise money for an organization called SickKids. According to the organization's website, SickKids "is Canada's most research-intensive hospital and the largest centre dedicated to improving children's health in the country."
3. Music Runs In Her Family
Roberta's love for music is something that has been passed down through the generations in her family. Her father, Alessandro, is also a talented singer and her grandfather is a music instructor in Italy. Robert credits her father with teaching her how to sing and developing her interest in the craft.
4. She's Always Dreamed Of Being On AGT
There aren't many people who can say they've had one of their wildest dreams come true at just 10-years-old. However, Roberta is one of the few who can. Roberta has always dreamed of performing on the AGT stage. Not only did she get the chance to do just that, but she gave a performance that no one will ever forget.
5. She Started Singing At Age 3
Despite her young age, Robert has already put in a lot of work when it comes to singing.  She started when she was just about 3-years-old when her father would give her the microphone and let her sing "Twinkle Twinkle Little Star" during his live performance.
6. She Loves Her Dog
The fact that Roberta is a dog person means that she's just earned a bunch of extra cool points. She loves her dog so much, that if she wins the $1M prize on AGT, she's going to put some of the money towards buying another one. She says, "I really want to give my dog, whose name is Happy, a little girlfriend."
7. She Dreams Of Singing At The Super Bowl
Roberta may be small, but she's got pretty big dreams. In addition to having a dream of performing on AGT, Robert also sees herself on bigger stages in the future. She hopes to one day perform at the Super Bowl. Judging by the path she's currently on, that goal seems more than attainable.
8. She Wants To Inspire Others
Roberta doesn't just want to use her talents to entertain, she also hopes to inspire others – especially young people. She says, "I really like to encourage people, especially kids my age. Whatever dream they have they can achieve it; never stop dreaming, never stop believing in yourself." Her main goal may be to inspire other young people, but she's become an inspiration to many adults as well.
9. She's A P!nk Fan
As a talented singer, Roberta is also a big fan of lots of other artists. One of her favorite people to listen to is P!nk, and she hopes to get the chance to sing with her some day. During an interview, Roberta said, "I just love her songs and the notes that she can reach." Over the years, Roberta has covered P!nk's hit single "What About Us" several times.
10. She's On YouTube
After her stellar performance on AGT, lots of people are excited to hear more from the young singer. Although she hasn't released any original/official music, she does have a YouTube channel where she uploads videos of her performances and covers. So far, she has more than 4,000 subscribers and her videos have earned more than 290,000 total views.