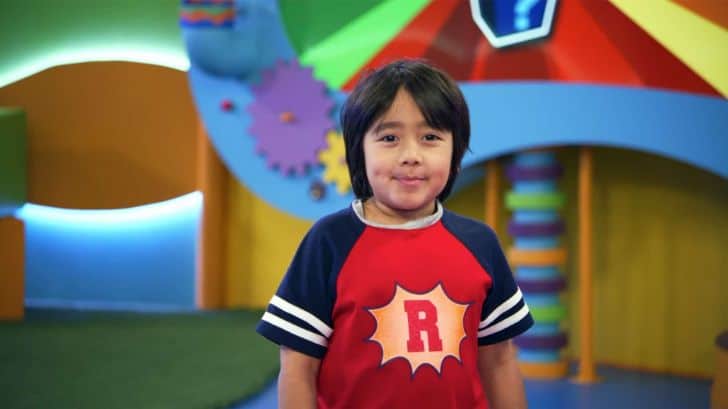 Ryan Kaji is an 8-year old who has become a sensation on YouTube. He's the young star of the YouTube channel "Ryan's World." The channel releases a new video every day so it's become a serial for subscribers who look forward to the content. This remarkable young man has an early start on fame as well as fortune. If you're the parent of young children, the channel might be something that you're interested in checking out. Ryan is one of the cutest YouTubers on the internet today, and here are 10 things you didn't know about him that makes this young man so special.
1. He's already a regular in the entertainment industry
Social media channels such as YouTube give everyday people the opportunity to showcase their talents, regardless of age. With a little help from his mom and dad, Ryan's channel gets a new video almost every day with just a few exceptions. Subscribers look forward to their daily dose of Ryan Kaji and his "Ryan's World" video which was previously known as "Ryan Toys Review." He's a face that people are used to seeing and he keeps them entertained wtih his wittiness and honest opinions.
2. His "Huge Eggs Surprise Toys Challenge" video topped 1.9 billion views
While some YouTubers struggle to become established with a reasonable amount of views, this isn't a problem for young Ryan Kaji. One video alone has gotten more than 1.9 billion views and that was the last count as of September of 2019. The video "Huge Eggs Surprise Toys Challenge" was named on the list of the 50 most viewed videos on all of YouTube.
3. Ryan's other YouTube stats are mind-boggling
Ryan's YouTube channel now has more than 20 million subscribers. When you tally all of the daily videos that Ryan and his family have posted to the channel they have received more than 30 billion views cumulatively. "Ryan's World" is a channel that has been listed on YouTube's Top 100 Most Subscribed Channels in the United States of America.
4. Ryan Kaji was listed as the highest-paid YouTuber
In 2018, young Ryan Kaji was just 7 years old and he was named as the highest-paid Youtuber for the year. He was on a fast build in his incredible net wealth since 2016. The channel first launched in 2015 but by the 2016-17 year, he had already earned $11 million. This made him number 8 on the highest-paid Youtuber list for that year, but by the following year, he made it to the number one position with earnings of $22 million.
5. Ryan Kaji has his own product lines
If you go to Walmart stores you can find Kaji's product lines at most of them. To maintain good dental health in his peers, Ryan has released his own line of toothpaste and toothbrushes. Of course, his parents are behind all of the orchestration for the development and sale of these items, especially when it comes to the branding and the legal aspects. As his guardians, they oversee everything that has to do with the use of his name as a franchising tool for the manufacturers making and distributing the products.
6. Ryan and his family really have a different last name
Ryan Kaji was given the stage name by his parents. They all have the surname Guan. They go by the Kaji family to maintain a sense of privacy for all concerned. It's the on-screen name that many believe was to avoid the consequences of anyone trying to look up their legal records because Ryan's mom does have something glaring on her criminal record from years ago.
7. Ryan's mom was convicted of shoplifting
The Guan's are a very wealthy family, thanks to Ryan's successful YouTube channel. However, this has not always been the case for his mom Loan. Records show that she was living under the name Kieu-Loan Thi Nguyen and on June 28, 2002, she was arrested for shoplifting at an Ameda Mall, in Houston, Texas. She had taken less than $100 worth of clothing from a JC Penney department store without paying for them. She was sentenced to 40 hours of community service as punishment for the offense.
8. Loan did time
Loan would have gotten off with just the 40 hours of community service, but she breached the probation order. For breaching the probation order to fulfill 40 hours of community service, she was given a 60-day prison sentence in 2003. When it was all said and done, she ended up serving 30 days at Houston's Harris County jail.
9. Ryan's mom and dad are both professionals
Loan cleaned up her act and went to school at Lubbock's Texas Tech University. She became a chemistry teacher at the high school level. Her husband Shion is Ryan's biological father. Shion and Loan are married and he is a structural engineer. They tied the knot in 2013. Ryan was born in 2011, two years prior to his parents' marriage.
10. Loan started Ryan Toys Review in 2015
When his mother first launched the YouTube channel, Ryan was only four years old. As with any new venture it took a little while for the channel to take hold, but when it did, the popularity and growth were astronomical. After people started watching the reviews adn commenting upon them, the family soon began making $1 million a month from all of the subscribers and the sponsors who wanted to get in on the action. Although the Guan family lives in the lap of luxury, they are not without their own problems. The Federal Trade Commission is investigating Ryan Toys Review, which has since changed its name for a complaint filed by Truth in Advertising, which is a consumer watchdog group. They alleged that the channel doesn't adequately disclose sponsored content.