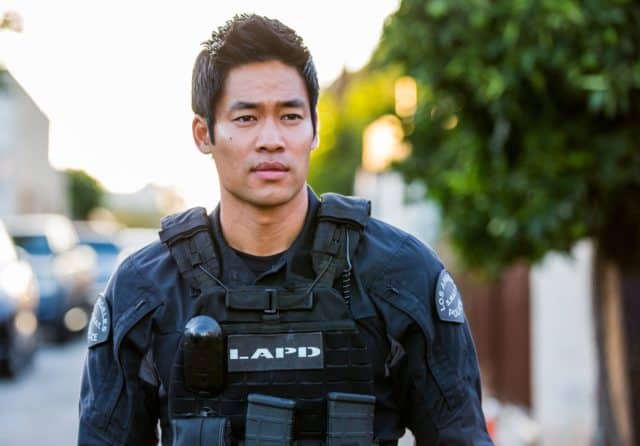 S.W.A.T. star David Lim will be the first one to tell you he is having the time of his life playing Los Angeles S.W.A.T. officer Victor Tan. The high stakes action, coupled with the chance to represent a group of L.A.'s most elite specialized police unit, makes this a dream job. Even more so since, though Lim has been there from the very beginning, his character was not in the original pilot script. A few episodes into production, Lim was bumped up to a series regular on the show. "A bit of a mystery" when the show first began, Lim's character is now just as established as others on the canvas. With Tan now more fleshed out going into the second half of the season, Lim reflects on what it has taken to make S.W.A.T. the success that it is.
This is a show that right off the bat is in your face with the action, but it also shows how high the stakes are in this particular job. Did that appeal to you in taking on this role?
It's such a dream job for me. As a kid I used to run around playing cops and robbers. I grew up playing three sports, so I was always very active. When I got into acting, I always imagined myself doing some sort of action, or being an action hero. This combines everything, the high stakes and emotional situations, which any actor loves to be apart of. Then you have (Creator and Executive Producer) Shawn Ryan, and Justin Lin, who directed the pilot…Shemar Moore…there's just so many factors that appeal.
We now know that Tan has experience in the Hollywood division, and he had a relationship with a CI. But in terms of his place on the team, he has a particular role to play, like everyone else. There's always a jokester, a leader, the voice of reason, etc. If there was one word you could use to describe your character, what would it be?
I would say he's always got a nose for action. He's newer to S.W.A.T., [as we've seen with] this little bit of competitive rivalry with Jim Street. He just wants to get in the action. In talking to real S.W.A.T. officers, [I've realized] that's what they love the most. When they get the call, go on a mission, and the adrenaline's pumping, and they could possibly get in there and save lives.
What kind of training have you received from Los Angeles and San Diego S.W.A.T.?
Thankfully we've had some really great officers who have come and wanted to offer their time. Whenever we have action sequences, we always have a S.W.A.T. officer there walk us through. We got a little bit of training before the pilot, enough to where we could be believable as S.W.A.T. officers. Further into the series, that's where we really stepped on the gas pedal. We were getting in the gym, training with our stunt coordinator. Then we worked tactically for a week straight with San Diego S.W.A.T. That's where we learned to clear rooms, and how to move as a fluid unit throughout a building where you potentially have no idea where the threat is. It's a lot harder than you see in the movies. They make it look easy, but it's because they've been doing it for 15-20 years. We just tried to take in as much as we could in what little time we had. We're still working out some kinks. We feel good, and whenever we have questions, it's nice to be able to talk to these guys. It's also nice to be able to ask them about their personal lives. These guys have wives, and kids, and know what it's like everyday to put your life on the line. A lot of these situations can be life or death.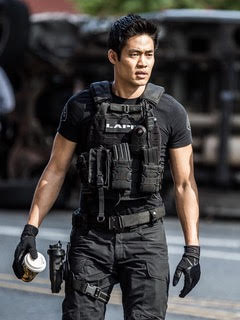 Is there something that has surprised you in the course of this training, that shifted something in your perspective?
Just a level of respect for what the real guys do. We're playing pretend, and we know that when we go into this action sequence. We're gonna go in and save the day. Just that level of respect for real S.W.A.T. officers who go in there, and don't know if they're going to save the day. They don't know if they're going to come out alive, if they're going to get shot at, or someone around them might get shot. We were invited to the Los Angeles Police Academy, and they were celebrating the first S.W.A.T. officer shot in the line of duty. That really shifted my perspective.

I think I'm always surprised at the high level of the things we're doing on set. It's always very exciting…We do most [of our own stunts]. Certain stunts they will not let us do, for insurance and liability purposes. Most of the cast is pretty athletic, so we're pretty capable of doing a lot of our own stunts. We want to do that, to up the realism, and show the authenticity of what we're doing.
To add to that authenticity, you're filming all over L.A. You're taking advantage of all of Southern California's landscape.
I think that's so cool. It's another character in the show. We're down in Venice Beach, then in Koreatown and Downtown. We're actually showcasing Los Angeles. We're seeing the diversity of the people in this city. We're getting into Black Lives Matter, dealing with cyberbullying, with human trafficking. If you look at our team [it's very diverse]. It's accurate and it's representative of law enforcement. You see people of all shapes, sizes, and colors.
What would you credit the show's success to?
I think the action sequences are very cinematic [in a way] that's not showcased on television. What holds people is the humanity of the characters, seeing that we're dealing with very topical issues. When I was working with Justin Lin on the pilot, it felt more like the set of a movie. It did not feel like a television set, more like another Fast and the Furious movie. I'm banking that people [have gotten] teary-eyed for this show.
Catch David Lim on S.W.A.T., Thursday nights on CBS.