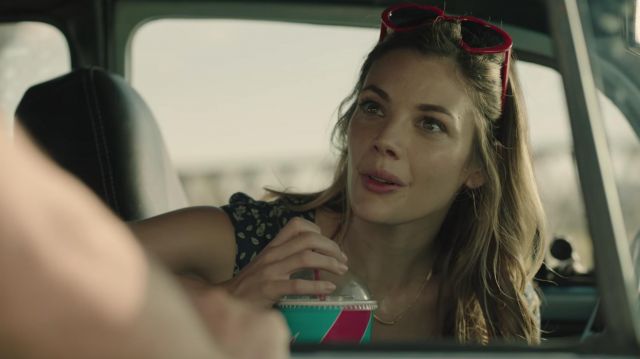 Fans of "Riverdale" must have seen Ms Grundy and Sarah Habel is the one who brings the character to life. She is a guarded person who barely has anything about her on the internet. Even her wedding pictures do not reveal the face of her husband. Despite her secrecy, we have managed to gather a few facts to let you know more about her.
1. She started acting in elementary school
Sarah is at her happiest when acting, and as a child, she knew she would end up becoming an actress. She even began paving the way for her future career by acting in elementary school. The passion continued and Sarah who enrolled in Michigan State University to pursue an undergraduate degree in Fine Arts. Sarah credited the comprehensiveness of the university's theater program as published on Michigan State University's website. She graduated from the institution in 2004.
2. She prefers leading a private life
If some people missed an episode of "Keeping up with The Kardashians" there would be no worries because the internet would be ablaze with anything interesting that happened. Besides, the women always update their social accounts with whatever minor details happen in their lives; our only task is to sit back and wait. However, some people's lives are a real mystery. Even when they open up, they only let you peek in for a second before shutting you out; that is the best description of Sarah. She is married, but the husband remains a mystery. Even the names of her parents and daughter are unknown.
3. She loved her character in "Underemployed."
Most actors and musicians never reveal their favorite characters nor songs. Sarah did not see the need to withhold such information. When asked by Horror News about her favorite character, Sarah did not hesitate to cite Daphne, the role she played in "Underemployed. Daphne was ambitious and was willing to do anything to be successful. Unfortunately, she gets an unpaid internship, and since life must go on, she finds herself with a huge credit card debt and not a single paycheck in sight. To make matters worse, while you would expect her to quit, she has a crush on her boss, which only complicates her life. Still, the optimism and happiness that Daphne portrayed gave Sarah quite a fun experience.
4. She has always liked horror films
We all have our varied tastes for everything; food, clothes and even movies. While some would be caught dead watching the chilling scenes of horror films, Sarah, as a child loved the genre. Her love for horror films has, however, diminished upon growing up since she can no longer stand the fear that accompanies them. Her preference for watching horror films has impacted her acting because she feels that the audience connects with the cast through the fear that both the cast and audience experience.
5. Making her movie debut
If at first, you do not succeed, then you have to keep trying but sometimes, despite people saying that the third time is the charm, the first time can also yield great results. Some actors became huge successes after their film debuts. For instance, Lupita Nyong'o may have been cast in many productions in her home country. However, the minute she starred in her first Hollywood film in "12 Years a Slave," she became the new talk in town. Sarah's debut was in Drew Barrymore's "Whip It" but it did not get her much success. It is not until that she starred in "Underemployed" that she began her journey to the top. Her role in "Riverdale" is, however, what catapulted her to fame.
6. Starring in "Atomica" was quite challenging
For a movie to capture the viewer's full attention, it should feel authentic, and for that to happen, the cast must put on an excellent act in their respective roles. It helps when a person lands a role that resonates with their real character because then it will not be acting as such, but rather portraying the real you. Unfortunately for Sarah, it was not easy being in "Atomica," because unlike her free-spirited nature, Abby was restrained and focused on the mission. To her, it was the hardest role she ever had to portray but still grateful she was granted the chance.
7. Her favorite films
It is already established that Sarah would never pass on a horror or sci-fi film. Since she began watching them as a kid when her mother was away, her all-time favorites are from way back. Apart from Freddy Kruger films, Sarah enjoyed "The Shining" which was based on Stephen King's novel with a similar title. She also loved "The Strangers" and "It Follows." With such a list as her favorites, it is clear that Sarah has no problem with bloody scenes that would have some of us afraid to go to sleep.
8. She believes actors should adapt to any role
It is hard to picture someone like Steve Austin or Steven Seagal in a comedy series. Besides, can you imagine Adam Sandler or Jim Carrey in an action film? We have become accustomed to seeing certain actors play their specific roles so well that we would not be comfortable with them being cast in any other. Still, Sarah believes that any actor worth his salt should be like a chameleon; fit in whatever role comes their way. She, therefore, stressed during her interview with Horror Geek Life that she is not married to any role.
9. She was afraid of Los Angeles
Sarah grew up in Michigan and even went to the state's university. Venturing out of her comfort zone was not a comfortable experience, but she had to spread her wings. Therefore after working in Detroit, Sarah decided to move to Los Angeles in 2009 despite having heard nasty things about the city. After a while, she became used to the place and describes it now as pleasant with many diverse neighborhoods.
10. What she does in her free time
Everyone needs some time to put their thoughts together after a long day at work, and for Sarah, she finds knitting soothing. Sarah also bakes goodies for her daughter and maybe does a little gardening since she prefers grandmotherly arts as Bleeding Cool calls them.