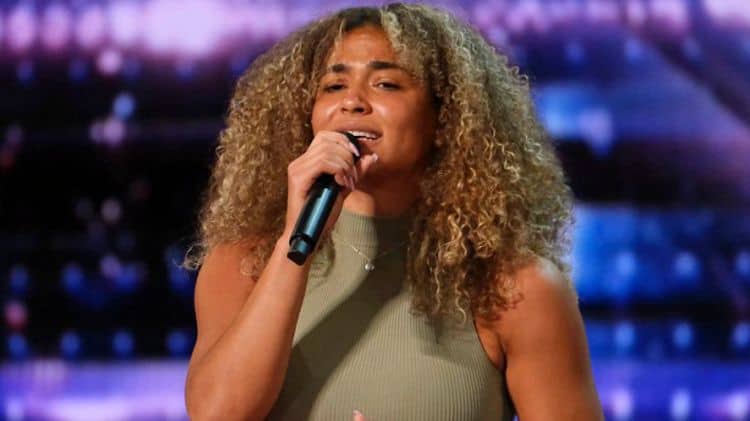 Season 16 of America's Got Talent has gotten off to an incredible start, and Savannah Robertson's recent audition performance kept the momentum going. The talented young singer wowed the judges with her performance and showed that she has the potential to be a star. All four of the judges gave her a 'yes' for the next round, and she was overjoyed by her accomplishment. So far, she hasn't gotten as much screen time as some other people on the show, but hopefully, that won't be the case for much longer. She already has a lot of people hoping she makes it all the way to the end, and she's ready to do just that. Continue reading to learn 10 things you didn't know about Savannah Robertson.
1. She's From New Jersey
Savannah is from Pleasantville, New Jersey and from what we can tell she has lived in New Jersey for her entire life. She appears to be a student at Rutgers University although it's unclear what she's studying. If she ends up winning America's Got Talent, she might have to make some adjustments to her college plans. After all, trying to pursue a music career while being a college student can be challenging.
2. She's Hoping To Carve Out Her Own Path
Prior to her performance, Savannah shared that people often refer to her as "Little Beyonce". While there's arguably no higher compliment than being compared to Beyonce, Savannah also wants to be known for being herself. She has already started laying the foundation to establish her own lane.
3. She Loves Hanging Out At The Beach
Singing isn't the only thing that Savannah really loves, she's also the kind of person who has always been very drawn to water. When the weather is nice, you can catch Savannah spending time at the beach. Unfortunately, New Jersey only has beach weather for a few months out of the year.
4. Family Is Important To Her
We don't know much about Savannah's personal life, but we do know that she has very close relationships with her loved ones and they seem to be very supportive of her singing journey. We also know that she has one brother named Isaac and the two spend a lot of time together.
5. AGT Appears To Be Her First Competition Show
On every season of America's Got Talent, there are usually a few people who have been on other competition shows in the past. However, when it comes to Savannah, this is her first time doing something like this. In fact, the AGT stage is probably the biggest one she's ever performed on. Still, she carried herself with lots of confidence.
6. She's A Private Person
After her performance on America's Got Talent, lots of people probably flocked to social media to learn more about Savannah. Unfortunately, there isn't much to find. While she is active on Instagram, her posts hardly reveal anything about her personal life. Hopefully we'll all get to know more about her throughout the season.
7. She Played Tennis
One thing her Instagram profile does reveal about her is that Savannah was a member of her high school tennis team. It's unclear when she started playing but it doesn't look like she continued with the sport in college. Regardless, though, it's obvious that Savannah still likes to stay active.
8. She Has A Strong Following On TikTok
Even though Savannah has never done a TV show before, she's already been able to build a solid fan base thanks to social media. Savannah currently has more than 234,000 followers on TikTok and her content has gotten more than 7 million likes. There's no doubt that being on the show will make her numbers increase even more.
9. She's Already Released Original Music
In a lot of ways, Savannah's music career is just getting started, but she's already made some impressive strides. We know that she's already released at least one original song. The track, which is titled "Left Out" was released in 2020 and is currently available on Spotify. It's unclear if she has plans to release a full-length project any time soon.
10. She's Grateful For All The Support She's Gotten
Since her performance on America's Got Talent, Savannah has been getting a lot of love from people all over the country. Although she doesn't have time to personally respond to each comment, she is thankful for all of the people who have shown her love and support so far. She's looking forward to the rest of the competition and hopefully she'll leave as the show's latest winner.