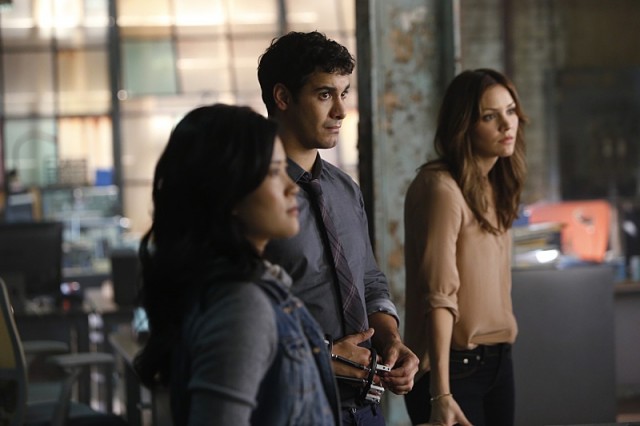 After watching an emotional and adrenaline-filled first season finale with Walter O'Brien's life literally hanging in the balance, Scorpion is back better than ever. In the first episode of Season 2, we meet a new Homeland Security Director, Adriana Molina (guest star Alana De La Garza, who played Marisol Delko Caine in CSI: Miami ). She is a spit-fire who doesn't bow down, for lack of a better phrase, to anyone. She even mouths off to the President of all people! I completely agreed with Toby (played by Eddie Kaye Thomas) when he whispered to Happy (played by Jadyn Wong) his shock about Molina mouthing off to the President of the United States like a rebelling teenager. Though I'd have to admit, Molina is quickly becoming one of my favorite characters on the show, besides Walter (played by Elyes Gabriel) and Paige (played by Katharine McPhee).
Speaking of Walter and Paige, the moment where Paige told Walter that she kissed him while he was lying unconscious at the hospital felt a little rushed. I think that the scene in Walter's room should be one of relief and happiness. Relief that Walter is on his way to recovering from his injuries and happiness that he's back on Team Scorpion. The whole hospital kiss caught on camera awkwardness should have come after Paige accidentally tapped into the hospital's security camera footage. Just my opinion.
It's also clear that Toby has had romantic feelings for Happy since the beginning of the series, and although Happy sometimes gives in to her own feelings about the resident behaviorist, she mostly displays a devil-may-care attitude toward everything. Makes me wonder why these people who have developed strong feelings for one another (Walter and Paige especially) don't get together already.
The case was one of trial and error as Team Scorpion tried method after method to bring the Russian satellite down to a safe location where it would not explode and create an atom-bomb-like explosion that would cost 10 million lives.  It was intriguing to see Walter not being able to figure out something due to his dizzy spells and having Paige do the coding for him to try and control the satellite. I was surprised to see Sylvester (played by Ari Stidham) begin to doubt his calculations after seeing the missile miss the satellite. Never thought I'd see a day where Sylvester's human calculator calculations would be off. In the end, the satellite was brought down safely into the ocean, and the world will continues spinning like nothing ever happened.
My favorite scene from this episode was the one where Walter and Paige kissed to find out if their feelings toward each other are just feelings that would slowly fade over time. I think that the potential budding romance between Walter and Paige has begun to take shape, because from the way that they kissed, apparently for the "sake of science," it's crystal clear that the two like each other, a lot. I understand that if they were to pursue a romantic relationship, it might affect their professional one, but if Patrick Jane and Teresa Lisbon and Kate Beckett and Richard Castle can make it work, then so can Walter and Paige if they stop being so stubborn.
My second favorite scene was the part where Toby and Happy went to the Russian Consulate to plug in a modified car remote right under the Russian officer's nose, as she interrogated them on not having the proper paperwork when they demanded to speak to her supervisor about Roscosmos. The diversion that Toby created with the pens was brilliant. I have a feeling that this second season of Scorpion is going to be really good.
[Photo credit: Monty Brinton/CBS]