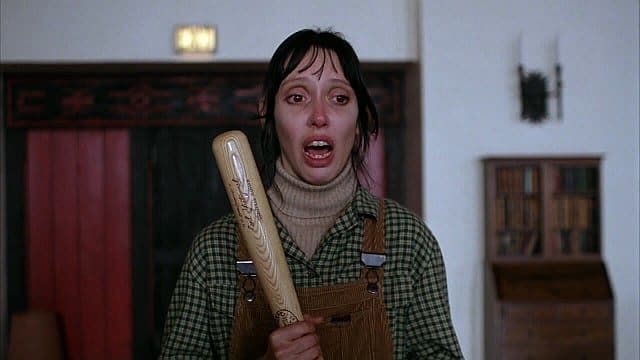 We all know the movie The Shining.  If you don't know the movie The Shining I'm sorry, I just can't help you.  It means that we're worlds apart and would probably never be friends in the first place.  But assuming you're aware of the classic Stanley Kubrick film starring Jack Nicholson and Shelley Duvall, you are most certainly familiar with the "Here's Johnny" scene.  And if you're familiar with that scene then you surely know the part of the movie where Shelley Duvall is holding a baseball bat because she's so afraid that her husband is going to kill her.
But something you might not know about the film is the actual experience Shelley Duvall had filming that scene. Shelley Duvall was forced to perform the iconic baseball bat scene 127 times to give the character a more exhausted look. Afterwards, Duvall presented the director Kubrick with clumps of hair that had fallen out due to the extreme stress of filming.
All I can say is this:  well done Mr. Kubrick.  Well done.  Look man, if you want to get a film done right, then you do exactly what you have to do.  There are many reasons The Shining will go down as one of the best horror movies of all-time and you just read another one of them.