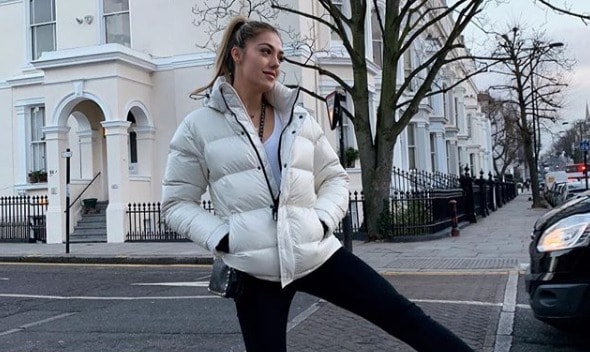 A lot of people think that being the child of a famous movie star would be the best thing in the world since life would be far easier and less stressful, but that's not always the case. While the lot of us that aren't movie stars, musicians, and celebrities in some way deal with stress that comes from not having enough, the stress of being a famous person's child, such as Sistine Rose Stallone, is no less, though it's certainly different. To date Sistine seems to have lived a pretty good life, but there's no doubt that being the daughter of such a high-profile actor hasn't always been simple since it might very well raise expectations all around. Thankfully she's been able to meet the demands and excel at this time since it sounds as though she's a successful model and was quite the attentive student.
Here are a few more things you might not have known about Sistine.
10. She's going to be starring in 47 Meters Down: Uncaged.
Whether or not it really needs to be made is irrelevant at this point since the movie is coming out and will be Sistine's voyage into the same world as her father. The movie looks pretty intense thus far and could be worth seeing, though it's kind of hard to think that the critics aren't going to tear it apart.
9. It goes without saying that she's popular on social media.
Between being a model and being the daughter of such a famous actor you can see why a lot of people would latch onto her account and start following. But now that she's going to be starring in a movie her numbers might go up a bit.
8. Sistene has done a good bit of modeling in her life.
In fact this has been her major source of income as she was noticed a while back and considered to be just what was needed for the modeling gig. Since then she's been keeping up steadily with the job and doing some very high-end work.
7. For a long while she never considered becoming an actor.
Sistine and her sisters never showed any indication that they had even an inkling of wanting to become actors. So this sudden reversal that she's had as she stars in one of the most recent shark movies in film is kind of odd, but it will also be interesting to see what comes of it.
6. She and her sisters share the same middle name.
It's almost as though Sly and the girls' mother couldn't or didn't want to come up with a different middle name to give their daughters. You don't often hear about siblings having the same middle name even though it's not that big of a deal.
5. Her budding career didn't allow for the time it would take to attend college.
She was an exemplary student it sounds like and pulled some of the best grades in her school, but being that modeling took over her free time after a while she didn't have the necessary time to enroll and take classes so it came down to the decision of going ahead with her career or taking the time to educate herself a little further. Obviously you can tell which way she went.
4. She keeps her private life on the down low.
The more I hear this the more I want to laugh, but in a good way. You can already bet that the paparazzi will find a way to dig deep enough to find some dirt on people that are trying to keep their love life out of the tabloids, but for now it's kind of amusing that so many stars are trying to stymie the press in this manner, especially since it's completely justified and makes those who keep looking seem even worse as they continue to try and find any 'dirt' on these folks that don't want to spread it around so freely.
3. Sistine is in her early 20s at this point.
Whether she wants to get into acting, keep modeling, or even go back to school, she has the time. Being so young she still has many years that she can utilize when it comes to really making a firm decision on which way to go. Modeling seems like the most likely course, but you never know, acting could be calling to her.
2. Her own net worth hasn't been released to the public.
Her father's net worth is somewhere in the range of $400 million, but hers hasn't been determined yet, presumably because she's still so young and so new to everything, or so it's been said.
1. There is a rumor that she's been seeing someone.
At this point it's a rumor, but she's not likely to post who, if there is someone, until she's good and ready.
She's no dummy, she'll let people know about it when she's good and ready.