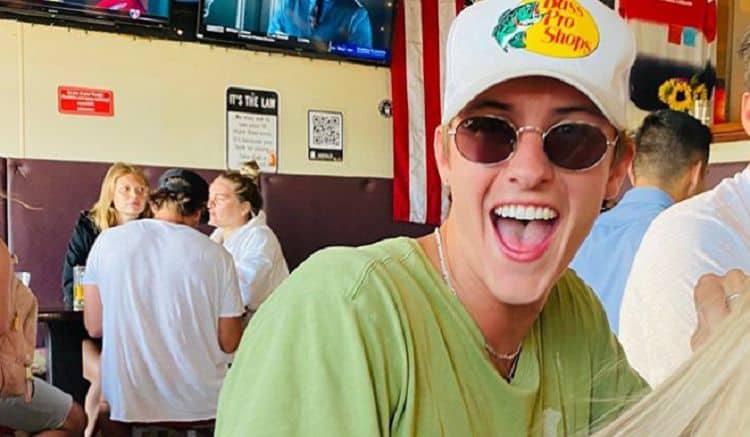 Earlier this year, when former Bachelor in Paradise cast member, Demi Burnett revealed that she was in a happy relationship, the internet couldn't wait to learn more about her boyfriend. As a result, Slater Davis became the topic of conversation on countless blogs. The handsome young entertainer quickly started gaining attention and it quickly became clear that there was much more to Slater than just his relationship status. Not only is he multi-talented, but he is carving out a path for himself in the entertainment industry that could eventually lead to him becoming a household name. Keep reading for 10 things you didn't know about Slater Davis.
1. He's About To Start Selling Merch
Slater isn't as popular on social media s his ex-girlfriend, but he's still got a decent size following. As a way to build a strong community among his fans, Slater is in the process of launching an online store where he we sell branded merchandise. It's unclear exactly what kind of items he will be selling.
2. He Participated In Black Out Tuesday
Racial tension in the United States has been especially high lately. After the murder of George Floyd, people all over the world began to protest against the realities of police brutality and racial injustice. Slater showed his support for the movement by participating in Black Out Tuesday, a social media campaign designed to show solidarity against racism.
3. He's Newly Single
Most people who are familiar with Slater Davis know him because of his relationship with Demi Burnett. The young couple started dating earlier this year, and lots of people thought they were really cute together. However, things aren't always what they seem and apparently the couple's relationship wasn't so perfect underneath the surface. Demi recently revealed that she and Slater are no longer together. She said that their relationship had gotten very toxic and there was no trust between them.
4. He's An Up And Coming Musician
Slater is a talented musician who is working hard to make a name for himself in the industry. He has been recording and releasing music for the last year or so. Slater's songs are available on all major streaming platforms. He hasn't released a full length project yet, but by the looks of things he's been in the studio laying down some new music.
5. He's A Model
Music isn't the only thing that Slater Davis is into. He's also a model signed to the Wrenn Management agency. Although there are some photos of him listed on the agency's website, there is no further information on the projects he's been involved with or the brands he's worked with.
6. He's Very Private
Even though his relationship with Demi was fairly public, Slater doesn't seem to have much of an interest in revealing all of the details about his personal life. Instead, he prefers to be a little more low key. He is active on social media, but his posts are strictly focused on his work.
7. He Started A YouTube Channel
Being independent artist isn't easy. The internet has made it easier for people to find and share music. However, there's still a lot of work that goes into marketing yourself and making people aware of your work. Slate is currently in the stage of career where he's establishing his online presence. He has a YouTube channel where he posts music videos, performances, and vlogs.  Currently, he has 110 subscribers and his videos have more than 10,000 total views.
8. He's A Cat Person
To all of my dog people out there, I hate to be the bearer of bad news but it looks like Slater Davis is a cat person. He sometimes shares photos of him on social media of him hanging out at home with a cat. But us dog people, Slater's entire social media feed isn't full of pictures of cats.
9. He Lives In Los Angeles
When you're trying to make it in the entertainment industry, Los Angeles is easily one of the best places to be. Many fashion brands, networks, and record labels are based there. Slater currently lives in the L.A. area but it's hard to tell whether or not he's originally from there.
10. He Met Demi Burnett Through A Friend
In the beginning, Slater and Demi's relationship seemed like a match made in heaven. The pair was introduced by a mutual friend named Katie Morton. Like Demi, Katie was also on The Bachelor in Paradise. Because both Slater and Demi knew Katie, their paths eventually crossed and the two hit it off.