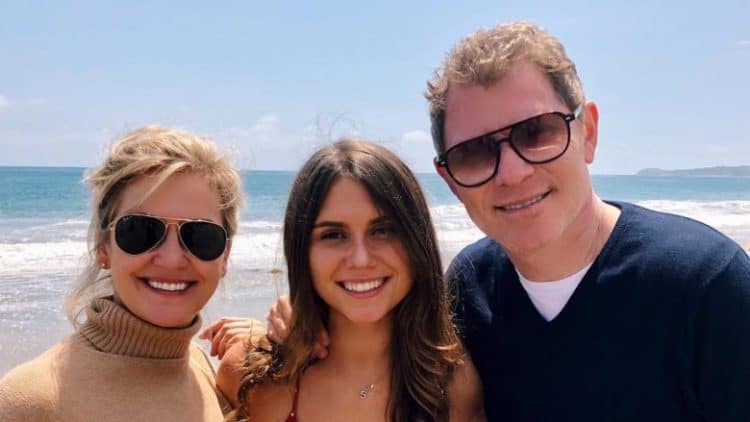 If you have tuned in to the Food Network of late and caught an episode of "The Flay List," you must have caught Sophie Flay on the series alongside her father. For a celebrity's daughter, Sophie has managed to keep her life out of the limelight, but you can get to know more about her from these few facts.
1. Her father is a celebrity chef
Any fan of Food Network must have come across Bobby Flay in several cooking shows who also served as a judge in "The Next Iron Chef" among other competitions. Bobby is a celebrity in every sense of the word because he is on reality television and his cooking skills are topnotch. He has several restaurants across 11 states in 19 locations, so probably you might have had a meal in one. Bobby also shares his cooking skills through the dozen books he has written, hoping to turn everyone into a great cook.
2. She is an only child
Sophie's father had trouble finding his soulmate, which led to him being married thrice. Luckily for him, Bobby got out of the marriage with the best daughter of all time. In his second marriage to Kate Connelly, the couple welcomed a baby girl on April 16, 1996. Although Kate had a son from a previous relationship who instantly became Sophie's half-brother, Sophie is the only child of Bobby Flay. He says he spoils her a little because Sophie makes parenting easy with her good behavior.
3. Her education
Sophie received her high school education at Fairfield Warde High School, Connecticut, before proceeding to get her undergraduate degree. She, therefore, went to the University of Southern California to study broadcast and digital journalism. Her love for news motivated the choice of degree while her storytelling passion also played a part in her decision.
4. Her love for animals is hereditary
Bobby Flay has a passion for thoroughbred horse racing and is a director of Breeder's Cup. His love for racing was also passed down to him by his parents as Sophie tells Parade. Her grandfather loved horse racing, and so does Sophie, who in 2018, attended the Belmont Stakes. Bobby's mother also had a soft spot for cats. She considered them her family such that they were mentioned in her obituary when she passed on in 2018.
5. She is ambitious
Having a celebrity father would have many people relax and live off the fortune, but Sophie is determined to make her own money. Even before she had graduated, Sophie had already sought an internship position at NBC for the Olympics. Sophie seems fully aware of where she is heading to since she also has worked for Warner Bros, as an intern and Spotify too, doing voice overs. Sophie's working at Spotify lasted for two years where she read scripts on adverts according to Distractify.
6. She has self-care rituals
Being at your best does not necessarily mean dressing to kill. They say you have to feel great to look good too, and that is something that Sophie takes seriously. Therefore apart from her mental health, she ensures she is in her best physical health. For Sophie, that entails getting her beauty sleep and eating balanced meals. As for mental fitness, yoga has never come second to any other activity, so Sophie does lots of it. Everyone wants flawless skin, and Sophie is no exception. Therefore, she also concentrates on skincare as part of her self-care rituals.
7. She stars in a series with her father
Sophie has already proven she is daddy's girl, even without her saying it. They spend lots of their time together, and the strong bond between father and daughter is undeniable. Consequently, her father decided that people should also get to see him as a dad, not just as a chef. For Bobby Flay, the screen is his home; therefore, there was no better way to portray his parenting skills than on a cooking series "The Flay List." The series debuted on The Food Network on August 22, 2019, and had six 30-minute episodes. Sophie and Bobby were spoiled for choice when picking the spots featured, and each episode ended up having its own theme.
8. Her parents met on a cooking show
"Love does not ask why" are lyrics to Celine Dion's song, and when it came to Bobby and Kate, they fell in love on screen. Kate co-hosted "Robin Leach Talking Food," and when she brought Bobby Flay as a guest, a spark flew as they instantly got attracted to each other. Their first date lasted less than five hours, and within a few months, Bobby knew he had found the woman to make him give up on being a bachelor. He proposed, but unfortunately, the marriage ended as fast as it had begun. After two years, they divorced.
9. She is multi-talented
Sophie is not just a beautiful face with a millionaire father; she has her own attributes that help to define her. While in school she was already prepping herself for her journalism career by broadcasting for the University's television show "The Buzz." Her journalism skills are also evidenced by her ability to interview guests while still young but still maintaining professionalism. Also, she has musical talent, and Sophie joined The Sirens, an acapella group in her college. Moreover, she was a Delta Gamma Sorority member; a group whose motto is "Do good," which speaks volumes about Sophie's character.
10. Her net worth
Sophie may not have lots of wealth comparable to her father's, but she still has made a few dollars on her own. From her work as a journalist, Sophie has managed to accumulate $200,000 according to Wikiage. Now that she appeared on a cooking competition, her net worth is on an increasing trend since Bobby flay has also made his money appearing on a reality television show.