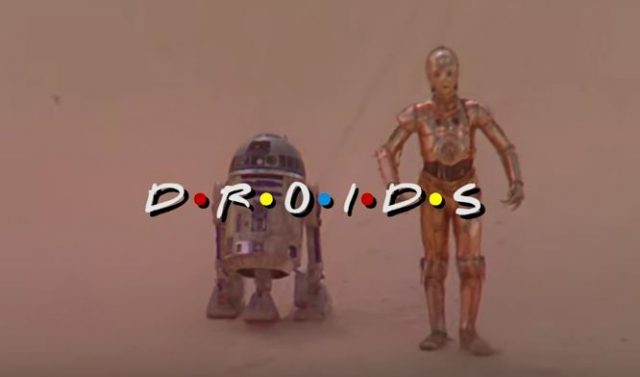 It has literally been 17 years since Friends has been on the air but it's alive and well in syndication.  Also, it's theme song, "I'll be there for you" by the Rembrandts, may very well be the most known television theme song in history.  I find it almost strange that a Friends and Star Wars mash up video hasn't existed until now.  Perhaps the wait was worth it?
Darth Blender posted the Friends and Star Wars mash up video featuring R2-D2, C-3PO, BB-8, and K-2SO as the featured droids, with a few cameos from across the seven main saga films as well as Rogue One: A Star Wars Story. There are only four core droids in these films, so they're two short of a full cast of Friends. And since K-2SO didn't have any onscreen interaction with any of the other famous droids, he's basically off on his own in this video.
Still however, the clip is pretty fitting and it works extremely well.  The use of real story lines work seamlessly and plot lines aren't changed or forced here.   What do you think?
Check out the clip below: