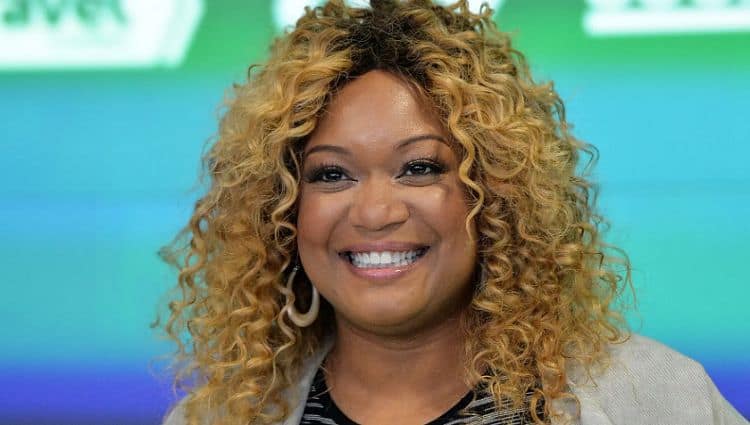 Sunny Anderson has had quite an impressive career. Over the span of more than two decades, she has worked in both radio and TV. In the process, she has reached millions of people, and she has become a fixture on The Food Network. She began her career with the station in 2005 and has hosted several shows since. However, Sunny is much more than just your average host. She has a deep love and appreciation for good food and she knows how to throw down in the kitchen. In 2013, she appeared as a competitor on Chopped. Even though she didn't win, it was the perfect opportunity for Sunny to share her skills with the world.  Keep reading for 10 things you didn't know about Sunny Anderson.
1. She'd Love To Invite Whoopi Goldberg Over For Dinner
If Sunny Anderson could invite one celebrity over for a home cooked meal, she knows exactly who it would be: the legendary Whoopi Goldberg. Sunny said, "I'd invite Whoopi Goldberg because every time she discusses food she talks about it like it doesn't play any part in her life. She says she can go forever without eating. I'd be interested in interviewing her about her likes and preparing something she just couldn't live without. And she's so pleasant and funny, I'm sure she'd be a great conversationalist at the table." It's been a few years sine she's made this statement, so there's a good chance she's gotten the chance to have Whoopi over by now.
2. She Traveled A Lot Growing Up
Growing up with a parent in the military usually means that you have to move around a lot. That was exactly the case for Sunny Anderson. As a child, she got the opportunity to live in several countries. Not only did this allow her to experience different cultures, but it also helped her fall in love with different types of foods.
3. She Didn't Go To Culinary School
Even though Sunny is a professional in the kitchen, she isn't technically a chef by trade. Sunny is almost entirely self taught. She never attended culinary school. At one point she did consider it, but she was working in radio at the time and couldn't fit it into her schedule.
4. She Has Ulcerative Colitis
According to Web MD, ulcerative colitis "is an inflammatory bowel disease. It causes irritation, inflammation, and ulcers in the lining of your large intestine (also called your colon)." Sunny was diagnosed with the illness when she was just 19-years-old. Although there is no cure for ulcerative colitis, Sunny has learned how to identify which foods are more likely to cause flare ups.
5. She Loves Hip Hop
Sunny is a huge music fan and she has a special place in her heart for hip hop. She told Vibe Magazine, "I love Rapsody. I think her appearance on Kendrick Lamar's [album] solidified it for me." She adds,  "I got 9th Wonda to score one of my seasons on Food Network, which was difficult but I made them do it. I'm just in love with the fact that this artist is getting so much love. In addition to that, I'm from Texas so I'm a Scarface head."
6. She Wrote A Cookbook
Sunny doesn't just love to cook, she also loves helping others discover their passion for cooking. In 2013, she released a cookbook called Sunny's Kitchen: Easy Food for Real Life. The book featured a wide variety of recipes and ended up becoming one of the New York Times' best sellers.
7. She's An Inventor
Not only has Sunny had successful careers in the food industry and journalism, but she's also an inventor. She created a product called the Infladium which is designed to look like an  inflatable football stadium made to hold all of your favorite snacks for Super Bowl Sunday.
8. She Loves Animals
Sunny is the true definition of a pet parent. Although most people prefer dogs over cats or vice versa, Sunny loves them both equally. She has dogs and cats and she enjoys spending time with all of her fur babies. Cats and dogs are known for being virals, but all of her pets seem to get along nicely.
9. She Was In The Air Force
Both of Sunny's parents were in the military, and she decided to follow in their foot steps. She joined in the Air Force during the early 90s where she was trained in radio broadcasting and journalism and had a successful career in the industry for many years. She worked for several radio stations in the United States and Asia.
10. She Believes Everybody Should Have A Set Of Thermometers In Their Kitchen
Every cook has one item they feel is an absolute must in the kitchen. For Sunny, that item is a set of thermometers. She explained to Delish, "There are real differences between frying at 325 degrees or 350 degrees, and the difference can ruin a recipe. Such a small investment can really take your cooking to another level, whether gauging internal meat temperatures or judging whether the oil is ready to fry."