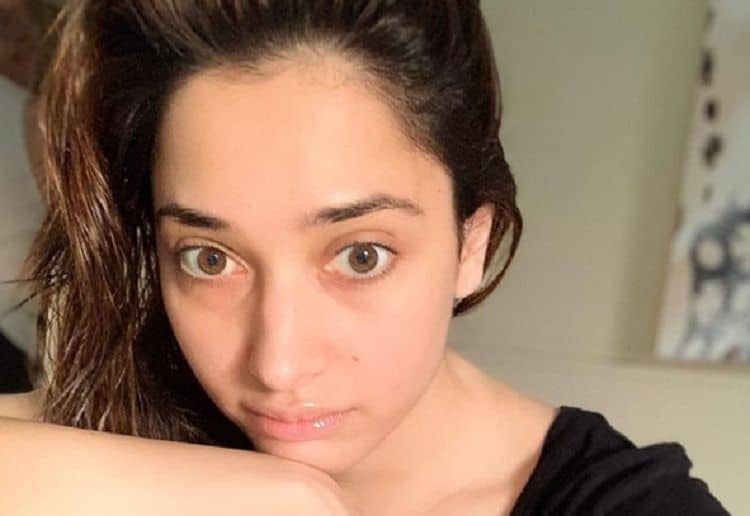 Known for her appearances in the likes of Baahubali 2: The Conclusion (2017), F2 — Fun and Frustration (2019), and Sye Raa Narasimha Reddy (2019), Tamannaah Bhatia is one of the most popular, prolific, and highly regarded actresses in India. Despite still being only 30 years old, Tamannaah already has 65 film credits to her name, not to mention a heaving awards cabinet. Find out more with these ten little facts.
1. She's been working since she was 13
If you were wondering how a 30-year-old has managed to appear in 65 films already, the answer, in Tamannaah's case at least, is simple — starting work at the age of 13. Her first break came when she was offered a lead role after an agent spotted her at her school's annual day event. Shortly after, she began performing at Mumbai's Prithvi Theatre for a year. At the age of 15, she won the female lead in Chand Sa Roshan Chehra; the film bombed, but her other films that year, Sri and Kedi, established her as 'one to watch'.
2. She's acted in nearly 65 films in three different languages
Whether you're a fan or not, the one thing you can't accuse Tamannaah of is a poor work ethic. Since her debut in 2005, she's racked up appearances in an astonishing 65 films in 3 different languages. Some of her most notable works include Ayan (2009), Paiyaa (2010), Siruthai (2011), Veeram (2014), Dharma Durai (2016), Devi (2016), Sketch (2018), 100% Love (2011), Racha (2012), Thadaka (2013), Baahubali: The Beginning (2015), Bengal Tiger (2015), Oopiri (2016), Baahubali 2: The Conclusion (2017), F2 — Fun and Frustration (2019), and Sye Raa Narasimha Reddy (2019).
3. She's won 23 awards
She might be only 30 years old, but already, Tamannaah has an awards shelf that's groaning under the weight of her huge collection of awards. In total, the actress has managed to amass a mammoth 23 wins (including the highly prestigious the "Dayawati Modi" Award in 2017), not to mention an honorary doctorate from CIAC and KEISEI International University, South Korea for her contributions to Indian cinema. She's also picked up 26 nominations, becoming the first Indian actress to be nominated for a Saturn Awards for Best Supporting Actress in the process.
4. She's built a second career as a model
Tamannaah hasn't just made waves in the acting world. Over the years, she's also built a successful second career as a model. Prior to achieving fame as an actress, she starred in Tamil advertisements for brands such as Shakthi Masala, Power Soap, and Sun Direct. Most recently, she's appeared in commercials for the likes of Celkon Mobiles, Fanta, and Chandrika Ayurvedic soap, as well as serving as the brand ambassador of the jewelry shop AVR and Khazana Jewelry. Since 2015, she's also served as a brand ambassador for Zee Telugu.
5. She's posed for PETA
Back in 2014, Tamanna decided to show the world her support for animal rights by posing for a PETA commercial. In the ad, Tamanna is seen holding a rescued rabbit called Tiny next to the message, "Be a Bunny's Honey: Buy Cruelty-Free Cosmetics. Speaking about the ad, she said, "Animals go through a lot of torture while they are being tested on for cosmetics. There's material applied on their eyes, on their bodies. It can be very painful because they cannot speak or they cannot communicate, such kind of atrocities are put upon to the animals. I just hope everybody out there can be a little more considerate and have a little bit of a heart and love the animals."
6. She's waving the flag for girl power
In January 2016, Tamannaah did her bit for girl power by accepting the position of brand ambassador of the Indian government's campaign Beti Bachao, Beti Padhao, an initiative of FOGSI that aims to improve the welfare and education of female children in India. Speaking about the position on Instagram, Tamannaah wrote, "I'm glad that I can contribute to the national initiative of #betibachaobetipadhao by being FOGSI's brand ambassador."
7. She's got her own line of jewelry
On 31 March 2015, Tamannaah proved her business skills are as astute as her acting ones when she launched her own retail jewelry business. Speaking to New Indian Express about the launch of Wite-n-Gold, she explained her reason behind creating the business. "Jewelry designing caught my fancy at an early age as my father is also into the jewelry business," she said. "I liked what I designed initially and that encouraged me to venture into it further. The beauty of my collection is that it defines today's woman. The pieces will be stylish and contemporary and will comprise exquisite designs apt for all occasions."
8. She's been voted India's most desirable woman
Tamannaah is officially one of India's most desirable women, at least if the country's various media outlets are anything to be believed. In 2012, she kicked things off with a number one position on both Hyderabad Times's Most Desirable Woman 2012 and Telugu and Chennai Times Most Desirable Women 2012. The following year, she got to number 3 on Chennai Times Most Desirable Woman 2013, and the year after that she placed #4 on Chennai Times Most Desirable Women 2015. Since then, she's picked up #3 on Hyderabad Times Most Desirable Women 2015, #2 on Chennai Times Most Desirable Women 2016, and #6 on Hyderabad Times Most Desirable Women 2017.
9. She's 100% single
Over the past couple of years, Tamannaah has been linked to just about every eligible bachelor out there. According to the latest gossip, she's dating Pakistani cricketer Abdul Razzaq. Except she's not. Tired of the constant rumors, the actress spoke to geo.tv to set the record straight. "One day it's an actor, another day it's a cricketer, and now it's a doctor. These rumors make it sound like I'm on a husband shopping spree. While I love the idea of being in love, I don't appreciate baseless news when it comes to my personal life. I am happily single at the moment and my parents aren't groom hunting," she said.
10. She's a multi-millionaire
All the hard work Tamannaah's been putting in over the last 2 decades has clearly paid off. According to the latest estimate from Celebsmoney.com, the actress is currently worth the envy-inducing sum of $13 million.