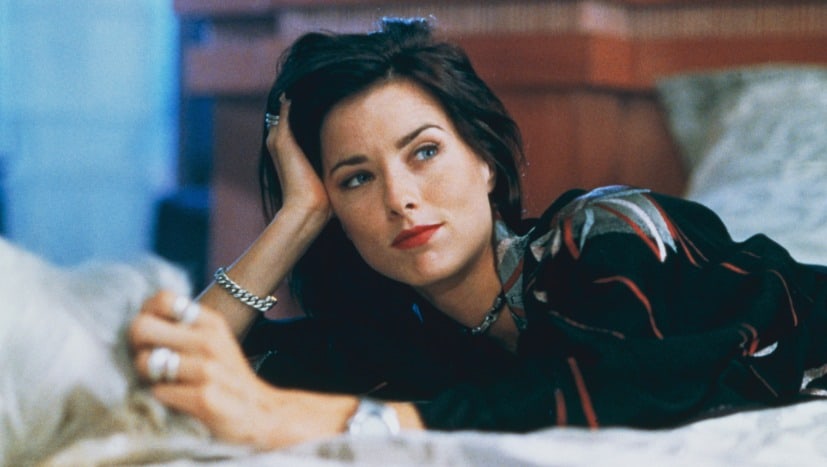 Tea Leoni has had a nearly three decade career as an actress, Tea Leoni has made several great films. Tea was born Elizabeth Tea Pantaleoni in New York City in 1966. She was the only child of her parents and received an excellent education. Tea attended private schools on the Upper East Side of Manhattan and in Vermont before studying at Sarah Lawrence College. She left college to take some time off, and a friend suggested she audition for a television show. She got the role in "Angels 88" but the series never aired. Leoni soon landed a role on the NBC soap opera "Santa Barbara". She worked eventually landed roles on television sitcoms "Flying Bird" and "The Naked Truth". Leoni soon became a film star starting with small roles in films including "Switch" and "A League of Their Own" building up to larger roles. She returned to her television roots in 2014 in CBS' "Madam Secretary" as Dr. Elizabeth McCord, the United State's Secretary of State. Throughout her career, Tea Leoni established herself as versatile actress who can play dramatic as easily as action roles.
Here are the top 5 Tea Leoni movies of her career.
Bad Boys
Although she already had small roles in "Switch" and "A League of Their Own", Teo Leoni's breakout movie role was in 1995's "Bad Boys". She proved that she could play with the big boys in Michael Bay's breakout movie. When $100 million worth of Mafia heroine is stolen from a Miami police station, two detectives are assigned to investigate because the heist is thought to be an inside job. Martin Lawrence and Will Smith play the detectives who use an unwilling police informant to help them. The police informant, Maxine's (Karen Alexander) best friend, Julie Mott (Tea Leoni), gets caught up in the action packed investigation. Tea Leoni proved herself as more than just a beautiful character caught in the middle of chaos. She helped create a tough role. Julie Mott uses her sarcastic wit and her beauty to help the cops and save herself.
The Family Man
After her "Bad Boys" success, Tea Leoni established herself in several action packed movies. In 2000's "The Family Man", she established herself in a dramatic and romantic leading lady role. Nicolas Cage stars in "The Family Man" as Jack Campbell, a successful Wall Street businessman enjoying his wealth and life as a single man. He gets a call out of the blue from his college girlfriend, Kate (Tea Leoni), on Christmas Eve. Kate is also a successful career woman and tells Jack she's moving to Paris. The two reminisce. Jack stops to purchase a lottery ticket from a store clerk named Cash (Don Cheadle), and Jack finds himself waking up in a different world the next morning. He is married to Kate, and they have two children. They live in the suburbs, and Jack works for his father-in-law selling tires. As the days progress, Jack learns to appreciate the life he could have had if he'd married Kate instead of pursuing his career thirteen years before. When Jack wakes up back in his single life he realizes that he needs Kate's love. He runs into Cash who tells him nothing can be done. Jack looks for Kate and finds her at the airport getting ready to leave for Paris. He tells her about his experience and his regrets, and Kate agrees to have coffee with him.
Deep Impact
Off the heals of 1995's "Bad Boys", Tea Leone proved her acting skills in 1998's "Deep Impact". She plays Jenny Lerner, a journalist for MSNBC investigating the sudden resignation of the Secretary of the Treasury amid rumors he had an affair with Ellie. Lerner learns that Ellie is actually ELE, code for an Extinction Level Event. The US and Russian Governments were trying to destroy a comet headed toward the Earth that would destroy all living life on the planet. Once the news is broken, the government must make survival plans as people deal with the fears of surviving the impact. "Deep Impact" is much more than a disaster movie. It shows the conflicts people go through knowing they will likely die. Lerner is one of 80,000 Americans chosen in a lottery to live in a government shelter. As families and friends are torn apart, Lerner gives up her seat and spends her last moments reconciling with her father. The comet is broken up by a suicide military mission and smaller pieces of the comet smash into the Earth. Although lives are lost, humanity isn't completely destroyed. Leoni plays the role with strength and courage.
Jurassic Park III
Having established herself in both dramatic and action films, Tea Leoni was great in 2001's "Jurassic Park III". She plays Amanda Kirby who visits the newest island amusement park featuring dinosaurs. Amanda appears to be married to Paul (William H. Macy) who pay a lot of money for an aerial tour of the island. In reality, Amanda and Paul are ex spouses looking for their son who went missing along with Amanda's boyfriend while on a parasailing expedition near the island. Amanda and Paul hijack the plane to land on the island where the group is chased by dinosaurs as they desperately try to find their son.
Fun With Dick and Jane
Tea Leone starred in the 2005 comedy "Fun With Dick and Jane" alongside Jim Carrey and proved her comedic skills that complimented the great comedy of her co-star. In this Judd Apatow remake of the 1977 classic, Dick Harper is the Vice President of a major communication firm. The movie deals with corporate greed when the company busts leaving Dick out of a job. As Dick and Jane struggle to make ends meet, they loose everything they own. Dick decides to turn to a life of crimTe and Jane willingly abets her husband. They only intend to get back their possessions with their robberies, but find that other destroyed employees of the debunk company are following suit. In the end, they discover that the company's corrupt CEO (Alec Baldwin) was the one behind destroying the company. As Dick and Jane go on their criminal escapades they make it funny.