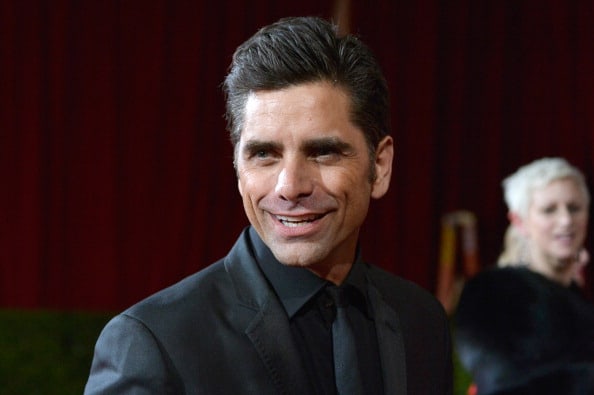 John Stamos recently announced some really amazing news when he visited Jimmy Kimmel Live earlier this month. The actor, who spent eight seasons playing heartthrob rocker Jesse Katsopolis on the family sitcom Full House, announced the Netflix has agreed to air 13 episodes of a spin-off series.  The series will be called Fuller House and will star Candace Cameron Bure as D.J. Fuller, a widower with two sons and one on the way.  Andrea Barber and Jodie Sweetin will also return to the series to play their Full House characters, Kimmy Gibbler and Stephanie Tanner, and will help D.J. raise her family. John Stamos is set to guest star and will serves as a producer on Fuller House, and he is hopeful that Bob Saget, Lori Loughlin, and Dave Coulier will also reprise their roles on the series, which will debut on Netflix in 2016.  John Stamos has had quite the amazing career on television. Here is a look back at some of his more memorable (ER) and forgettable (Thieves) roles.
Before Full House (1982-1987)
John Stamos got his start on television in 1982 at the age of age of 19. He would portray the character Blackie Parrish on the daytime soap opera General Hospital alongside Demi Moore. He would stay with the program for two years and was even nominated for a Daytime Emmy Award for Outstanding Actor in Supporting Role in a Daytime Drama Series in 1983.
Stamos' next project came in 1984 and was a half-hour comedy called Dreams. It was about a rock band of the same name trying to score a record deal and also starred Jami Gertz.  The recording deal would never come as the series was cancelled after 12 episodes. The following year, Stamos had a small role in the television movie Alice in Wonderland. Then, in 1986, John Stamos scored a role on another television series called You Again? about a dad who has an estranged son that moves in with him. The series lasted for two 13-episode seasons before getting the axe.  Thankfully, the series ended when it did; otherwise, Stamos' life could be very different today.
The Full House Years (1987-1995)
In 1987, John Stamos began his eight-year run as Jesse Katsopolis on the comedy Full House. The series was at first a part of ABC's TGIF lineup. After gaining a strong following, the series would move to Tuesday nights and stay there until the show concluded in 1995. The series would rank in the top 30 shows of the season each year it was on television, with the exclusion of Season 1, which received an overall ranking of 53.  The series had an average audience of 13.3 million viewers.
Though Stamos was busy filming episodes of the series, he did find some time to act in other television roles. He would appear in the 1990 television movie Daughter of the Streets, which  was about a divorced woman trying to take care of her daughter that ends up becoming a prostitute. The following year, Stamos would appear in Captive and then The Disappearance of Christina in 1993.
After Full House (1995-2009)
John Stamos continued to find work on television after the end of Full House starring in several made for television movie in the late 1990s.  He appeared with Della Reese and Olympia Dukakis in A Match Made in Heaven. This would be followed by The Marriage Fool with Walter Matthau and Carol Burnett in 1998 and Sealed with a Kiss, which also starred Annabeth Gish in 1999.  In 2000, John Stamos decided to work behind the camera for the TV miniseries The Beach Boys: An American Family. It was nominated for an Emmy for Outstanding Miniseries.
In 2001, John Stamos starred in a new TV crime drama called Thieves with The Slap's Melissa George. The series was about a couple of criminals working with the FBI to solve crimes in exchange for not going to prison. It would be cancelled after only 10 airings. A few years later in 2005, John Stamos joined the new comedy Jake in Progress. He would play the title character, who was trying to end his womanizing ways. The show also featured Wendy Malick and Ian Gomez. It would fair slightly better than Thieves and broadcast 21 episodes before getting cancelled.
At the same time he was working on Jake in Progress, John Stamos made two guest star appearances on ER. He would become a series regular in 2006. The producers of the medical drama wanted to snatch him up a year prior, but were unable to because Stamos had committed to the dreadful comedy instead. Stamos would star on the series for its final three seasons. During that time, he appeared in three television movies: Wedding Wars, A Raisin in the Sun, and The Two Mr. Kissels.
After ER (2010-Present)
John Stamos continued to be a hot commodity for television into the 2010s. Ryan Murphy enjoyed his work in the past and cast him in four episodes of Glee as Dr. Carl Howell.  He would become Emma's love interest and husband.  Murphy would use Stamos' talents again in 2013 when he cast him in the comedy The New Normal. That same year, he would be featured on the final season of the USA drama Necessary Roughness. Stamos still found time to appear in several television movies, including Little Brother and Secrets of Eden.
This year, Stamos was a part of the television movie Members Only, which also starred Natalie Zea. It was about the lives of members and workers of an exclusive country club. You may have also seen him on an episode of the ABC musical comedy Galavant. He also just finished producing and starring in the TV movie Grandpa about a man that discovers not only that he is a father, but a grandfather, too. His next project will, of course, be Fuller House, which is set to begin production this summer and, as previously mentioned, is slated to be released on Netflix in 2016.
What is your favorite John Stamos TV role? Let us know in the comments section below.
Photo by Frazer Harrison/Getty Images