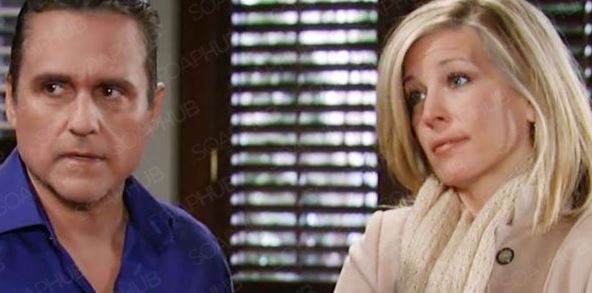 General Hospital fans know that the year is coming to a close in just a few days, so we've been using the opportunity to go back and look at the best and the worst of the year, and it's been great. This is one year that has been one for the books – we say that every year – and it's been on that has been so good to us. We love what's been happening, how it's been going down, and what's been happening around here. We also love that this has been something special, and we want to take a moment to go back and look at who we think might just be the most beloved couples of the year. Do you think that 2018 brought some of the most amazing couples, or do you feel that they weren't that good? We loved these, even if they didn't always work out for the best.
Sonny and Carly
They are always our favorite couple, and we always love to see them together. They have not had much luck this year. Things have not worked out well for them, and there has been more heartbreak for them as a couple than anything else, but we do love them and what they have to bring to the table. They have a lot to live for and love for and work on, but they aren't all that happy in terms of the rest of their lives. They have a lot to deal with, and things have not been in their favor in the past two years. However, it's been a situation that they've been trying to work through and trying to live with, and it's been a good year for them in terms of working through things that might just work out in the long run. There might be something else going on in their lives, but they might also have to go ahead and look into the future for more love and commitment in the coming year.
Kiki and Griffin
Do we love how things worked out for them or how they got started? No, we do not. We don't love that she was so comfortable just getting involved in her mother's life with her boyfriend, but we do love that they were so good together. They did seem to have some serious love for one another and for their situation, but we aren't sure that they had the best of the best in terms of anything else. They did have some love for one another, and we were happy to see where that was going. We thought they might have a bit of a chance if they were able to live through what happened, but Kiki hasn't been in a good place with her own feelings and her mother and new sister, and then she was killed. It didn't work, but they were a couple we were on board with seeing a future, and we thought they might be able to handle that in their own time.
Anna and Finn
These two are the couple that we didn't think would ever make it, but they've managed to call it a day and make it work out with one another. They are good together, and they make us happy. They both had some seriously good relationships in the past that did work out for them in a way that was so good even though they all sometimes ended so badly, but we did like to see them get together. They have a sweetness with one another that we feel just works for them, and we love to see that with them. They have been the kind of couple who just works things out with one another and makes it seem like something so good. It was seriously a long time coming for these two, and we thought that it might not work for them more than one time, but it did. They managed to get it together, make it work, and get things going for them. They are good to go, and we loved that in every way, shape, and form. It was good news for all of us to see them finally take the plunge, and we hope it lasts.