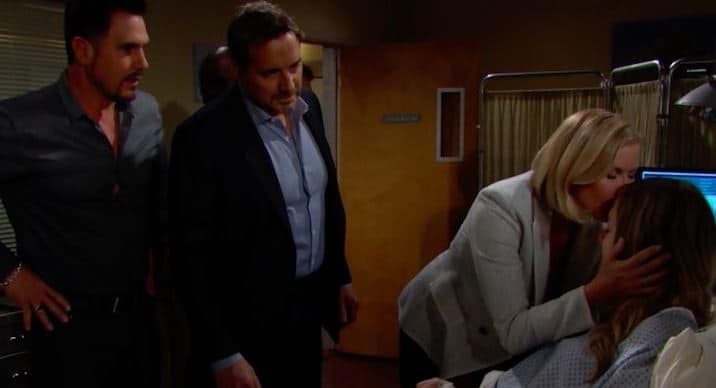 The Bold and the Beautiful fans are not going to get much relief this week from the horrible things going on in LA. The loss of a newborn baby so important to so many families is just too much for some people to bear, and we are there with them. There was a family gathering at the Forrester home, but did it do anything for Hope and Liam? Did they feel good about knowing their families are there for them in this time of need, or did seeing Steffy and her own baby make Hope so miserable she was unable to stand it? We think that she is just shocked at the moment. She's not in her right frame of mind, and she might not have much to do with the way things are going right now, and she's struggling with a few things here and there. She will not get over this anytime in the near future, but it might just affect this relationship.
We suspect that most people will take this time to come together, too. They will do nothing short of whatever it takes to ensure that this young woman and her husband are happy and that they are supported, and we suspect that we might even see people you don't expect to see come together for the same reason. For example, we've already seen Bill and Ridge work together to make sure that they are all happy and that they can work this out. However, we don't know that they will keep it up for all that long. They have a long history of being mean to one another, after all. But for now, they are family who is working together to be there for their kids and those they love.
What's Happening on the Bold and the Beautiful
We 💙 #BoldandBeautiful fans from all around the world! Since it's #TravelTuesday, we're looking back at meeting some amazing B&B fans in Italy. 🇮🇹 Tweet us where you're from. pic.twitter.com/d9PqpjIAni

— Bold & The Beautiful (@BandB_CBS) January 8, 2019
Where do you want to see the show go next? And what do you want from this situation in terms of figuring out how to make it work and what to do with it? We love this option, you know.
What's Next on the Bold and the Beautiful
Liam and Hope say goodbye to the daughter they will love forever. 💙 Join them this week on #BoldandBeautiful. pic.twitter.com/J4hjePN9QS

— Bold & The Beautiful (@BandB_CBS) January 6, 2019
We were right when we said we suspect there might be a few people coming together for the sake of Hope and Liam, and we might all fall down for a quick second before we pick ourselves back up again when we realize that we mean Brooke and Taylor. Brooke was ready to have her committed, wouldn't let her be anywhere alone with her own granddaughter even though Brooke has no right to say that, and was ready to send her right to prison for shooting Bill – months later when she found out. Even though Bill already knew and chose not to let her go to jail so that Steffy didn't have to lose her mother. It was all a wreck and a total thing, and yet here we are. They are finally putting aside their differences to make sure that they are able to put their lives back together for Hope.
They have to be there for both girls. Steffy might not have lost a baby, but her own baby lost her sister. And that might not mean much to this newborn baby, but it means something to Steffy. She knows this is heartbreaking and beyond horrible, and she wants to be there for her own stepsister. She's a mess, and she's not going to fight this. She wants to be there with her own mother and her stepmother and everyone else that is part of their lives. And she will be there for them. She's not a monster when it comes to this situation. There's so much she needs to do.
Stay tuned for more The Bold and the Beautiful and be sure to check out TVOvermind daily for the latest The Bold and the Beautiful spoilers, news, and updates.