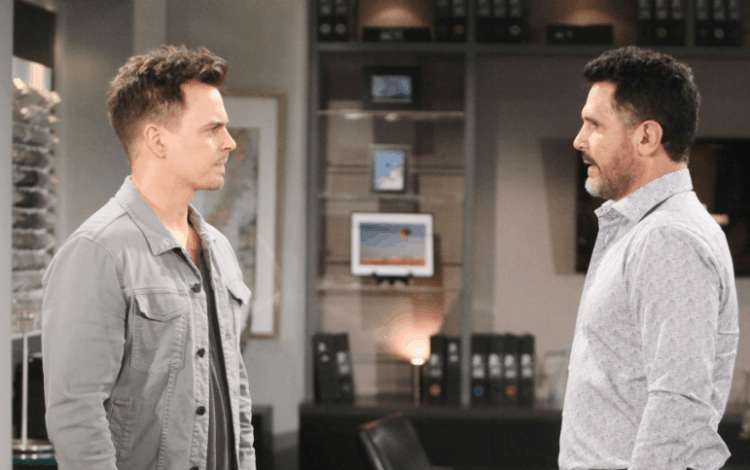 The Bold and the Beautiful fans were not surprised when Quinn went right to Bill for answers after her friend Shauna said something that caused her to feel a little bit more than just curious about the way things are going. She's not sure what to think of what is happening right now, but she is now wondering what it meant when Shauna made such a casual comment about knowing Bill. After all, Bill is the father of Quinn's son, Wyatt, and she wants to know how her friend knows him, what she meant when she said that she had a past history situation with him, and how this might affect her and her own son. She's not all that happy, and she's looking to get Bill to give her the information she needs to figure this out for herself. And guess what? Bill does not like this line of questioning at all.
Meanwhile, things are taking a serious turn for those who are not working their best efforts. He will then go to Shauna and begin to accuse her of making comments she had no business making, of putting him in a situation that makes him feel more than a little bit unhappy and uncomfortable, and they will have some words with one another. We don't know how much of their history is really going to come out in the near future, but we expect that there might be a situation that does make things a little bit more interesting in the near future. Is there a chance that he might be the father of her baby? She is honest about the fact that she wasn't exactly a one-man kind of lady at that point, so it is entirely possible there could be a chance.
What's Happening on Bold and the Beautiful
We love these ladies! (And @THEEdarinbrooks 😂) Make sure to give a warm welcome to the newest member of the #BoldandBeautiful cast, @DENISE_RICHARDS. 👏 pic.twitter.com/A2aPI6mlE0

— Bold & The Beautiful (@BandB_CBS) April 8, 2019
Isn't he a lucky man?
What's Next on Bold and the Beautiful
You never saw THIS coming. 💥 Brace for impact and don't miss an episode of #BoldandBeautiful this week! pic.twitter.com/RTC16Hc0e4

— Bold & The Beautiful (@BandB_CBS) April 7, 2019
Hope is insistent that she and Flo become friends. She feels as if the two of them have so much in common and that they both know what it is like to lose a child. Except the truth of the matter is that Flo is the only one who lost a child. She didn't give her own baby up for adoption. She gave Hope's baby up for adoption and lied all about it. She is not happy to want to be her friend, and she is looking for any and every reason to avoid Hope because it's making everyone upset. Zoe is keeping a close eye on her, and she's worried what Zoe might tell her own father, and what Reese might do to her if he finds out she's spending so much time with Hope. He doesn't want to be caught in the middle of this problem, and he will not be happy with the turn of events around here.
Meanwhile, we do know that there is a lot more going on. Wyatt is going to open up to Quinn, Bill, and Shauna about all that is happening with Flo. He knows her secret, and he wants to share with them so that they can be there for her. The truth, however, is that her mother did not know that her daughter was pregnant let alone gave a baby up for adoption. We think Flo will be horrified to find out that he shared her secret with them, and it will put her in a bad situation.
Stay tuned for more The Bold and the Beautiful and be sure to check out TVOvermind daily for the latest The Bold and the Beautiful spoilers, news, and updates.