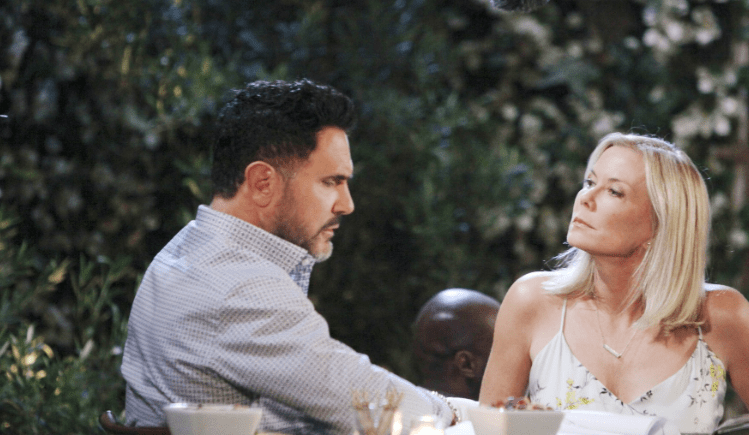 The Bold and the Beautiful fans are so excited about the fact that we just know the truth is going to come out soon, right? We got to see the week begin with a little change, and it was good. We did see Brooke talk to Bill, and that's not something that she's good at doing without involving herself in something she doesn't need to be involved in. She is, however, speaking to him about a few things that work in his favor. He's a man who doesn't mind things working for his son, but he's not sure how to focus on this when everyone seems fine with the decision but Brooke. She's not happy that he is feeling the way he is about Thomas. She thought he would be more on her side, and she's not entirely happy that he did not validate her feelings completely.
But, we also have to take into consideration the horror that affected everyone as things continue to become worse than ever. Emma is dead, and we cannot figure out of her death is connected to her learning the secret about Baby Beth or not. She's not here anymore, and that is not a good thing, but her situation might be different if she hadn't known about this. Meanwhile, we saw this unfolding, and we didn't know what to do to stop it. We don't know how this will speed up the process of anyone getting the answers that they don't even know that they need, or if it will only make everyone feel terrified and afraid to speak the truth. A girl is dead now, and it's all because she knew what was going on around here.
What's Happening on The Bold and the Beautiful
The #BoldFanEvent is tomorrow, so @KiaraBarnes_ and @AdainBradley are taking over! They'll be showing you an inside look at their very first #BoldandBeautiful fan event on our Instagram story. Don't miss it! pic.twitter.com/caBRN5PajM

— Bold & The Beautiful (@BandB_CBS) June 21, 2019
We can't wait to see them takeover!
What's Next on the Bold and the Beautiful
Surrounded by suspicion, Thomas is totally off the rails. Make sure to tune into #BoldandBeautiful this week! pic.twitter.com/qQqgy6w0Hq

— Bold & The Beautiful (@BandB_CBS) June 23, 2019
Brooke and Ridge are on the edge of a relationship issue, but we are not surprised by that. We know that this is pretty much how they live their lives in general. They are always on the edge of a problem like this, and we aren't sure why everyone always acts so surprised about it. They don't have to deal with much in their lives, but they force themselves into the business of other people, and they know darn well it is not something they should do at all. But, for now, we can see why they do it, what it means to them, and how they can fix it. Their marriage is on the rocks, and that is a problem for everyone.
This year, we have a bit situation with some other things, and that is Pam. She's always in the middle of things without meaning to be in some situations, and by putting herself there in others. She's got some information, and she's going to share that with Brooke. She feels she might have some information that is going to help everyone figure out what is going on with the baby in question, and that might lead them to figure out what happened to Emma. She is gone, dead, and will not come back, and Pam might be next if she shares this information with Brooke, and that information is shared with someone else. It might not be good for anyone, but we hope this is the only death that occurs because of this horrible secret that's being kept.
Stay tuned for more The Bold and the Beautiful and be sure to check out TVOvermind daily for the latest The Bold and the Beautiful spoilers, news, and updates.