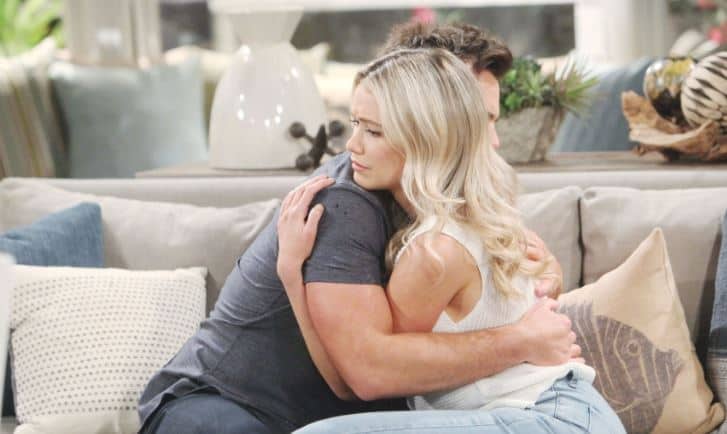 The Bold and the Beautiful fans are so touched that Liam is aware that Phoebe is actually Beth, his daughter. He's held her for the first time with this knowledge, and he has to get the final answer out of this before he is able to get things to work out in his favor. He's so emotional and so happy, but he is crushed that this is something that will actually ruin the life that Steffy is living. She has no clue this is what is going on in her life, and she has no idea she has been raising the baby that belongs to her stepsister and ex. He's gotten all the answers he needs from Flo by confronting her, and he is ready to take this information to his ex-wife and let her know that their baby is alive. It's an emotional week for all of them around here, and we want more.
Meanwhile, we know that Thomas' friend has brought something for him, and we cannot be sure it's a safe or good thing to have for him. He's not someone who is making many good decisions, and he is not someone who is going to have a lot of happiness in his life. He's got a lot going on, and he's not happy with it. He's not happy with his wife's feelings for her ex-husband. He is not happy with the way things are going for anyone in his life. He is not happy with the way things are going down with Flo, but he's not sure about what happened there, yet. He has no idea that she talked, and he's going to lose it all. But, we can assume he is not about to lose it no matter what happens, so Hope is in danger.
What's Happening on the Bold and the Beautiful
Showing our appreciation for this #BoldandBeautiful hero! 💙 pic.twitter.com/rieGy9jOxh

— Bold & The Beautiful (@BandB_CBS) July 31, 2019
We hope Douglas' father isn't doing too much damage to this young man.
What's Next on the Bold and the Beautiful
It's the moment everyone has hoped for, and it is EPIC! 💥 You won't want to miss a minute this week on #BoldandBeautiful. pic.twitter.com/2scSJWW60y

— Bold & The Beautiful (@BandB_CBS) July 28, 2019
This is it. The moment we have all been waiting for. This is the day that Flo is going to sit down with Liam and Wyatt and tell them the truth about it all. She's going to tell them that baby Phoebe is Baby Beth, and that she did not die, and that she did not give up her own baby for adoption, and that Steffy and her mother are both clueless as to the real identity of this baby. They will not be impressed with her, and Wyatt will be crushed to learn that she knows this and didn't say anything to him or anyone else about it. It's over for them, but Flo feels so much relief in her heart to share the truth. She will beg for forgiveness, but it will not work for her. She will not get it. She's done the worst possible thing to anyone, and she knows that. It's all over for her.
Then there is the fact that Thomas realizes Liam knows the truth. He is going to panic, grab Hope and try to leave with her. He has to get her away from everyone in their lives and get her to a place where they cannot contact her or find her now that the truth is out. He's done if she learns her baby is alive, and he is done when she finds out that he knew that about her. She's going to be a lot more danger than she knows about this, and that is going to be an exciting way to bring on the weekend.
Stay tuned for more The Bold and the Beautiful and be sure to check out TVOvermind daily for the latest The Bold and the Beautiful spoilers, news, and updates.