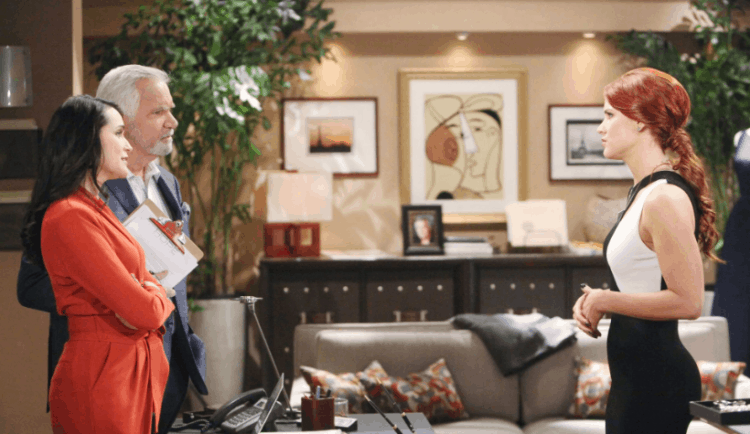 The Bold and the Beautiful fans aren't super happy that Thomas is doing what he is doing. He might not know what he's up to, but he knows that what he is doing is not good news for himself, his son, or Hope. She's a married woman, and he is her stepbrother considering their parents are married. We don't think that he is in a good place right now in terms of his emotions and the way things are going in his life, but what is happening right now? We know he's feeling things that he should not be feeling, and he is spending too much time with her allowing things to happen. She cannot replace his son's mother, but she can be his aunt. He doesn't seem to see that line, and what makes it dangerous is that Hope doesn't appear to see that line, either. This little boy is the one whose heart is going to end up crushed, and we are not loving this.
Meanwhile, we saw that there was a moment when Wyatt convinced his old girlfriend to call her mother, and now Denise Richards is officially a part of the show, a part of the history of this family, and she's going to be a big problem. But the bigger problem, really, is the sheer amount of time that he is spending with Flo and not with Sally. Sally is off dealing with his hateful mother while Wyatt is all spending his time with an old girlfriend who has already kissed him and made it clear to everyone that she is not over him or this moment in their lives. What is going on around here is not good news for so many people right now, but we hope that Wyatt makes a good decision about being true to Sally.
What's Happening on the Bold and the Beautiful
https://twitter.com/BandB_CBS/status/1113519265456435200?ref_src=twsrc%5Etfw
We love them, so let's keep them together.
What's Next on the Bold and the Beautiful
https://twitter.com/BandB_CBS/status/1112353855881113607?ref_src=twsrc%5Etfw
Now that Flo's mom is in town, she's reconnecting with some old friends, which just so happens to be Quinn. They were friendly when they were wherever they were together in the past, and now they are back together. Shauna is not married to a wealthy man, and Quinn is. But they both think that their kids belong together even though it's been many years since they dated in high school and neither of them spent any time on social media trying to find the other or trying to reconnect. And that means they are about to make a big mess of both kids' lives. And that's not good for Wyatt when he finds out what his new old friend Flo did to his sister-in-law and his brother and their baby.
Additionally, we know that Flo and Wyatt will continue to bond over things in their lives when they realize that they have situations with their fathers that are kind of the same. They are in the same boat, which means they get one another. We want to know how much longer it will be before Sally decides that enough is enough and moves in on her man to keep him to herself? Will this situation become much worse, or will things end up being something else and she will end up alone again? Is there a chance that perhaps she can end up with Thomas again? We don't want that, though, but maybe they will find their way back to one another when this all blows over.
Stay tuned for more The Bold and the Beautiful and be sure to check out TVOvermind daily for the latest The Bold and the Beautiful spoilers, news, and updates.