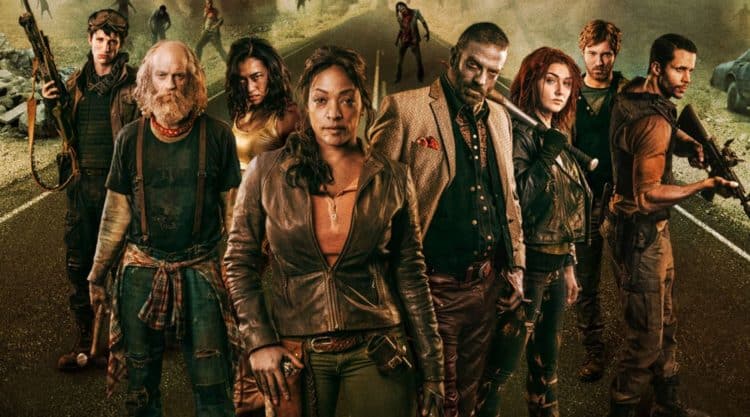 Z Nation is a pretty funny and entertaining take on the whole zombie craze that's been around now for quite some time. It's one of those shows that you either love or avoid but don't usually watch on a casual basis. It features a lot of great actors that have done various projects throughout the years and have come to know what real success is and how to achieve it, but there are some that just seem as though they have a chance to go a lot further simply because they have some quality that the others might lack or because they've already proven themselves more than once in the past and know what it takes to really succeed in the acting industry. Every last one of them might go on to be something great, but the five listed below are those that seem like they might be destined for something really special.
It could be they'll just get lucky or it could be I'm wrong. We'll see.
5. Harold Perrineau
Harold has been active since the 1980s and he knows how to get a part and how to play it. He wasn't much to look at when he signed on for the Matrix Reloaded and Revolutions, but he was still a part of it and managed to make it work. His role on Sons of Anarchy was something that definitely showed another side of him and managed to give him a leg up when it really came to displaying what he could do. His acting style seems to be better when he's serious and not as possessed of a moral backbone as he's been in many productions. In fact his part in SOA showed that he can get downright nasty when he wants to, and it really allowed him to expand as an actor.
4. Emilio Rivera
One word: Mayans. With the new spinoff of SOA coming from Kurt Sutter it's easy to think that Emilio will be taking on a whole new level of popularity as he was the guy in charge of the Mayans when they were just another part of SOA and he'll be coming back to take on his role again. He's been on the movie scene and has been seen around more than once but usually he's been utilized as a support character and backup for others. In this show he'll be one of the main characters, where he needs to be finally. This should help take him to a spot in the industry where he'll really be getting noticed and get the fame he deserves.
3. Tom Everett Scott
It might be more of a long and steady game for Tom since he tends to show up in a lot of different productions as a guest star and only takes on a recurring role when it seems to suit him or when the director seems to need a longtimer that can spice up the production a bit. He's a great actor and can hit his mark just fine, but as far as being the kind of guy you call on for just about anything that seems pretty generous when it comes to him. But, and those that deny this don't know him well enough, he's always a welcome part of any movie or show he's on since he can bring the kind of experience and talent that is needed for most productions and he can help just about anyone look good while playing his part to a tee.
2. Kellita Smith
Kellita is just fun to watch since she's got the kind of attitude that can carry her through most roles and she's a very strong and independent woman. There's no reason why she can't keep making her career what she wants it to be and after the show it would be great to see her step up and start taking other prominent roles that see her in the lead. This woman was on the Bernie Mac show and she managed to upstage Bernie a few times so you can imagine that she has what it takes to roll with just about anything and take on the lead role if she really wants it. Watch for her to show up more often, and be glad if it happens.
1. DJ Qualls
DJ is that goofy kid you thought was going to grow up, fill out, and become someone else, but in truth just became an even goofier-looking adult that showed you he can really act and use that goofy nature and look to his advantage. Seriously, this guy has proven that he's an awesome actor even if it seems like might be used primarily for roles that fit his appearance and standing as the odd-looking individual in the film. It doesn't matter where he goes or where he's put, DJ finds a way to make that role work on a level that not even the writers could possibly count on.
Every last one of the people on this list have been successful already, and it's a hope that they can keep it up.