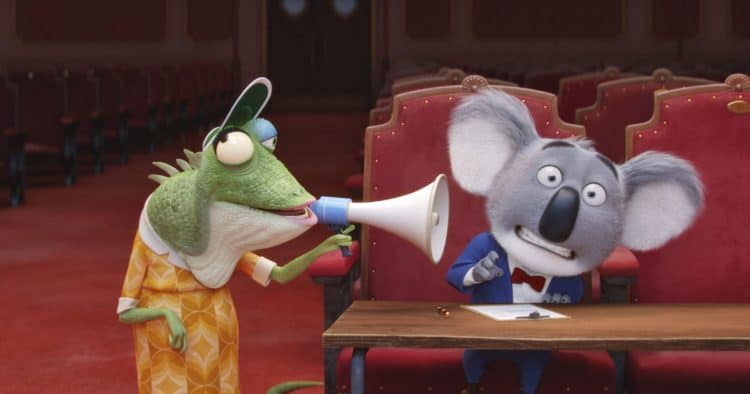 Sing was one of the better kids movie to come along in the last several years and at this point it's almost been forgotten by some since things move on to the bigger and better attractions, but the movie is still one that is a very big standout hit in the eyes of some. Think about it, the act of singing, of playing music, is an expression that a lot of people take some kind of joy in since a lot of folks tend to have their favorite musicians, songs, genres, you name it. But the music in Sing was something that went beyond just favoring one singer or another, it was a chance to show that the art of song is more than just putting your voice into the mic and giving it your all. It was a chance to stand up and say that "I'm here, and my voice will be heard" by a few very select individuals that had something to give back to the people.
Here are some of the best songs from the movie Sing.
5. Don't You Worry 'bout A Thing
Meena had the least confidence of any of the singers in the group and as a result she was made into a stage hand for a while until Mike figured out that she could really put her voice to better use. The only problem was that during auditions she didn't do much, and when she got on stage she was absolutely terrified. But once she let her voice out and found that people enjoyed it Meena finally let go and brought the house down, literally in a sense. It goes to show that believing in yourself and not allowing fear to dictate just how loud your voice can get is something that every person needs to see as important.
4. My Way
Mike was the cockiest of the bunch and knew he had a voice of gold. The only problem was his ten-cent attitude that got him into trouble more often than not and made him take out a loan he couldn't possibly pay back. He was of the mind at first that he would win the prize money for the talent search and make himself a wealthy mouse. But when the chips were down and everyone realized there was no prize money he eventually came back to put up instead of just shutting up, and it was discovered that he had the kind of talent that backed up a good deal of his boasting. Of course his attitude didn't change much.
3. Bamboleo
It was a hard decision between this and Shake It Off since the latter was pretty funny and served as just as much justification for Rosita to be in the group. But before she could really shine this was something that helped her to regain her confidence and was simply one of the best parts of the movie since it was a spontaneous reaffirmation that she had a true talent and was able to do something that no one in her family had thought was possible. By the time she got back on stage her family finally discovered that their mother and wife was something of a sensation waiting to happen.
2. I'm Still Standing
Johnny is the kind of character that wants his father's approval but doesn't seem to know how to get it since his father is a tough guy and a gangster and Johnny is more the kind-hearted and gentle type that doesn't want to live a life of crime. That being said he still loves his dad but is more regretful that his father can't be there to watch him perform at the final show and is still worried about his father thinking him to be a disappointment. But throughout it all he's still standing, he's still following his dream, and by the end of this concert his father has made him the happiest son alive by telling him how proud he is of him.
1. Set It All Free
Ash is another of the sad cases in this story as her boyfriend is completely controlling and doesn't let her do much during their shared musical act, though she has most of the talent and it shows quite easily. When Moon takes her but not him however she finally sees her chance, but doesn't come around fully until she catches her boyfriend with another porcupine and kicks him out. From that point she's ready to go solo, and by the time she hits the stage during the last concert she's not about to be stopped by anyone, least of all someone that's trying to shut the concert down. Out of all the songs this is perhaps one of the most inspiring since it's a straight up denial of anyone that tries to stop her.
If you haven't seen it yet I would highly recommend this movie.