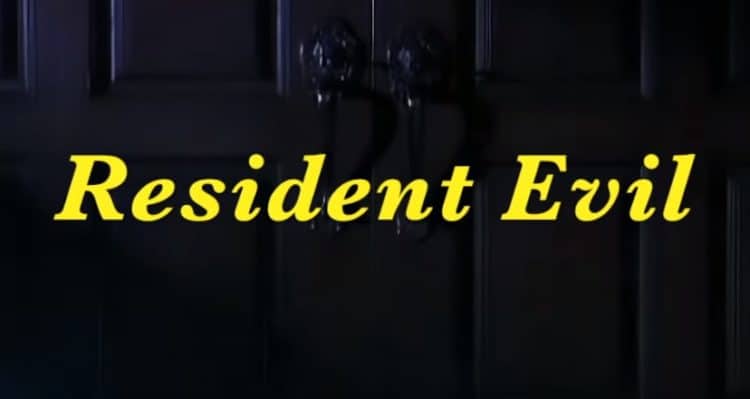 Have you ever wondered what your favorite cheesy action film might look like as a wacky nineties sitcom? No, us neither. Somebody out there has though, because Resident Evil is the latest cult classic to be given the 'laugh track' treatment. In a new fan video, the original Resident Evil gets a 90s sitcom intro and it's everything we hoped for. Cast your minds back to the opening scene of Resident Evil and that insanely cheesy action sequence that we can't help but love. It introduces the movie's main characters with the help of a campy fog machine and some epic (if awfully cheesy) spatter gore. If you grew up with the original games, you probably have a soft spot for this film and we don't blame you. It's still worth checking out the revamped intro on YouTube though. Creator GreyGhost Mike has turned campy gore into zany hijinks, a la Friends but with more guts and brains. Gone is the pulse pounding chase music. It's been replaced by a classic sitcom jingle. Don't get too engrossed, however, Seinfeld isn't going to show. We promise.
Pearly Whites, Laugh Tracks and…Zombies?
It is pretty hilarious that, with minimal editing, GreyGhost Mike has managed to capture the cheesy nineties portrait pose. You know the one. During the opening credits, the main characters take a moment to turn to the camera and flash a set of unrealistically perfect teeth. We didn't notice it at the time as it was (is supposed to be) paired with graphic SFX and a thrilling soundtrack but Resident Evil's characters do look like they're posing for an awkward dating profile at some points. Watch it below and you'll see what we mean. We're just saying, maybe the original Resident Evil movie hasn't aged impeccably. Just a suggestion.
The Next Step for the Resident Evil Franchise
It doesn't dampen our excitement for a potential leap to the Nintendo Switch. Just last week, Capcom revealed plans to bring the 1996 version of Resident Evil to Nintendo and we can't wait. If rumors are to be believed, Resident Evil 0, Resident Evil 1 and Resident Evil 4 are all getting a release on the console by early summer.
Sadly, the surprisingly enjoyable remake of Resident Evil 2 won't be appearing on Nintendo Switch. We're not sure why but Capcom does appear to have verified this recent update. It's a little disappointing but you can still play the reboot on Xbox One, PlayStation 4 and PC. And, if you're really missing those retro zombie vibes, put GreyGhost Mike's video on a loop and relax to the hilarious sound of moans and screams.
If you like the current trend for turning gratuitous games into silly nineties sitcoms, you'll find more videos like this one on YouTube. Some of them are…creative, to say the least. For instance, somebody has mashed together Watch Dogs 2 and the title sequence from Full House which is a little strange but also oddly glorious.
Let's All Jump on the Meme Bandwagon
In fact, we're so found of these nineties mash ups and retro remakes that we're thinking about creating one of our own. How about pairing the intro sequence from Ally McBeal with moody, brooding shots of Solid Snake? We knew you'd be on board. All we need now is a needlessly jiggly shot of The Phantom and some clips of Snake hilariously dropkicking a team of mercenaries without so much as breaking a sweat.
Seriously though, we adore the Resident Evil franchise. The original game is iconic and we're glad to see the movie getting some love too. These mash up videos may seem awfully silly – and they are – but they're also a great way to keep older releases alive and help them reach a new audience. They say imitation is the sincerest form of flattery. Well, we say nineties sitcom mash ups are the epitome of flattery. And they're pretty cool too.
We've seen a lot of weird and wonderful memes on the internet lately – Shaggy v Dragon Ball anybody – and it's a neat reminder that out here, in the digital wild west, you've got to be prepared for anything.