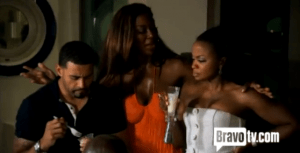 No man, married or not, was safe from Kenya Moore's lustful wrath on last night's The Real Housewives of Atlanta as the Aguilla trip commenced with a lot of flirting, jealousy, temporary truces, and rekindled relationships.
After bidding Kim Zolciak "adieu" in the most hyped exit in Real Housewives history, the women turned their attention to other pressing matters, such as their trip to Aguilla and who they should replace their former cast mate with them on the trip. Of course Porsha Stewart was the lucky girl to get the invite, because let's face it: she's basically Kim's replacement and was waiting for the "Tardy for the Party" singer to exit stage left before she could make her official debut with the rest of the ladies. Say it with me, folks: scripted!
However, Porsha's introduction to Phaedra Parks and Kandi Burruss was put on the back burner as Kenya made sure that all eyes would be on her during this entire trip. In fact, the former Miss USA made it a point to not even acknowledge Porsha's existence, which rubbed the newbie the wrong way and may set the stage for next week's explosive battle (more on that later). Bottom line, Porsha and Kordell looked pretty lost and, in some instances, uncomfortable throughout the episode, and sadly there were times where I forgot the happy couple was even in attendance. Hopefully, the rest of this season of The Real Housewives of Atlanta will be kind to the Stewarts, because now they are seriously being treated as after-thoughts in the entire equation.
But back to Kenya, who made it her duty to flirt with Apollo and every other guy on the trip… all while Walter  looked on with a look on his face that was enigmatic at times, but definitely not happy about Kenya's behavior. Another person not happy about Kenya's flirt for all was Phaedra, who had to pull out what Cynthia called "the big buns" to keep Apollo in check and let Kenya know that she could look, but sure as hell better not touch. Plus, Kenya actually suspected Walter was going to propose to her on the trip, yet asked a guy at one of the parties the cast attended if he had ever made a deposit at a sperm bank. Seriously, Kenya? Is that how you really feel?
But Kenya wasn't through yet. Later the self-proclaimed triple threat had the balls to ask Phaedra if she would be down for letting Apollo sleep with two of her friends as a "gift." Now everybody knows that once Phaedra, a devoutly Christian southern belle, starts slinging words like "f*ck" and other expletives, then she is highly pissed about something and you might want to back down. Yet, Kenya obviously didn't know this, which means that she was not in any position to make such a proposition to Phaedra, nor was she a "friend."
While Kenya acted like as if she was just released from a convent, NeNe Leakes, Cynthia Bailey, and Kandi all had sane interactions their significant others. NeNe seemed to be finally letting her guard down with Gregg, which was a welcome sight to see, especially after their divorce. With Kandi and Todd, we found out that liquor makes Kandi "warm" in her lady parts, but with a drink called "F*ck Me Sideways," who wouldn't get warm in their 'sexy' areas just by the sheer mention of its name?
Finally, we found out that when Peter and Cynthia went on their honeymoon, Cynthia brought Noelle with them and turned the trip into a family vacation. Cynthia, WTF!??!? Peter mentioned how frustrating that was to him and how Cynthia was going to make up big time for that faux pas. Make sure she didn't pack Noelle in  one of her suitcases, Pete, before you go in…
Other Moments of the Night
– I'm still tripping from Kenya actually expecting Walter was going to propose to her, especially after the way she was acting. Folks, don't expect Walter to last long with that crazy heifer…
– NeNe's hilarious lamenting over having to travel by boat to get to another boat to board another boat is a bona fide Real Housewives quote of the year contender. Speaking of boats, I would have acted a damn fool once Kenya got behind the wheel of the first boat the cast was on, because we all know the chick is not stable and probably would have held them hostage unless Walter proposed to her. Or if Phaedra loaned Apollo to her, whichever one came first.
– Okay, now on to the Kim exit, which was simple ridiculous for many reasons, because of the way they acted. First of all, Kim and Kroy signed contracts for the cameras to appear on the show, meaning that Kroy's actions towards the camera crew was uncalled for. All Kim had to do was hand over her mic, tell the producers she was done, and got into the car waving deuces along the way. But no, she had to dramatically make an exit to hopefully get people to follow her over to Don't Be Tardy come next spring. Well, I will be "tardy" as hell to that show, and won't be sad to see Ms. Zolciak go.
What did you all think of last night's episode of The Real Housewives of Atlanta? Does Kenya need to sprayed with more holy water than usual? Should Porsha get a bit more screen time? Are you excited to see the big blow out between Porsha and Kenya next week? Speak out below!
Photo Credit: BravoTV.com/Bravo