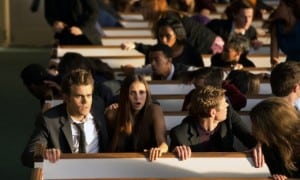 Now that's more like The Vampire Diaries that I adore writing about and after that end sequence this screen seems a little blurry. This episode is so jam packed with action and poignant moments as Elena (Nina Dobrev) adjusts to vampire feeding habits and heightened emotions, all while dealing with a new and very dangerous visitor to Mystic Falls.
We open with the debate that we knew was coming; what kind of blood Elena should drink. Stefan (Paul Wesley) is pro the woodland diet, whereas Damon (Ian Somerhalder) thinks that the only stuff that is good enough is human. The Salvatore brothers were never going to agree on this and the conflict is heavily built into this story. Stefan's concern is down to what he believes to be Elena's Achilles' heel; her compassion and he believes that if she accidentally kills someone then it will destroy her. We saw this happen when Caroline (Candice Accola) first fed, so it isn't just Stefan thinking of his own extreme reactions to human blood.
The major problem isn't what Elena can drink but whether she can hold it down. In one of the bloodiest scenes that this show has produced, Elena loses her lunch all over the bathroom (and her beautiful dress) in the church where the memorial is being held… awkward. Making it even worse is that Connor Jordan (Todd Williams), a skilled vampire hunter is hanging around on the other side of the door (more on Jordan later). The blood that Elena can't keep down in this scene is not human, nor animal but Damon's. It's not surprising that Stefan is mad when he finds out about this as he understands the intimacy of this experience. We get the snark and punches that accompanies this kind of revelation; an "oops" from Damon and later a "bite me" from Stefan make these two super snappy.
Elena is in a difficult position as she adapts to her vampire self; she has Stefan and Damon with all their different advice, her new cravings and her uncontrollable emotions. We see Elena both turned on (a hot hook-up with Stefan is interrupted by some not so hot throwing up) and completely devastated by the constant pain that had surrounded her since her parents died. As we already know and an assertion that is repeated throughout this episode becoming a vampire comes with heightened emotions. The blood issue adds to Elena's predicament and the scene in the church was layered with tension thanks to the presence of Jordan and his blood trap, as Elena fights the blood urge. The solution is Matt (Zach Roerig) and thanks to some well constructed positioning, Elena could feed on her friend in front of hundreds of people.
On this occasion, both Damon and Stefan have valid points and their personal experiences should be taken into account. However, it would also seem that each person reacts differently to the transition process and they should also look at it from Elena's perspective. This is why the paper lantern scene is so important for Elena and everyone else who has lost someone… so that's everyone else then. This scene was beautifully written and performed and with each name that is mentioned you realize how many have been lost since the show started. It's also interesting to note that the first two people that Stefan named were killed by Damon (Uncle Zach and Lexi); yep he's still mad at his brother.
I already had the serious misty eyes before we joined Damon in the graveyard, where he is having a whisky-filled graveside chat with Alaric (Matt Davis) and it was such a wonderful surprise to have Matt Davis in this scene. Damon has his own dealing with grief process and it definitely doesn't involve paper lanterns, but it isn't any less heartbreaking. Alaric has clearly been on his mind throughout this episode as twice when he is day-drinking at the Mystic Grill he claims that the seat next to him is taken; this isn't just an anti-social move but one that points to the seat his friend used to sit in. This is Mystic Falls so ghosts really could be anywhere.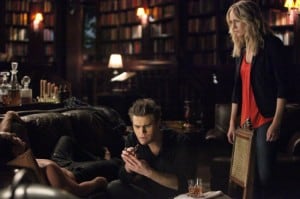 Our resident ghost watcher Jeremy (Steven R. McQueen) hasn't seen any ghostly figures this season so far, but he does see something on Connor's arm that no-one else can; an elaborate and rather large tattoo (that is reminiscent of this on the Jeremy promo photo). These markings look similar to the ones that are on Connor's bullets that Stefan pulled from Tyler's (Michael Trevino) chest. Connor's introduction shows that he is not someone to be messed with and he isn't afraid to hurt an innocent person like April (Grace Phipps) for bait. Now that the council is no more and Klaus is no longer the 'big bad' it's good that The Vampire Diaries has a new person to fear. Connor is also in possession of Pastor young's suicide note to April and Young talks of "a greater evil" that is coming and that this is only the beginning. Are these the ramblings of a mad man or is there a real threat?
Stefan's role extends beyond helping Elena with her new diet this week and he also gets to play doctor to Tyler by removing his bullets and these bullets lead to a really sweet scene between Bonnie (Kat Graham) and Stefan. Stefan's guess that there is something magic related with the carvings is incorrect but he got to help Bonnie in her time of need. This relationship has often been strained thanks to Bonnie's issues with vampires but Bonnie invites Stefan into her house (with a simple nod, who knew an invitation didn't have to be verbal?) and the hug they share is touching. Bonnie is in a bad place after the scene with her Grams last week, but Stefan believes the witches could just be playing a trick on her… a trick that has worked.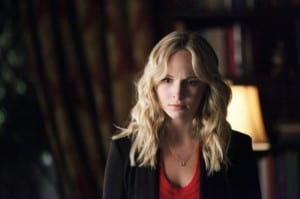 It's not only Stefan that gets to be a good friend in "Memorial" as Caroline helps Elena with a moment of weakness. This was one of my favorite scenes of the episode as Caroline got to use her own recent experience to pull Elena back from doing something that she would regret. While I do enjoy the romantic aspects of The Vampire Diaries, it is these moments of friendship that I think are truly wonderful. Caroline was helped by Stefan when she first became a vampire and it's logical for Caroline to do the same for Elena.
Brief Thoughts:
-As with seeing Elena as a vampire for the first time last week, the image of Elena with a blood covered mouth is shocking, despite having seeing Katherine like this many times before. This once again reminds me that Nina Dobrev does an excellent job of conveying these two different characters. Also when do we think we will see Katherine again?
-So why is Elena's body rejecting the blood? Is Damon correct in thinking it has something to do with the doppelganger blood? This could be where Katherine comes into play.
-April looks like she might be a new love interest for Jeremy from their brief scene together and there's an Anna (Malese Jow) quality to her. How long before April is fully aware of supernatural elements of Mystic Falls?
-Damon's ritual with the holy water in the church shows once again that in this world, vampires feel no pain from holy water, plus it makes him smile. There is an emotional heaviness to this episode, but there is humor as well.
-Last week I said that Matt needed a friend and he still has one in Jeremy. Elena, of course is also on Matt's side and their conversation in the church (pre-feed) is drama free.
-Tyler talks about his experience of becoming part of a community and we see this in action in the church. Tyler is willing to take a super big bullet for the group and whereas Damon, Elena and Stefan are all relatively safe in terms of whether or not they will die (ok so Elena died at the end of last season, but you know what I mean), Tyler is vulnerable. The body swap business could have made things a little icky between Tyler and Caroline but they're clearly in a good place at the moment, knowing this show that won't last for long.
Where the season premiere felt like it was a table setter, "Memorial" took the 'Elena is now a vampire' baton and ran. The conflicts that exist between Elena, Stefan and Damon are being used to the advantage of this storyline and even if you have no overall investment in the love triangle, it is clear that there is no right and wrong answer. The introduction of Connor brings a new level of fear and I can't see him going the way of Alaric who also came to town as a vampire hunter. What makes Connor even more intriguing beyond his cache of weapons is the mysterious tattoo that only Jeremy can see.
What did you think of "Memorial?"
Next week: Phoebe Tonkin joins the cast and Elena decides that she wants to finish her senior year.  Watch a preview.