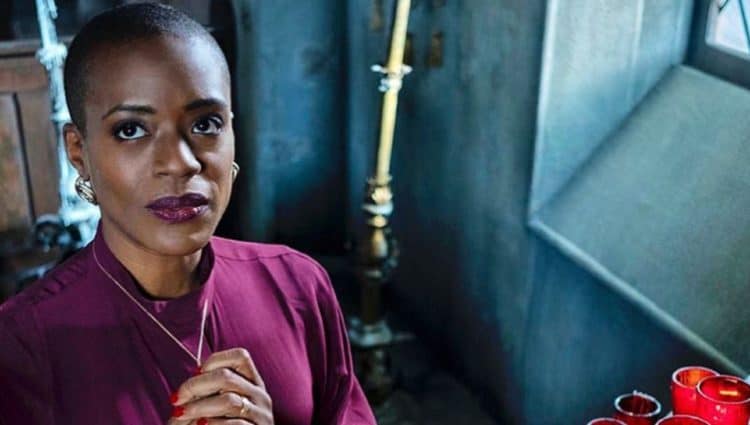 October 2020 has probably been a whirlwind for T'Nia Miller. The talented actress gained worldwide acclaim for her role in the Netflix series, The Haunting of Bly Manor. T'Nia's character, Hannah Grose, was a charming and friendly housekeeper who found herself in a very spooky situation while working at a haunted estate named Bly Manor. T'Nia's portrayal of Hannah showed just how dynamic of an actress she is, but don't get it twisted, The Haunting of Bly Manor isn't the first time T'Nia has put on an amazing show. She has been acting professionally for almost 15 years, and she has had a series of amazing roles in UK based productions. Now that her skills have officially reached the other side of the pond, however, American viewers are looking forward to seeing much more of her. Keep reading for 10 things you didn't know about T'Nia Miller.
1. She Kept A Pair Of Earrings From The Haunting Of Bly Manor
Anyone who has seen The Haunting of Bly Manor probably noticed the beautiful variety of earrings Hannah Grose wore throughout the show. T'Nia was actually allowed to keep a few pairs of those earrings. During an interview with Collider she revealed that she may auction them and donate the proceeds to charity.
2. She Is Formally Trained
There is a running debate in the acting community over whether or not formal training is necessary. Some people prefer to jump right into the audition process while others want to prepare as much as they can before hand. T'Nia took the preparation route and studied acting at Guildford School of Acting in England. The school boasts several notable alumni including Owen Teale.
3. She Is A Lesbian
T'Nia's love interest in The Haunting of Bly Manor may have been a man, but in real life she is a lesbian and a very proud member of the LGBT community. In 2012, she starred in the movie Stud Life which gave a glimpse into lesbian culture, particularly among masculine presenting women.
4. She Shaved Her Head Several Years Ago
People who aren't familiar with T'Nia's work may think that she shaved her head to play Hannah Grose, but that isn't the case at all. She has been rocking the short cut for most of her adult life. During an interview with Pride Magazine she said, "I used to hide behind my hair all the time. I had this long, relaxed hair, and I was thinking, 'What am I trying to say? What is that about?' It sort of was a lightbulb moment, and I said: 'You know what? I'm gonna cut it off. I'ma start from ground zero and grow an afro.' I was sitting in the barber shop, and he cut my hair and I fell in love with my skull… and I never turned back. And actually, it's afforded me to be able to play a diverse range of roles – it had totally the opposite effect that I feared."
5. She Fell In Love With Acting At An Early Age
T'Nia was destined to be a performer. She initially discovered her love for acting when she was only a child. However, it wasn't the only career she envisioned for herself. For a while, she wanted to be a nurse and then she also considered being a therapist. Now that she is an actor she could have the chance to play both of those things.
6. She Didn't Know The Truth About Her Character Until Reading The Script For Episode 5
If you haven't watched The Haunting of Bly Manor, you may want to skip over this one as it contains a huge spoiler. Okay, now that that's out of the way! One of the things people love about Bly Manor is that it's full of plot twists, one of the biggest of them all being that Hannah Grose is actually dead. Surprisingly, T'Nia didn't know this about her character until she read the script for episode five.
7. She's A Mother Of Two
T'Nia doesn't share much about her personal life, but we do know that she is a mother. Some sources have incorrectly reported that she has one child, however, during her interview with Collider she shared that she is actually a mother of two and she raised both children on her own.
8. She Loves A Good Adventure
Hannah Grose may not have been able to enjoy life outside of Bly Manor, but in real life T'Nia is constantly on the move and she loves to experience new things. Whether it be traveling, swimming, or fishing – she is always looking to have a good time and make the most out of each moment.
9. She's Into Fashion
T'Nia's 80s fashion game in Bly Manor was on point. While her style of dress in real life is much more modern, her outfits are still amazing. She has a great fashion sense and she loves expressing herself through her clothing. Bright colors and bold patterns are definitely her thing.
10. She's A Big Believer In The Importance Of Positivity
Staying positive isn't an easy thing to do. T'Nia knows this first hand. However, she has never allowed negative experiences to keep her down. This ability to be resilient is a must for someone in the entertainment industry. There's no doubt this attitude has helped her throughout her career.