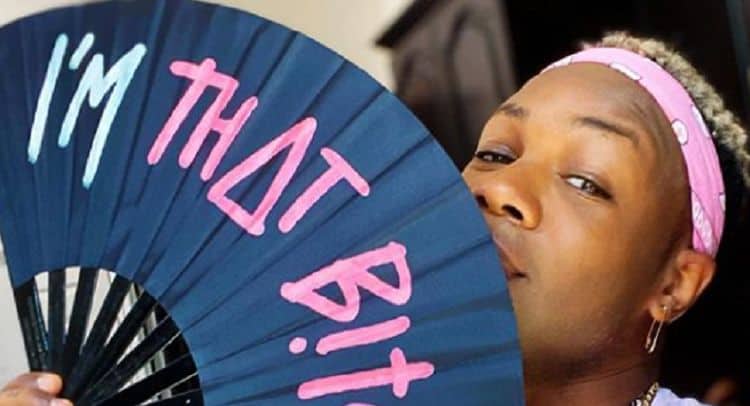 Todrick Hall gained national attention when he participated in the talent contest on the reality competition "American Idol." Although he didn't make it to the finals, he went as far as the semi-finals, before being eliminated from the competition for the grand prize. This was enough to get him recognized though, and he gained a lot of followers. For those of you who were wondering whatever happened to him after "American Idol," here are 10 things you didn't know about Todrick Hall that may help to answer at least some of your questions, and more.
1. He went on to work in entertainment professionally
Just because he didn't win the first place in "American Idol," has no bearing on the fact that Todrick is a very successful young man. After his participation in the contest was finished, he went on to showcase his amazing talents in other venues. For those of you who don't know, he has released a total of three albums. He's enjoying great success as a singer and rapper. His latest album is titled "Straight Outta Oz." Hall's music is popular with the rap and R&B crowds.
2. Todrick is a dancer
When Hall was very young, he had a fondness of dance. His mother enrolled him in a ballet school where he became very skilled, and he was so good that he was a feature in "The Colour of Purple," alongside Fantasia in the musical production. While still a young boy, he landed roles in "Radio City Christmas Spectacular," as well as "Beauty and the Beast," both Disney productions . These gave him an early start on his professional career in the performing arts.
3. He appeared on Broadway
Todrick Hall is not just a singer and dancer, he is also a seasoned actor on top of that. In 2016, he landed the role of Lola in the Broadway production of "Kinky Boots." He went on the following year to be cast as Billy Flynn in "Chicago," and he was also featured in "The West End." Thanks to his natural acting ability, dancing skills, and singing talents, he was the perfect choice for a variety of opportunities to perform on the theater stage. All of his hard work had paid off.
4. Hall is an officially recognized celebrity
It's always big news when someone is named to one of Forbes magazines top lists and Todrick Hall made it to their Top 30 Under 30. Only the cream of the crop and most successful ever get a mention by Forbes. In 2014, the magazine honored Hall by placing him on the list after appearing in "Look What You Made Me Do," a Taylor Swift music video. He was a dancer for the project.
5. His music spans 4 genres
Todrick doesn't just confine himself to any one specific genre when it comes to his musical creativity. His work is classified within four genres. He's well known and respected in the hip hop and R&B circles, as well as soul and pop. So if you were trying to find a way to classify the style of music Hall delivers, you'd be correct in saying that he's all of these four when it comes to the kind of artist he is. Now that's versatility.
6. Hall is a YouTuber
Todrick Hall is also a choreographer to go along with his smooth dance moves. He's known in his YouTube channel for developing catchy covers and his amazing choreography work. If you haven't yet checked out his YouTube channel then you're truly missing out on some serious entertainment. Todrick already has more than two million followers and more added daily.
7. His songs have special messages
Hall uses his songwriting to share his special view on life and the messages that he has for others. It's his way of making a contribution to bettering the world through song. You'll find that the ideas he expresses are against people acting in violent ways. In addition to this, he's an open person and as such presents the idea of interracial marriages in a positive light.
8. He supports people who live a gay lifestyle
Todrick Hall is homosexual and he uses his celebrity status to encourage others to be open to all people regardless of sexual preference. He has made appearances on Logo TV's "Gay for Play Game Show Starring RuPaul," as well as "RuPaul's Drag Race." Todrick is comfortable in his own skin and with so much talent and opportunity, why wouldn't he be?
9. He's a native Texan
Todrick Hall was born on April 4th in Arlington, Texas. This makes him a native Texan, although he currently lives in Los Angeles, California. This makes him 34 years old and he has risen to the heights of fame for his dancing, choreography, songwriting, singing, and acting. He seems to have the world on a string and he's just getting started. (https://en.wikipedia.org/wiki/Todrick_Hall). It is our hope that Todrick has many more successful years ahead of him.
10. His love life
The last information available about Todrick Hall's love life is that he started dating Jesse Pattison in March of 2015. The couple could be seen together in some of Hall's YouTube videos. One of them showed Jesse and Todrick enjoying the new addition to their family, an adopted puppy in April of 2016. Just a year later, the two experienced relationship problems and ended their romance. We couldn't find any more recent information that would indicate Todrick is seeing anyone special at this point in time.