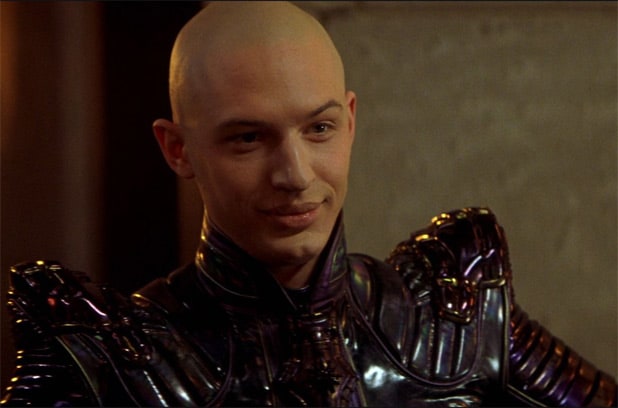 You don't normally look at Tom Hardy and think that this is a man that breaks under pressure. But after Star Trek: Nemesis, the Star Trek film that bombed out so bad that it almost wrecked the franchise, he was a nervous wreck. He was a relative unknown when he first got the role and worked harder than most of the other cast when it came to getting his lines and his acting right so that he wouldn't disappoint. In fact having seen the film I think he was the only one that showed any real intensity since he was simply in the moment so often that he overshadowed the other characters. But being someone that had yet to prove himself he kind of overdid it since by the end of the film he was simply wrecked and was contemplating suicide.
Thankfully he didn't take it that far but he did become a heavy drinker as the hate from the fans started pouring in and his role as an actor started to look like it might be in jeopardy. The movie was a box office flop and could have easily been the ruination of nearly every actor there if they hadn't been well-established at that point. The trouble was that Hardy wasn't a firmly established actor and a had a lot of proving still to do as he made his way forward somehow. By the time he did Bronson however he'd calmed down and his fame was pretty well assured. The story of Britain's most infamous prisoner put him right back on track and ever since he's been a mainstay in Hollywood that a lot of people have come to love.
Personally I think this is the danger of any movie that deals with comic books or has a TV show origin. Some, like Star Wars, are simply notorious for taking on famous faces and then discarding them in the same movie while keeping relative unknowns for entire trilogies. But Star Trek is a show that has made a habit of introducing characters and then keeping them on for God knows what reason for episode after episode even when the fans have grown tired of them. Their other habit is going through anonymous crewmen when it comes to away teams having to face down some strange and unknown threat. Basically if a crew member wasn't given a name their number could be up at any second.
But for their movies this practiced couldn't go on, and characters had to take on more detail and content. For Nemesis though the problem is that Shinzon was such a complicated character that his story arc really didn't get enough development and as a result his story within the movie kind of suffered. Hardy was so worried about creating a memorable character that he didn't seem to realize that his character wouldn't be moving on. That shouldn't ever stop someone from doing their absolute best but he could have saved himself a lot of trouble by simply acting the part in the best way he could and not stressing so much about whether Shinzon would become memorable to the fans.
Thankfully he moved on and moved up to better things.