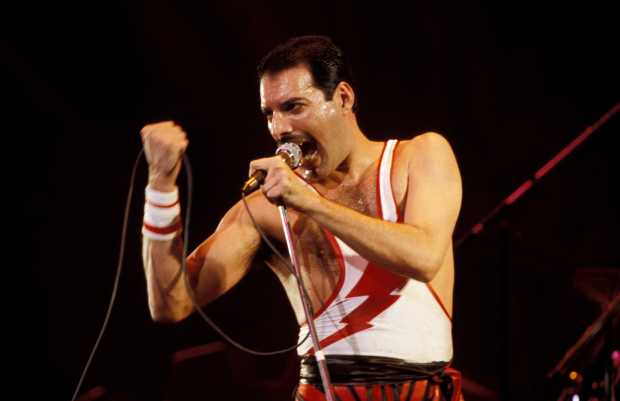 Rock is one of the most popular genres of music and there are music fans from all over the world who live listening to groups and solo artists who perform this style of music. There are many elements that make amazing rock music, including talented instrumentalists, a strong stage presence, a well-written track, and the lyrics to the songs. However, it is usually the performance of the vocalist that stands out the most and this is what people remember from their favorite songs. Over the decades, there have been hundreds, if not thousands, of amazingly talented artists who stand out due to their vocal abilities. While some stand out for the power of their voice, others are known for their vocal range or for having a voice with a unique sound. When a vocalist is memorable, it can lead them to achieve great success, selling millions of records, build a huge fan base, and reap the financial rewards. Here are 20 of the top rock vocalists of all-time.
20. Ozzy Osbourne
Ozzy Osbourne is a famous English singer, songwriter, and actor, who was born in Birmingham on December 3, 1948. He first shot to fame as the lead vocalist in the heavy metal band 'Black Sabbath' in the early 1970s. However, in 1979, he was fired from the band but went on to establish a successful solo career. As a solo artist, he released 11 studio albums and the first seven of these were multi-platinum. He has earned himself the title of the 'Godfather of Heavy Metal'. He has been married twice and has six children; Elliot who he adopted, Jessica, Louis, Aimee, Kelly, and Jack. His second wife, television personality and music manager Sharon Osbourne, is also his manager. Ozzy Osbourne is also famous for appearing in the reality documentary 'The Osbournes' with wife Sharon and children Kelly and Jack.
19. Jon Bon Jovi
Jon Bon Jovi was the lead singer of the rock band 'Bon Jovi', a group which he formed in 1983. Bon Jovi was born in New Jersey on March 2, 1962. He has released two solo albums and 12 studio albums with his band. Some of their best-known songs include 'Sweet Child of Mine', 'Always', 'Livin' ON a Prayer' and 'You Give Love a Bad Name'. Overall, the band sold over 130 million copies of their albums worldwide. In addition to his career in the music industry, he has also had roles in 12 movies and appeared in four television series. Jon Bon Jovi has been married to Dorothea Hurley since 1989 and the couple has four children together.
18. Jim Morrison
Jim Morrison is almost as famous for his tragic death as his contributions to the music industry. He was born in Florida on December 8, 143. Morrison was a singer, a songwriter, a poet, a filmmaker, a director, and an actor. He first became famous as the lead singer of 'The Doors'. Their hits included 'Light My Fire', 'Love Her Madly', 'Love Me Two Times' and 'Touch Me'. They were at the height of their fame when he was found dead in a rented apartment in Paris on July 3, 1971, when he was aged just 27. As French law does not require a post-mortem, there is no official cause of death recorded and various theories have surrounded his death.
17. Steven Tyler
Steven Tyler was born in Manhattan on March 26, 1948. This talented singer, songwriter, instrumentalist, and television personality is best-known as the lead vocalist of Aerosmith, a Boston-based rock band. The band was formed in 1970 and they enjoyed many successful years together. Unfortunately, the band went into decline in the late 1970s, predominantly because of the heavy drug use of the band members. Some members left but the band later reformed and were stronger than ever. Some of their hit songs include 'Crazy', 'Walk This Way', and 'I Don't Want to Miss a Thing'. Tyler has been married twice and has four children.
16. Roger Daltry
When 'The Who' formed in the late 1960s, it was lead vocalist Roger Daltry who stood out as the charismatic leader of the group. As the group grew in popularity, he shared the spotlight with Pete Townsend who was the group's songwriter and guitarist. The group sold over 100 million albums worldwide. Some of their top tracks included 'Pinball Wizard', 'Pictures of Lily', 'My Generation', and 'Won't Get Fooled Again'. In addition to his performances with 'The Who', Roger Daltry also had a successful solo career and has had various acting roles. Some of his solo songs include ''Under a Raging Moon', 'Giving It All Away', and 'Walking in My Sleep'. He has been married twice and has five children' a son with his first wife, another son resulting from an extramarital affair and two daughters and a son with his second wife.
15. Kurt Cobain
Kurt Cobain is another talented vocalist who is as well-known for his death as his music. He was the lead singer of the rock band Nirvana and became the face of the grunge rock movement which became popular during the 1980s and had emerged from Seattle. Fans loved his emotional vocals that reflected some of the pain he was experiencing in his personal life. Nirvana sold over 25 million copies of their albums worldwide. He married Courtney Love in 1992 and their daughter Frances Bean was born in the same year. Love and Cobain's relationship was hampered by their abuse of heroin. In 1994, Kurt Cobain took his own life with a shotgun. It was his third attempt at suicide and the post-mortem revealed that there were traces of heroin and alcohol in his system.
14. Neil Young
Neil Young is famous both as a solo artist and as the lead vocalist of several groups, including Buffalo Springfield and Crosby, Stills & Nash. He not only had an amazing voice, he was also a talented guitarist. A combination of these skills made 'Crazy Horse' one of his most famous tracks. His work combines several different styles of music, including rock, country, and folk. Three of his other famous solo tracks include 'Cinnamon Girl', 'Cowgirl in the Sand', and 'Down by the River'. He wrote all three of these songs in the same day while in bed suffering from a fever. He is often referred to by his nickname 'The Godfather of Grunge'. Young is one of the few people to be inducted into the Rock and Roll Hall of Fame twice; the first time was in 1995 as a solo artist and the second was in 1997 as the lead vocalist of Buffalo Springfield.
https://www.youtube.com/watch?v=XmSdTa9kaiQ
13. Bono
Bono is often considered one of the most successful artists of all time and is best-known as the lead vocalist of the rock band 'U2'. He was born as Paul David Hewson on May 10, 1960, in County Dublin, Ireland. U2 were formed in 1976 but were originally called 'Feedback' and then 'The Hype'. Bono was originally a guitar player for the band but was so bad they suggested he sing instead. He occasionally plays harmonica on the tracks.He writes most of the lyrics for the band's music and the themes are often social or political. Some of their most famous tracks include 'With or Without You'. 'I Still Haven't Found What I Am Looking For', and 'Gloria'. Bono is married to businesswoman Alison Hewson and the couple have been together since they met at high school. They have four children together and share homes in New York, Ireland, Italy, and France.
12. John Lennon
John Lennon is known as one member of the quartet rock group 'The Beatles', as a solo artist, and for his collaborations with his wife Yoko Ono. He first shot to fame when he formed 'The Beatles' in 1960. The group soon went from a small local Liverpool band to a huge international success. Some of their tracks include 'Love Me Do', 'Please, Please Me', 'Yesterday', and 'Strawberry Fields'. He had recorded some solo work before the band split in 1970 and continued to do so after they had disbanded. He had married Yoko Ono in 1969 and began to collaborate with her. Some of their songs had included 'Imagine' and 'Happy Xmas (War Is Over)'. When they had their son, Lennon took a few years out from music to focus on looking after his son. In 1980, Lennon and Ono decided to release an album together called 'Double Fantasy'. Just three weeks after its release, John Lennon was shot dead by a lone gunman while walking back to his Manhattan apartment.
11. Ann Wilson
Best-known as the lead vocalist of hard rock band 'Heart', Ann Wilson is famous for her dramatic soprano vocal range. She was bornin California on June 19, 1950, and began her career in the music industry in 1967. Some of Heart's most popular tracks include 'Dreamboat Annie' and 'Crazy On You'. Wilson also sang the vocals for several tracks on Alice in Chains' album 'Sap'. Whiel 'Heart' were at the height of their fame in the 1970s, Wilson was dating the band's manager and her younger sister was dating his younger brother who was the guitarist for the group. Both relationships came to an end in 1979. Ann Wilson has never married but adopted a son and a daughter.
10. David Bowie
David Bowie was born in London on January 8, 1947. His successful career in the music industry spanned five decades after he first became an entertainer in 1962. He was known for his innovative style and flamboyant stage presence. During his career, he sold over 140 million albums worldwide. Some of his most famous singles include 'Spaceman', 'Let's Dance', and 'Fame'. He also had a successful career as an actor and starred in many movies. Bowie was married twice and had two children. He famously called his son Zowie Bowie but his son later had his name changed by deed poll to Duncan. In 2016, his final album 'Blackstar' was released just two days before his death from liver cancer.
9. Stevie Nicks
Stevie Nicks became famous for her captivating voice and mystical stage presence. She was the lead vocalist of Fleetwood Mac from 1975. The groups only number one single was 'Dreams' and this was a song written and sung by Stevie Nicks. She also had a successful solo career and focused on a harder rock style when she performed alone. Some of her popular solo tracks include 'Edge of Seventeen', 'Stand Back' and 'Stop Draggin' My Heart Around'. This singer and songwriter is often referred to as the 'Queen of Rock and Roll'. She dated bandmate Lindsey Buckingham between 1970 and 1976. In 1983, she married and divorced Kim Anderson in the same year. Anderson was the widower of Nicks' friend Robin Anderson who had died of Leukaemia. Stevie Nicks has no children as she made a conscious decision to focus on her career.
8. Bob Dylan
Bob Dylan was born in Minnesota on May 24, 1941. He shot to fame in the 1960s as a singer, songwriter, and musician. He was particularly well-known for producing music that reflected topical political issues. During the 1960s, some of his most influential songs included 'The Times They Are a-Changing', 'Blowin' in the Wind', and 'Like a Rolling Stone'. He has won multiple awards for his music, including eleven Grammy Awards. Dylan has been inducted into several Halls of Fame, including the Songwriters Hall of Fame, the Rock and Roll Hall of Fame, the Minnesota Music Hall of Fame, and the Nashville Songwriters Hall of Fame. Bob Dylan has been married twice and has six children.
7. Bruce Springsteen
The distinctive rugged voice of Bruce Springsteen has become synonymous with the sound of American rock. The songs he writes and performs are generally related to the experiences of working class American people. During his career, this artist has sold over 120 million copies of his records, making him one of the world's best-selling artists. Although he generally worked as a solo artist, he was also the frontman for 'E Street Band'. He has won multiple awards in recognition of his talent, including 20 Grammy Awards and two Golden Globes. In 1999, he was inducted into both the Rock and Roll Hall of Fame and the Songwriters Hall of Fame. Springsteen was awarded the Presidential Medal of Freedom in 2016.
6. Axl Rose
Axl Rose was born William Bruce Rose Jr. in Indiana on February 6, 1962. He is best-known as the lead singer of the hard rock band 'Guns N' Roses'. This band was formed in 1985 and Axl Rose is the only constant member since the band's inception. The band were at their most successful throughout the 1980s and early 1990s. They released the albums 'Appetite for Destruction', Use Your Illusion I', and 'Use Your Illusion II'. 'Guns N' Roses' initially disbanded in 1994 but later partially reformed. Axl Rose has been the lead singer of AC/DC since 2016 as he replaced Brian Johnson. In 2012, Axl Rose was inducted into the Rock and Roll Hall of Fame. However, he refused to attend the ceremony and requested exclusion from the hall.
5. Janis Joplin
Of all the female rock singers in the world, Janis Joplin is one of the most famous and memorable of all-time. She was a rock singer and songwriter who made waves in the music industry during the 1960s. She began her career in the music industry in 1962 and was initially the lead vocalist for a group called 'Big Brother and the Holding Company'. However, she became a successful artist in her won right and released four albums. She is usually associated with a genre of music called psychedelic rock and some of her best songs include 'Piece of My Heart', 'Down On Me', 'Cry Baby'. And 'Mercedes Benz'. The latter was her final recording. Tragically, Janis Joplin died of a heroin overdose compounded by the intake of alcohol on October 4, 1970. She was 27 at the time of her death.
4. Mick Jagger
Mick Jagger was the co-founder and lead singer of the rock group the 'Rolling Stones'. The group are known for songs including 'Wild Horses', 'Brown Sugar', 'Satisfaction', and 'Angie'. They were at the height of their fame during the 1960s and 1970s but are still a group to this day. Jagger embarked on a solo career in 1985 and his first album was 'She's the Boss'. In 1999, he was inducted into the Rock and Roll Hall of Fame and then into the UK Music Hall of Fame with the 'Rolling Stones' in 2004. A combination of his work with the band and as a solo artist means he has had 32 Top 10 singles, 13 of which have reached number one in both the UK and the US. Although he has only been married twice, he has fathered eight children with five women.
3. Paul McCartney
Paul McCartney was bornin Liverpool, England, on June 18, 1942. He is a singer, a songwriter, a composer, and a multi-instrumentalist. He is most famous as the bassist and singer for the 'Beatles'. This is a rock group who are considered the most popular and influential group of all-time. The group were a huge success on both sides of the Atlantic between 1960 and 1970. When the group disbanded he embarked on a solo career. He has written 32 songs that have reached the number one spot on the Billboard Hot 100. While he was with the 'Beatles', he penned the track 'Yesterday'. This is one of the most covered songs ever as there are more that 2,200 artists who have covered this track. McCartney has won 18 Grammy Awards and was knighted for his services to music in 1997. He has been married three times and has five children.
2. Robert Plant
Robert Plant was born in Staffordshire, England, on August 20, 1994. He joined the rock band 'Led Zeppelin' in 1968 following an audition with Jimmy Page, the lead guitarist. He regularly appears at the top end of lists for best rock vocalists and metal lead singers. The group sold more than 100 million copies of their albums during their time together. Just a few of their songs include 'Stairway to Heaven', 'All My Love', 'Heartbreaker', and 'Dazed and Confused'. 'Led Zeppelin' broke up in 1980 and Robert Plant began his solo career. He is known for his exceptionally wide vocal range. Plant has three children with ex-wife Maureen Wilson to whom he was married from 1968 to 1983. He went on to have a relationship with her younger sister, Maureen, and had a fourth child.
1. Freddie Mercury
Freddie Mercury is widely considered one of the most talented rock artists of all-time. He was born in Tanzania on September 5, 1946, but was brought up in India. He was a singer, songwriter, and record producer who is best-known as the lead vocalist of 'Queen'. This band created multiple hit singles, including 'Bohemian Rhapsody', 'Crazy Little Thing Called Love', 'Radio Gaga', We Are the Champions', 'Don't Stop Me Now'. 'Killer Queen', and 'Somebody to Love'. Freddie Mercury died on November 24, 1991, at the age of 41. His cause of death was recorded as bronchopneumonia as a complication of AIDS. Posthumously, he has received many awards and accolades. In 1992, he was awarded a Brit Award for Outstanding Contribution to British Music. Over the following decade, he was also inducted into the UK Music Hall of Fame, the Songwriters Hall of Fame, and the Rock and Roll Hall of Fame.