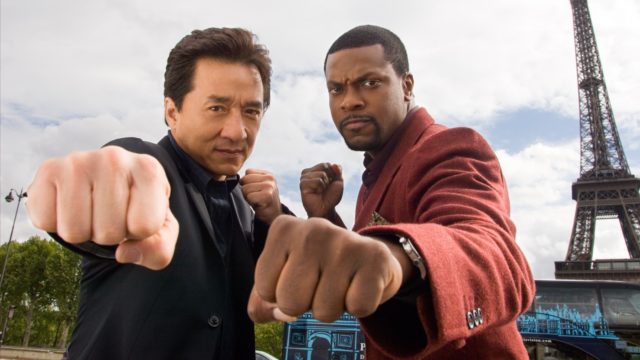 Every decade has it's fair share of cop movies, but some of the best are those that are just downright hilarious. Movies featuring cop duos or those that are just on their own are capable of being some of the funniest films ever made. Of course the action is supposed to be serious but the ensuing manner in which the cops tend to get into trouble and then back out of trouble only to somehow get in trouble again and still solve the case is the kind of gag that usually has audiences reeling.
Here are just a few that can make my point loud and clear.
5. Bad Boys
It's definitely one of the more raw films when it comes to the kind of comedy it produces, but there are some seriously laughable moments in this film that that people haven't forgotten to this day. There's rumor that a Bad Boys 3 is in the works at the moment, and once it comes out we'll get to see the team of Mike and Marcus trading barbs and catching crooks once again.
4. Rush Hour
Do you understand the words that are coming out of my mouth??! Chris Tucker and Jackie Chan seemed like one of the oddest pairings to ever come out of Hollywood but somehow it worked. With Chan's fast hands and feet and Tucker's even quicker mouth a duo was born that managed to spawn two sequels, one of which was decent at least.
3. National Lampoon's Loaded Weapon
This is one of the classic spoof movies when it comes to law enforcement. It took several different cop movies and threw them in the blender to see what would come out. What was produced was a film that's been highly underrated in its own time and in any other era. It was slapstick humor from start to finish but it was funny enough that it should have been an instant classic.
2. Dick Tracy
Okay, you got me. This wasn't meant to be comedy but somehow the nature of it and the campy way in which it was produced made it one of the funniest movies alive despite the fact that for a Disney movie it was about as close to the Godfather as one could get. Many people thought that Walt Disney must have been rolling in his grave over this one, but the effect was so comical that people couldn't help but laugh.
1. My Blue Heaven
It might be more of a gangster film than a cop movie but the law enforcement aspect is still there and Rick Moranis plays it up perfectly. He's not a dimwitted FBI agent but he's definitely not the classic agent that has everything going for him. After all in the first half hour he loses his wife and is saddled with one of the most uncooperative witnesses that's ever been released into FBI custody. The guy just can't catch a break until the end of the movie when the endgame is finally revealed to everyone.
Cop shows can be serious, but they can also be funny.