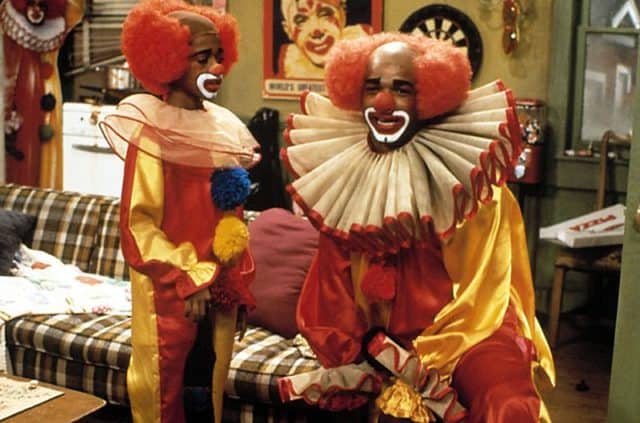 Of all the things he's done on the show In Living Color and all the things since, Damon Wayans has always been known as a wise-cracking character that knows how to make people laugh. Fans have seen him drop out of the spotlight as the years have gone on, but in his younger days he was one of the absolute funniest people on the show. There aren't a lot of people that could have kept up with the likes of David Alan Grier, Tommy Lee Davidson, and especially not Jim Carrey unless they were equally as funny.
Here are our picks for the top five Damon Wayans characters on In Living Color
Blaine Edwards-Men on Film/Football
It might be cringe-worthy to some, but this skit was considered to be one of the funniest on the show and the one that fans tended to cheer the most for. The portrayal of Wayans and Grier as two gay men critiquing one thing or another was a laugh riot that was a common staple of the show. While they didn't do just film or football, this clip is one of the most memorable.
The Hedleys-Hey Mon
Hey mon, gotta get to work! It might seem a bit racist and even uncomfortable at this point and time in the country, but the Hedley's were a great laugh during the show's run. Their numerous different jobs and their attempt to work as much as possible made them a laugh riot simply because it seemed so utterly ridiculous that anything but laughter seemed inappropriate.
Handi-Man
If ever there was a skit that would truly draw the detractors this is it. The hilarity of Handi-Man is that he is in fact a superhero that is able to do great things as per the show, but is ultimately handicapped. It's a great parody on heroes such as Superman and a hilarious character that, when taken as little more than satire, is actually quite entertaining.
Anton Jackson
This is another one that might offend those that don't know how to watch satire and can't seem to find the funny in a humorous skit. Anton Jackson is a homeless man that interacts with members of high society, reporters, and even runs his own home improvement show called This Old Box. As his characters go, this one is no doubt one of the funniest.
Homey the Clown
By far his most iconic character, Homey the Clown was the role that made Wayans so famous during the show's run. His tendency to bop "kids" over the head with a sock was hilarious, and his anti-establishment sentiments were kind of a mirror for the way that people felt in that time period. As humor Homey was a home run, especially when he stuck it to the Man.
Conclusion
It's fair to say that fans haven't seen Damon Wayans as much as they would like in the last decade or so, but while he was on top he was one of the best comics to ever come out of In Living Color. If the show had kept going he might have even taken over from his brother Keenan eventually.
Save
Save